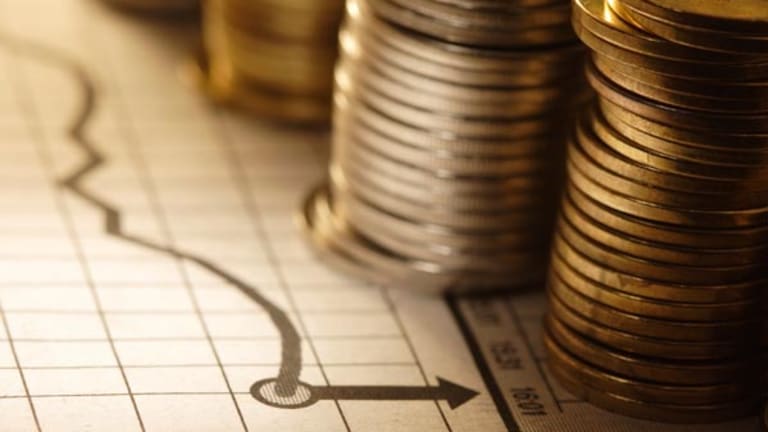 Top 5 Large-Caps for Nov. 12
McDonald's, General Mills and Campbell Soup make the list.
Each business day, TheStreet.com Ratings compiles a list of the top five stocks in one of five categories -- fast-growth, all-around value, large-cap, mid-cap and small-cap -- based on data from the close of the previous trading session. Today, large-cap stocks are in the spotlight.
These are stocks of companies with market capitalizations of over $10 billion that rank near the top of all stocks rated by our proprietary quantitative model, which looks at more than 62 factors. In addition, the stocks must be followed by at least one financial analyst who posts estimates on the Institutional Brokers' Estimate System. The stocks are ordered by their potential to appreciate.
Note that no provision is made for off-balance-sheet assets such as unrealized appreciation/depreciation of investments, market value of real estate or contingent liabilities that might affect book value. This could be material for some companies with large underfunded pension plans.
General Mills
(GIS) - Get General Mills Inc. Report
is the world's sixth-largest food company, producing packaged consumer foods that are marketed in more than 100 countries. We have rated General Mills a buy since November 2004.
For the first quarter of fiscal 2009, the company reported that it achieved strong results, primarily due to strong consumer demand in worldwide markets. First-quarter revenue rose 13.8% year over year, but this revenue does not appear to have trickled down to the company's bottom line, as General Mills displayed a decline in earnings per share for the quarter. However, we feel that the company is poised for EPS growth in the coming year, despite reporting somewhat volatile earnings recently. Net sales grew 14% from $3.07 billion in the first quarter of fiscal 2008 to $3.5 billion in the most recent quarter. Net operating cash flow also increased significantly, rising 1,007.35% when compared to the same quarter last year. In addition, we consider the company's 37.3% gross profit margin to be strong.
Management was pleased with what it considered to be a great start to fiscal 2009, as sales and profit results for the first quarter exceeded management's expectations. General Mills increased its earnings guidance for fiscal 2009 to a range of $3.81 to $3.85 per share, up from its previously released forecast of $3.78 to $3.83 per share. The company also expects fiscal 2009 net sales to grow at a mid single-digit rate. Although the company's growth in net income has been sub par, we feel that its strengths outweigh any weaknesses it may display. Even the best stocks can fall in an overall down market, but in any other environment, we believe that this stock still has good upside potential despite the fact that it has already risen in the past year.
McDonald's
(MCD) - Get McDonald's Corporation Report
primarily operates and franchises McDonald's restaurants. We have rated McDonald's a buy since March 2004, based on strengths such as its expanding profit margins and growth in net income, revenue and EPS.
On Oct. 22, the company reported that global comparable sales growth of 7.1% year over year fueled strong results in the third quarter of fiscal 2008. Revenue increased 6.2% when compared to the prior year's quarter. Although this trailed the industry average of 23.2%, it appears to have led to EPS growth. EPS improved 26.5%, rising from 83 cents in the third quarter of fiscal 2007 to $1.05 in the most recent quarter. Although McDonald's reported earnings have been somewhat volatile recently, we feel that it is poised for EPS growth in the coming year. Net income increased by 11.2% when compared to the same quarter a year ago. In addition, we consider the company's 37.7% gross profit margin to be strong, especially as it has managed to decrease from the same period last year and compares favorably to the industry average of 19%.
Management was pleased with its reported higher margin dollars, comparable sales, and a double-digit operating income increase. The company plans to continue its focus on disciplined financial practices in order to continue driving strong financial performance in the future. Although no company is perfect, we do not currently see any significant weaknesses that are likely to detract from McDonald's generally positive outlook.
Rohm & Haas
( ROH) is a global producer of specialty materials chemicals. Rohm & Haas has been rated a buy since November 2003. This rating is supported by the company's revenue growth, solid stock price performance, growth in EPS and increase in net income.
For the third quarter of fiscal 2008, the company reported that its earnings inched up 1.6% year-over-year, led by strong sales growth across business segments. EPS improved 8.2% when compared to the prior year's quarter, despite somewhat volatile earnings growth recently. Timely pricing actions, favorable currency translations, acquisitions, and growth in Rapidly Developing Economies helped drive third quarter revenue higher by 12.1%. Recognition of the company's strengths by investors led to a 27.55% stock price increase over the same quarter last year. In addition, Rohm and Haas announced during the third quarter that it will be acquired by Dow Chemical Company for an aggregate price of $18.80 billion. Dow Chemical expects the acquisition to be completed by early 2009.
Management felt that its financial performance for the third quarter was reasonable given the continuing deterioration of the economic and operating environment during the quarter. The company maintains confidence in the future performance of the company.
Baxter International
(BAX) - Get Baxter International Inc. Report
is a medical products and services company, providing medical devices, pharmaceuticals and biotechnology for the treatment of a variety of diseases including hemophilia, cancer and kidney disease.
Baxter has been rated a buy since May 2005, based on such positive investment measures as EPS growth, revenue growth, good cash flow from operations, and expanding profit margins. The company reported on Oct. 16 that its results in the third quarter of fiscal 2008 compared well with its previously posted guidance. Although the results were less than the industry average of 18.2%, revenue growth of 14.6% year over year appears to have helped fuel EPS growth. EPS improved 21.3% in the most recent quarter when compared to the third quarter of fiscal 2007, rising from 61 cents to 74 cents. In fact, the company has demonstrated a pattern of positive EPS growth over the past two years, and we feel that this trend should continue. Net income also increased, rising from $395 million a year ago to $472 million. Baxter's global sales increased 15.0% year over year to $3.2 billion due to strong performance from the company's international business. The return on equity also improved slightly when compared to the same quarter last year, which can be construed as a modest strength for Baxter.
Based on its strong sales and earnings in the third quarter, Baxter provided fourth quarter guidance for the first time and raised its full-year 2008 earnings outlook. While the company reaffirmed its expectation for sales growth in the range of 5% to 6% for the full year, it announced that it now anticipates full year earnings per diluted share of $3.35 to $3.37. Fourth quarter guidance was given as sales growth of approximately 7% and earnings per diluted share of $0.88 to $0.90. Although the company may harbor some minor weaknesses, we do not believe that any of these are likely to have a significant impact on the company's future results.
Campbell Soup
(CPB) - Get Campbell Soup Company Report
and its subsidiaries manufacture and market branded convenience food products worldwide.
We upgraded Campbell Soup to a buy in August 2008 based on the company's revenue growth, improved margins, and higher earnings. The rating is further supported by the company's higher return on assets, sound cash position and efficient debt management.
For the fourth quarter of fiscal 2008, Campbell Soup's revenue rose 12.8% year over year to $1.72 billion due in part to the positive impact of foreign exchange rates. Higher selling prices and an extra week in the most recent quarter also helped boost revenue. Higher pricing and improved productivity countered rising costs and helped the company's gross margin climb five basis points to 39.13%. Operating margin increased 365 basis points to 12.07%. As a result, the company reported 45.9% year-over-year growth in earnings. Campbell Soup's cash position also improved, as cash and cash equivalents rose 14.1% to $81 million. In addition, its debt-to-equity ratio improved to 1.24 from 2.06 due to declining debt and rising shareholders' equity. Return on assets also improved, rising 475 basis points to 18% due to the company's higher earnings.
Management commented that fiscal 2008 was a challenging year for Campbell Soup due to cost inflation. However, the company was pleased with its fourth quarter results, as well as with the fact that for the sixth consecutive year it has met or exceeded its financial guidance. The company was further encouraged by its progress during its first year in the marketplace in both Russia and China, remaining optimistic about expansion opportunities in both countries. Looking ahead to fiscal 2009, the company has plans in place to win customers in its core categories, and forecasts adjusted net earnings per share growth of 5% to 7% for the full year. Bear in mind that appreciation of the U.S. dollar could hurt Campbell Soup's future revenues, as the company was helped in 2008 by favorable foreign exchange rates. In addition, a recent product recall in Asia will put pressure on the company's margins.
Our quantitative rating is based on a variety of historical fundamental and pricing data and represents our opinion of a stock's risk-adjusted performance relative to other stocks. However, the rating does not incorporate all of the factors that can alter a stock's performance. For example, it doesn't always factor in recent corporate or industry events that could affect the stock price, nor does it include recent technology developments and competitive dynamics that may affect the company. For those reasons, we believe a rating alone cannot tell the whole story and should be part of an investor's overall research.
This article was written by a staff member of TheStreet.com Ratings.