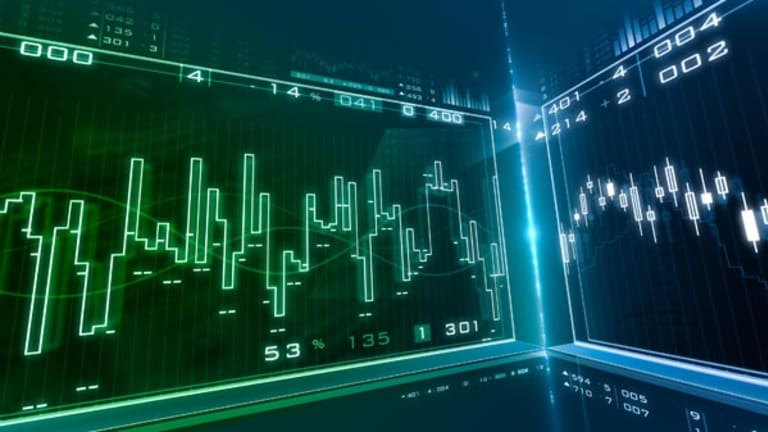 Top 5 Large-Cap Stocks for March 4
McDonald's, Gilead, Medco, Genentech and Apollo Group make the list.
McDonald's, Gilead, Medco, Genentech and Apollo Group make the list.
Each business day, TheStreet.com Ratings TheStreet.com Ratings compiles a list of the top five stocks in one of five categories -- fast-growth, all-around value, large-cap, mid-cap and small-cap -- based on data from the close of the previous trading session. Today, large-cap stocks are in the spotlight.
These are stocks of companies with market capitalizations of over $10 billion that rank near the top of all stocks rated by our proprietary quantitative model, which looks at more than 62 factors. In addition, the stocks must be followed by at least one financial analyst who posts estimates on the Institutional Brokers' Estimate System. The stocks are ordered by their potential to appreciate.
Note that no provision is made for off-balance-sheet assets such as unrealized appreciation/depreciation of investments, market value of real estate or contingent liabilities that might affect book value. This could be material for some companies with large underfunded pension plans.
McDonald's
(MCD) - Get Report
primarily operates and franchises McDonald's restaurants. In total, the corporation has more than 30,000 restaurants in more than 100 countries. We have
since March 2004, based on strengths such as its expanding profit margins and solid stock performance.
On Jan. 26, the company reported that its fourth-quarter global comparable sales rose 7.2%. Despite this, the company's revenues dropped slightly by 3.3% year over year. EPS also declined 17.9% when compared to the same quarter a year ago. However, we are encouraged by the company's strong gross profit margin of 37.30%. McDonald's net profit margin of 17.7% is also considered a strength for the company, as it compares favorably to the industry average. In addition, McDonald's reported a 16% improvement in full year EPS when compared to fiscal 2007.
Management was pleased with what it considered strong results for fiscal 2008. In particular, the company was content with an increase in customers served per day to 58 million, which it attributed to a strategic focus on menu choice, food quality, and value. In addition, management cited positive results in comparable sales and guest counts across all segments in the fourth quarter of fiscal 2008. Although the company had sub par growth in net income, we believe that its strengths outweigh any current weaknesses and see good upside potential even though the stock has already enjoyed a nice gain in the past year.
Gilead Sciences
(GILD) - Get Report
, a biopharmaceutical company, discovers, develops and commercializes therapeutics to advance the care of patients suffering from life-threatening diseases worldwide. We
in October 2008.
For the third quarter of fiscal 2008, revenue increased 29.5% to $1.4 billion from $1.1 billion a year ago due to higher product sales. Product sales surged 39.1% to $1.3 billion from $961.9 million, driven by strong growth of antiviral product sales (these in turn make up the most significant portion of overall revenue for the company). Royalty revenue plunged 72.4% to $25.2 million from $91 million, hurt by decreased Tamiflu royalties from Roche. Contract and other revenue spiked 29.6% to $7.6 million from $5.9 million a year ago. Margins were squeezed, however, as cost growth outpaced that of revenue. EPS rose from 42 cents in the third quarter of fiscal 2007 to reach 52 cents in the most recent period, an increase of 23.8%.
During the quarter under review, the Food and Drug Administration granted marketing approval to Viread for the treatment of chronic hepatitis B. The FDA refused to approve the inhaled version of aztreonam lysine and asked the company to conduct another study. Gilead also announced it intends to repurchase $750.00 million of its shares on an accelerated basis under a $3 billion share repurchase program announced in October 2007. Recently,
Teva Pharmaceuticals
(TEVA) - Get Report
applied to the FDA for permission to make a generic version of Gilead's HIV drug, Truvada. Gilead responded with a patent infringement lawsuit that can halt generic entry for a period of up to 30 months. Investors should be aware that this and other patent-related threats can pose a significant operational risk to the company's prospects, and are always situations that require monitoring. Other risks include any other regulatory or legal affairs, as well as any government policies that are considered unfavorable to drug makers.
Medco Health Solutions
(MHS)
is one of the nation's largest pharmacy benefit managers, providing sophisticated traditional and specialty pharmacy benefit programs and services for clients, members of client-funded benefit plans, and individual patients. We
upgraded Medco to a buy rating
in December 2008, based on such strengths as its growth, efficiency, and solvency.
For the fourth quarter of fiscal 2008, the company announced on February 24 that its revenue rose 13.9% year over year, surpassing the industry average of 6.3%. The increased revenue helped improve EPS, which rose 42.1% from 38 cents to 54 cents. Net income also improved in the fourth quarter, increasing 32.2% when compared to the same quarter a year ago. In addition, net operating cash flow increased significantly, rising 52.17% to $837.9 million. A further sign of Medco's strength is its return on equity, which exceed that of the prior year's quarter.
Looking ahead to fiscal 2009, Medco reaffirmed its previously announced guidance. The company anticipates fully-year 2009 GAAP diluted EPS between $2.45 and $2.55, which would represent growth of 15% to 20% over fiscal 2008 results. The stock's recent performance has been lackluster, but we feel that the company's strengths should have a greater impact than any weaknesses.
Genentech
(DNA)
is a biotechnology company that discovers, designs, manufactures, and commercializes a number of biotherapeutics, such as Rituxan, an antibody that is used in the treatment of non-Hodgkin's lymphoma. We have
since August 2008, based primarily on its growth, solvency, efficiency, and solid stock price performance.
For the fourth quarter of fiscal 2008, Genentech reported that its U.S. product sales rose 11% when compared to the same quarter of fiscal 2007. Revenue rose 24.9% year over year, and this growth appears to have helped boost EPS, which improved 47.5% from 59 cents to 87 cents. We feel that the company's trend of positive EPS growth should continue. Net income also increased in the fourth quarter, rising 47.7% from $631.00 million in the prior year's quarter to $932 million in the most recent quarter. Genentech has a very low debt-to-equity ratio of 0.2, which implies that the company has successfully managed its debt levels.
Looking ahead to fiscal 2009, the company has the potential to receive four FDA approvals. Current non-GAAP earnings guidance for fiscal 2009 was set at a range of $3.55 to $3.90. In setting this range, the company cautioned that a large number of business uncertainties make an accurate forecast difficult at this time. Looking at the stock price, it has risen over the past year, largely due to the company's strong earnings growth. While we do not currently see any significant weaknesses that are likely to affect the stock's future performance, bear in mind that even the best stocks can fall in an overall down market.
Apollo Group
(APOL)
is a global educational services company. The company operates through its subsidiaries: University of Phoenix, Institute for Professional Development, College for Financial Planning, Western International University, Meritus University, Insight Schools and Apollo Global. It also owns Aptimus, a provider of innovative digital media solutions. We
upgraded our rating on Apollo to a buy
in July 2008 based on some notable strengths, such as its robust revenue growth, solid stock price performance, impressive record of EPS growth, expanding profit margins and good cash flow from operations.
For the first quarter of fiscal 2009, the company reported that its revenue rose by 24.4% year-over-year, slightly outpacing the industry average of 18.8% growth. This growth appears to have helped boost Apollo's earnings per share, which improved 34.9% in the most recent quarter when compared to the first quarter of fiscal 2008. We feel that the trend of positive EPS growth over the past two years should continue. Net operating cash flow increased by 83.2% in the first quarter, rising to $380.80 million. In addition, net income increased from $139.87 to $180.36 over the past year.
Management stated that Apollo benefitted in the first quarter from investments made over the past several years. The company believes that the current economy is most likely having a positive effect on its business, as evidenced by year-end 2008 momentum carrying into fiscal 2009. With a strong balance sheet and strong operational and academic teams in place, management is optimistic about Apollo's outlook going forward. While we find the company's return on equity somewhat disappointing, we believe the strengths detailed above outweigh any potential weakness at this time.
Our quantitative rating, which can be viewed for any stock through our stock screener stock rating screener, is based on a variety of historical fundamental and pricing data and represents our opinion of a stock's risk-adjusted performance relative to other stocks. However, the rating does not incorporate all of the factors that can alter a stock's performance. For example, it doesn't always factor in recent corporate or industry events that could affect the stock price, nor does it include recent technology developments and competitive dynamics that may affect the company. For those reasons, we believe a rating alone cannot tell the whole story and should be part of an investor's overall research.