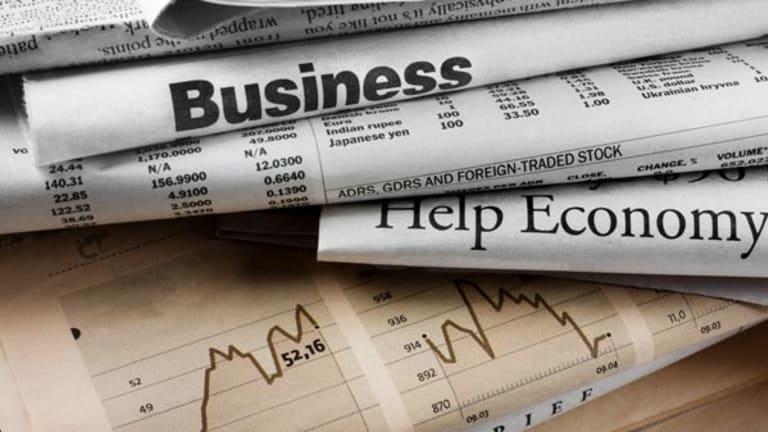 Top 5 Large-Cap Stocks for April 21
DirecTV, FPL Group, Amazon, Oracle and McDonald's make the list.
Each business day, TheStreet.com Ratings TheStreet.com Ratings compiles a list of the top five stocks in one of five categories -- fast-growth, all-around value, large-cap, mid-cap and small-cap -- based on data from the close of the previous trading session. Today, large-cap stocks are in the spotlight.
These are stocks of companies with market capitalizations of over $10 billion that rank near the top of all stocks rated by our proprietary quantitative model, which looks at more than 62 factors. In addition, the stocks must be followed by at least one financial analyst who posts estimates on the Institutional Brokers' Estimate System. The stocks are ordered by their potential to appreciate.
Note that no provision is made for off-balance-sheet assets such as unrealized appreciation/depreciation of investments, market value of real estate or contingent liabilities that might affect book value. This could be material for some companies with large underfunded pension plans.
The DirecTV Group
(DTV)
provides digital television entertainment in the United States and Latin America. We have rated the company a
since May 2006 due to the company's impressive revenue growth, expanding profit margins, increased cash balance and notable return on equity.
For the fourth quarter of fiscal 2008, DirecTV's revenue increased 9% year over year, led by solid subscriber growth and continued ARPU growth in the United States. The company's earnings per share got a slight boost as a result, rising from 30 cents to 31 cents, despite a drop in net income. Gross profit margin also improved due to the company's revenue growth, expanding 57 basis points to 46.8%. Cash and cash equivalents jumped 82.6% to $2 billion, while net operating cash flow increased 8.8%. Return on equity also showed improvement, increasing 847 basis points to 31.2% due to a lower equity base.
Management was pleased with the fourth quarter and full year results, noting that the company achieved its best quarterly net subscriber growth in over three years in the U.S. segment. While the company remains focused on obtaining new subscribers, it faces challenges from lower earnings, decreasing return on assets, and rising debt levels, which could affect financial performance and our rating in the future.
FPL Group
(FPL)
owns and operates Florida Power & Light Company, supplying electric service to a population of more than eight million throughout most of the east and lower west coasts of Florida. We have rated the stock a
since January 2009 due to the company's impressive growth and strong fundamentals.
For the fourth quarter of fiscal 2008, FPL's revenue grew 8.7% year over year to $4 billion due to higher energy prices, which increased from 10.74 cents per kilowatt hour (kWh) to 11.55 cents per kWh. The revenue growth slightly outpaced the industry average of 1.5%, and appears to have helped boost EPS. Continuing a trend of positive EPS growth over the past two years, the company reported significant EPS improvement in the fourth quarter, aided by flat operating expenses and higher revenue. However, we anticipate underperformance relative to this pattern in the coming year. Net income increased by 81.7% when compared to the same quarter a year ago, rising from $224 million to $407 million. Net operating cash flow also increased during the quarter, growing 23.3% year over year. Higher margins were also a strength for FPL in the most recent quarter, as gross profit margin widened to 27.60% from 21% and operating margin expanded 725 basis points to 18.8%. One further strength for the organization was a slight improvement in return on equity, which increased from 12.2% to 14%.
Looking to the future, FPL Group recently received approval for several expansion projects. The group plans to add 7,000 to 9,000 megawatts of wind assets to its portfolio between fiscal 2008 and fiscal 2009. Bear in mind that rising debt, inadequate liquidity, and lower energy unit sales do put our current rating at risk, although we do feel that the strengths detailed above outweigh any potential weakness at this time.
Amazon.com
(AMZN)
is an online retailer that operates various retail websites, including amazon.com, shopbop.com, and endless.com. We upgraded this stock to a
in February 2009 because of the company's impressive top-line growth across geographies, higher earnings, and healthy cash balances.
For the fourth quarter of fiscal 2008, Amazon's revenue increased 18.2% year over year, boosted by higher sales from the North American and International segments. Net income also improved, rising 8.7% from $207 million to $225 million. EPS rose in turn, climbing from 48 cents to 52 cents per share. Cash and cash equivalents jumped 19.8%, while total debt for the quarter dropped 52.1%. Stockholder equity more than doubled to $2.7 billion. As a result, the debt-to-equity ratio improved to 0.3 from 1.2 in the prior year's quarter.
Looking ahead to the first quarter of fiscal 2009, Amazon expects sales in the range of $4.5 billion to $4.9 billion. This would represent an increase of 9% to 19% over the same quarter of fiscal 2008. Be aware, however, that factors like contracting margins and shrinking return on equity could negatively impact the stock's future performance.
Oracle
(ORCL)
is an enterprise software company that develops, manufactures, distributes, services, and markets database, middleware, and application software worldwide. The company has been rated a
since October 2004 because of such positive factors as its expanding profit margins, solvency, efficiency and revenue growth.
For the third quarter of fiscal 2009, the company reported that its revenue increased slightly by 1.9%. Earnings per share (EPS) remained flat, however, indicating that the revenue improvement did not trickle down to Oracle's bottom line. Although the company has reported somewhat volatile earnings recently, we feel that it is poised for EPS growth in the coming year. Oracle's gross profit margin increased since the same quarter a year ago, and is currently very high at 20.2%. Its net profit margin of 24.4% is above the industry average. Net operating cash flow increased to 25.1% in the third quarter. A quick ratio of 1.8 demonstrates strong liquidity, although a debt-to-equity ratio above the industry average indicates that Oracle's management of debt levels may need to be evaluated further.
Based on its third quarter results, record operating cash flow, and free cash flow, Oracle decided to pay its first quarterly cash dividend to holders of common stock. The 5 cents per share will be paid on May 8. Although the company may harbor some minor weaknesses, we feel that they are unlikely to have a significant impact on future financial results.
McDonald's
(MCD)
primarily operates and franchises McDonald's restaurants. In total, the corporation has more than 30,000 restaurants in more than 100 countries. We have rated McDonald's a
since March 2004, based on strengths such as its expanding profit margins and solid stock performance.
On Jan. 26, the company reported that its fourth quarter global comparable sales rose 7.2%. Despite this, the company's revenues dropped slightly by 3.3% year-over-year. EPS also declined 17.9% when compared to the same quarter a year ago. However, we are encouraged by the company's strong gross profit margin of 37.3%. McDonald's net profit margin of 17.7% is also considered a strength for the company, as it compares favorably to the industry average. In addition, McDonald's reported a 16% improvement in full year EPS when compared with fiscal 2007.
Management was pleased with what it considered strong results for fiscal 2008. In particular, the company was content with an increase in customers served per day to 58 million, which it attributed to a strategic focus on menu choice, food quality, and value. In addition, management cited positive results in comparable sales and guest counts across all segments in the fourth quarter of fiscal 2008. Although the company had sub par growth in net income, we believe that its strengths outweigh any current weaknesses and see good upside potential even though the stock has already enjoyed a nice gain in the past year.
Our quantitative rating, which can be viewed for any stock through our stock screener stock rating screener, is based on a variety of historical fundamental and pricing data and represents our opinion of a stock's risk-adjusted performance relative to other stocks. However, the rating does not incorporate all of the factors that can alter a stock's performance. For example, it doesn't always factor in recent corporate or industry events that could affect the stock price, nor does it include recent technology developments and competitive dynamics that may affect the company. For those reasons, we believe a rating alone cannot tell the whole story and should be part of an investor's overall research.