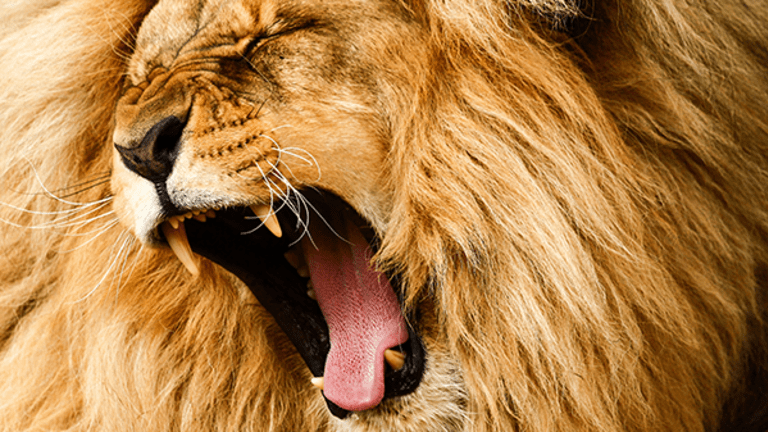 5 Great Stocks to Buy That Yield an Average 8%
Some big names offer pleasant surprises.
As an investor whose core strategy focuses on reinvestment of income, I have more difficulty finding high-yielding ideas than I did, say, five years ago, but they do exist.
Against that backdrop, I have been tasked by RealMoney's editors with naming my top five high-yielding stocks to own for the second half of 2017. I'm an "income guy," so I fired up my stock screener and, I have to admit, since I generally focus on smaller-cap names, the absolute yields featured by some of the household names in my screen surprised me. To paraphrase Mike Myers in today's markets, "if it's not FANG, it's crap," but I believe high-yielding large-cap names are being ignored in the market's love affair with Nasdaq. 
A Controversial Name
Frontier Communications (FTR) - Get Frontier Communications Corp. Report, current annualized yield: 16.05%. This is the most controversial, so I am listing it first. As of the most recent data, FTR shares were by far the most heavily shorted on the Nasdaq with an astonishing 28% of the outstanding count shorted against. I'll have much more on FTR between now and the company's second-quarter earnings report on Aug. 1. I believe that report will remind the market that this remarkably unloved company in the least-fashionable sector actually generates copious amounts of free cash flow, and that based on that cash flow, FTR shares at $15 are undervalued by at least half. 
The Contrarian Oil Bull
Helmerich & Payne (HP) - Get Helmerich & Payne, Inc. Report , 4.89%: HP owns oil rigs, mostly in the U.S., and I'm bullish on oil, but bullish means I think we'll be back at $55 a barrel or so by the end of the third quarter, not back to $70, $80, etc. The real story on HP is the move toward greater efficiency in drilling, not the absolute increase in rigs. Oil companies are realizing that in a "lower for longer" environment, maximizing output over the life of a well (EUR, in industry parlance) is the tonic for commodity prices that are unlikely to revisit the 2013-14 peak levels. So longer laterals are the name of the game and HP's state-of-the-art AC drive rigs are vastly superior to older technologies that can quite literally get stuck in the mud. 
Yes, Retail
Target (TGT) - Get Target Corporation Report , 4.54%. Again, this screen is not indicative of my usual investing process, but I simply could not believe the market is according Target a 4.5% yield. So I get a retail giant with a great brand, huge reach and expanding online presence and as a bonus receive a yield that is nearly 70% higher than Walmart's (WMT) - Get Walmart Inc. Report and (of course) infinitely higher than Amazon's (AMZN) - Get Amazon.com, Inc. Report ? Yes, please! I'll live with the periodic "Amazon is going to kill this one" hysteria and buy on those dips while reinvesting those fat dividends (and shopping at my local Target). 
More Oil Names
Occidental Petroleum (OXY) - Get Occidental Petroleum Corporation Report , 5.09%: As I noted on HP, I am bullish on oil and natural gas prices today, and OXY offers a pure-play E&P at the type of yield usually reserved for integrated majors. We'll let Exxon (XOM) - Get Exxon Mobil Corporation Report , Chevron (CVX) - Get Chevron Corporation Report , Total (TOT) - Get Total SA Report , Shell undefined and BP (BP) - Get BP Plc Report deal with the vagaries of running downstream operations and managing far-flung global resource plays, and stick with good old-fashioned American shale.
Dabbling in Financials 
Annaly Capital (NLY) - Get Annaly Capital Management, Inc. Report , 10.16%: The mortgage REITs are better positioned for a less-expansionary Fed than any other sector. It was the Fed's hell-on-wheels dive into the mortgage-backed securities (MBS) market that pressured spreads for NLY and its peers during the QE2 period, and recent statements from Chair Janet Yellen and her peers have indicated the Fed wants to begin to reduce its bond market holdings. NLY shares dipped on a follow-on offering this week, but remember, as a REIT, Annaly can only meaningfully expand its balance sheet by issuing new equity. So NLY's management is showing their bullishness on the MBS market, and you can play that by buying NLY shares.
(This article originally appeared on Friday on Real Money, our premium site for active traders. Click here to get great columns like this from Jim Cramer and other writers even earlier in the trading day.)
More of What's Trending on TheStreet:
At the time of publication, Jim Collins was long FTR, although positions may change at any time.