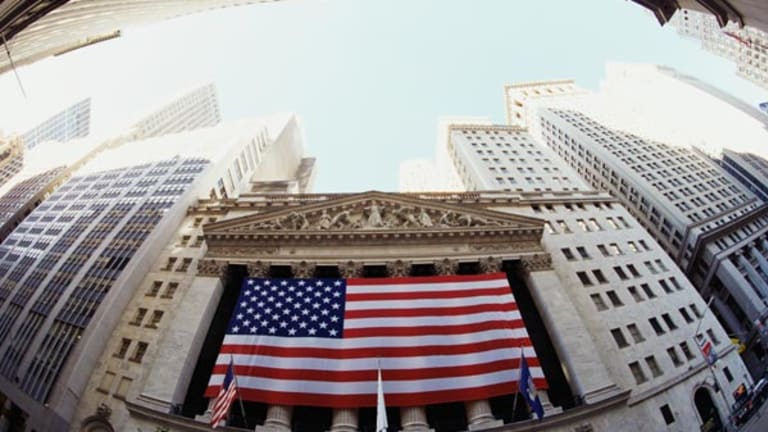 Top 5 Fast-Growth Stocks for Nov. 17
Ralcorp, DeVry and Neogen make the list.
Top Five Fast-Growth Stocks: November 17By TSC Ratings StaffEach business day, TheStreet.com Ratings compiles a list of the top five stocks in one of five categories -- fast-growth, all-around value, large-cap, mid-cap and small-cap -- based on data from the close of the previous trading session. Today, fast-growth stocks are in the spotlight.
These are stocks of companies that are projected to increase revenue and profit by at least 12% in the coming year and rank near the top all stocks rated by our proprietary quantitative model, which looks at over 60 factors.
In addition, the stocks must be followed by at least one financial analyst who posts estimates on the Institutional Brokers' Estimate System. Please note that definitions of revenue vary by industry, and this screen does not make adjustments for acquisitions, which can materially affect posted results. Likewise, earnings-per-share growth may be affected by accounting charges, share repurchases and other one-time items.
Note that no provision is made for off-balance-sheet assets such as unrealized appreciation/depreciation of investments, market value of real estate or contingent liabilities that might affect book value. This could be material for some companies with large underfunded pension plans.
Neogen
(NEOG) - Get Neogen Corporation Report
and its subsidiaries develop, manufacture and market products dedicated to food and animal safety. Our buy rating for Neogen has not changed since February 2003, based on strengths such as the company's robust revenue growth, impressive record of earnings per share growth, and expanding margins.
For the first quarter of fiscal 2009, the company reported that its revenues, net income and EPS all represented quarterly records. Revenue growth was reported at 25.7% year over year, with revenues appearing to help boost EPS, which improved 17.2%. Net income also increased, rising 24% from $3 million in the first quarter of fiscal 2008 to $3.7 million in the most recent quarter. Neogen attributed its record results to the assimilation of recent acquisitions and significant growth in the company's primary product lines. Additionally, the company's gross profit margin is rather high at 54.7%, but Neogen has managed to decrease this number over the last year.
Neogen's sale price has not changed very much compared to where it was trading a year ago due to the relatively weak overall performance of the market and the company's recent mixed results. However, it is currently trading at a price that is somewhat expensive compared to the rest of its industry. Due to the strengths detailed here and a lack of significant weaknesses, we feel that higher price level is justified at this time.
DeVry
(DV) - Get DoubleVerify Holdings Inc. Report
is an international higher education company that operates DeVry University, Ross University, Chamberlin College of Nursing and Becker Professional Review. The company has been rated a buy since January 2007. DeVry's strengths can be seen in a variety of areas, such as its impressive record of EPS growth, good cash flow from operations, robust revenue growth and largely solid financial position.
The company reported revenue growth of 21.3% year over year in the first quarter of fiscal 2009. This growth outpaced the industry average of 12.7%, and it also appears to have helped boost EPS, which improved 29.7% when compared with the same quarter last year. Net operating cash flow increased 21% to $96.8 million in the first quarter. DeVry has a very low debt-to-equity ratio of 0.2, which implies that the company has been very successful at managing its debt levels. During September 2008, DeVry completed the acquisition of U.S. Education, the parent company of Apollo College and Western Career College, which operates 17 campus locations in the western U.S.
Management stated that DeVry's strong first-quarter results were driven by a strategic plan to increase enrollment through improved marketing and recruiting. The acquisition of U.S. Education also helps this strategic plan by allowing DeVry to further diversify its educational offerings. The company is confident that it should be able to continue maximizing shareholder value and achieving long-term growth goals despite a tough economy due to its diversified portfolio. It is important to remember that a quick ratio of 0.7 indicates a potential problem in covering short-term cash needs. In addition, the company shows low profit margins. All the same, we feel that the strengths detailed above are enough to outweigh any potential weaknesses at this time.
Ralcorp Holdings
( RAH) is a Missouri-based company that manufactures, distributes and markets store-brand (private label) food products in the grocery, mass merchandise, drug and foodservice channels. We have rated it a buy since February 2004.
The company reported on Nov. 12 that its fiscal 2008 diluted EPS increased approximately 5% over its fiscal 2007 result, excluding the impact of restructuring charges and the profit contribution and incremental interest expense from the recent acquisition of Post Foods. That acquisition added approximately 18 cents to the reported EPS for the fourth quarter and approximately 16 cents for the full year. According to Ralcorp, its fourth-quarter EPS increased 39% year over year, while its net sales increased 44%, primarily due to the above-mentioned acquisition.
The company stated that it faced serious challenges that could have negatively affected its financial results in fiscal 2008. These included cost increases in raw material, packaging, and freight. However, Ralcorp was able to increase its volumes in most businesses despite these price increases, contributing to the 5% increase in fiscal 2008 EPS. The company is confident that it will be able to grow its core businesses in fiscal 2009, despite the likelihood of facing similar challenges in the year ahead. Bear in mind, however, that any familiar to adequately transition Post Foods into Ralcorp operations could affect the company's future results, as there are significant costs related to the transition.
New Jersey Resources
(NJR) - Get NewJersey Resources Corporation Report
is an energy services holding company that provides retail and wholesale energy services to customers in New Jersey, other states from the Gulf Coast to New England and Canada. Our rating for New Jersey Resources Corporation has been in place since September 2002, supported by the company's healthy revenue growth, solid stock price performance, compelling net income growth and impressive record of EPS growth.
For the fourth quarter of fiscal 2008, the company reported revenue growth of 40.1% year over year, which outpaced the industry average of 22.6%. Revenue growth appears to have helped boost EPS, which rose significantly from a loss of 91 cents per share in the fourth quarter of fiscal 2007 to a profit of $1.86 in the most recent quarter. Net income surged 305.1% when compared to the same quarter a year ago. In addition, the company announced that its Board of Directors recently approved a 10.7% dividend increase, bringing the quarterly dividend rate to 31 cents per share. The company has paid quarterly dividends continuously since it began in 1952.
Looking ahead to fiscal 2009, New Jersey Resources forecasts net financial earnings in the range of $2.30 to $2.40 per basic share. Approximately 30% to 40% of those earnings are expected to come from the company's wholesale energy services subsidiary, NJR Energy Services. The company shows low profit margins, but we feel that its strengths outweigh any potential weakness at this time. Strong earnings growth has helped the stock price rise over the past year, and the stock should see more upside potential unless a broad bear market prevails.
Cubist Pharmaceuticals
(CBST)
is a biopharmaceutical company that engages in the research, development, and commercialization of pharmaceutical products for the anti-infective market. We recently upgraded Cubist from a hold to a buy on Oct. 17. Our rating is supported by a number of strengths, such as its robust revenue growth, solid stock price performance, and expanding profit margins. Growth in net income and EPS also contribute to the company's strengths.
The company reported 40.9% year-over-year revenue growth in the third quarter of fiscal 2008, contributing to an EPS improvement of 37.5%. EPS climbed from 32 cents in the third quarter of fiscal 2008 to 44 cents in the most recent quarter. The company has, in fact, demonstrated a pattern of positive EPS growth over the past two years, and we feel that this trend is likely to continue. Net income also increased in the third quarter, increasing 39.5% from where it was a year ago. Although Cubist's gross profit margin is very high at 79.1%, it has managed to decrease that result compared to the prior year's quarter. In addition, the company's net profit margin of 24.8% compares favorably with the average for the biotechnology industry.
The stock price is not only higher than it was a year ago, but it also outperformed the
S&P 500
over the same period of time. Strong earnings growth appears to have been key to this growth, although other factors clearly played a role as well. Although even the best stocks can fall in an overall down market, we feel that this stock still has good upside potential under any other market conditions. Although no company is perfect, we do not currently see any significant weaknesses that are likely to detract from Cubist's generally positive outlook.
Our quantitative rating is based on a variety of historical fundamental and pricing data and represents our opinion of a stock's risk-adjusted performance relative to other stocks.However, the rating does not incorporate all of the factors that can alter a stock's performance. For example, it doesn't always factor in recent corporate or industry events that could affect the stock price, nor does it include recent technology developments and competitive dynamics that may affect the company.For those reasons, we believe that a rating alone cannot tell the whole story and that it should be part of an investor's overall research.
This article was written by a staff member of TheStreet.com Ratings.