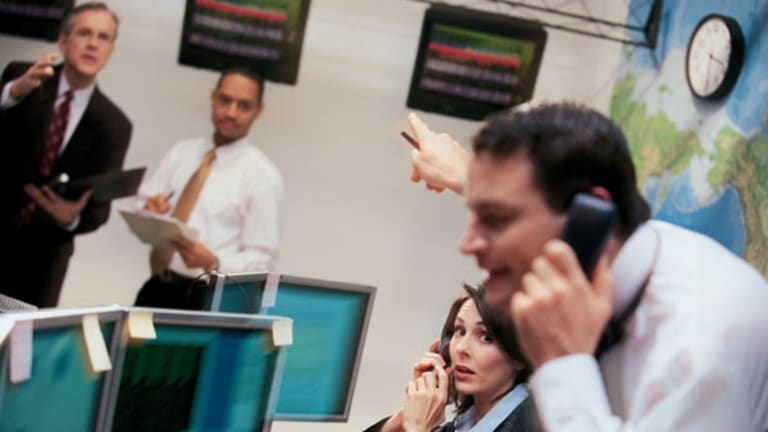 Publish date:
Top 5 Bargain Stocks in the S&P 500
As these companies continue to pound out profits in coming quarters and years, the cash on their balance sheet is likely to swell higher.
As these companies continue to pound out profits in coming quarters and years, the cash on their balance sheet is likely to swell higher.
NEW YORK (Stockpickr) -- There are two kinds of value investors. Some focus on the income statement and search for stocks that trade at a low valuation in relation to earnings, while others seek out value on the balance sheet via companies that have a market value lower than the book value (or shareholder's equity).
On occasion, though, you'll come across companies that appeal to both crowds. In the S&P 500, there are 36 companies that trade for less than book value and also trade for less than 10 times projected 2013 profits.
>>5 Stocks Poised for Big Breakouts
That should set the stage for a solid-multi-year backdrop. As these companies continue to pound out profits in coming quarters and years, the cash on their balance sheet is likely to swell higher. Or they may choose to pay off debt. Either way, book value is likely rise yet higher, creating a further valuation gap on a price-to-book basis.
Of all of the companies in the S&P 500,
, offering deep value on both counts.
Tyson Foods
The recent drought has not been kind to leading poultry producer
Tyson Foods
(TSN) - Get Report
. Corn is a major source of chicken feed, and rising corn prices are leading to fast-shrinking profit margins on every bird sold. (Tyson is also a major producer of beef and pork as well, which are also affected by corn feed prices.)
Just a month ago, analysts though Tyson would earn nearly $2.30 a share by 2013. Now they think the company will be lucky to earn $1.50 next year. Yet paradoxically, this is precisely the backdrop in place to find this stock appealing.
>>7 Food Stocks to Weather the Drought
Shares have been steadily falling in recent weeks due to the falling profit forecasts, but the near-term gyrations in the farm belt only last for a year or two. Assuming a return to more-normal weather patterns in 2013, Tyson's profits should rebound nicely -- at least by 2014 -- perhaps back to that $2.30 level that analysts had only recently been anticipating.
In that context, the forward P/E multiple is even more appealing -- around 7. And the fact that shares are already just below book value likely provides support at current levels.
Sealed Air
Sealed Air
(SEE) - Get Report
has been a longstanding leader in food packaging but decided to diversify its business a year ago by paying more than $4 billion to acquire Diversey, which makes a range of cleaning products. Management moved too slowly to deliver on the promised cost cuts and cross-selling synergies. As a result, shares have lost half of their value since early 2011.
Yet on the recent conference call, Sealed Air noted that those gains will soon finally arrive, and they project lower expenses and risings sales. Right now, analysts only buy into the bottom-line forecast: Sales are expected to rise less than 2% (to $8 billion) though EPS is likely to shoot up 40% to around $1.40. Much of the gains should be in the form of free cash flow. That metric is expected to rise from $268 million in 2011 to around $560 million by 2014.
That rising free cash flow should help towards debt paydowns, taking stated book value even higher.
Citigroup
It's quite unusual to see a company trade this far below book value, but a still-weak U.S. economy, coupled with deep distress in Europe, has many investors spooked about banking stocks right now.
Citigroup
(C) - Get Report
is one of a number of banks selling below book right now. Yet as the storms clouds pass, shares of Citigroup are likely to trade up to at least book value (representing more than 70% upside).
Notably, Citigroup's earnings are depressed so that already-low P/E multiple will move even lower as the U.S. economy mends and Citigroup's results start to strengthen. That also means that book value will build higher, creating even more upside for this stock to work its way back to book value.
Some analysts think that Citigroup, though it is one of the cheapest bank stocks around right now, has especially robust long-term upside. The bank has been investing heavily in South America and Asia which are home to a rising middle class, and a swelling number of millionaires. The bank hopes to ride the back of a rising explosion of wealth in those regions.
Cliffs Natural Resources
Cliffs Natural Resources
(CLF) - Get Report
, a miner of iron ore metallurgical coal to the steel industry, had a banner year in 2011. Firm prices for its commodities fueled solid 40% gross margins, which led to profits of more than $11 a share.
Yet the positive backdrop has melted away, and profits are expected to fall by around 40% this year before rebounding to around $7 or $8 a share in 2013 and 2014.
>>5 Materials Stocks Under $10 on the Rise
Investors decided to abandon ship, and shares of CLF have fallen from $100 in the spring of 2011 to a recent $38, yet analysts at Citigroup now think the selling has been overdone, and figure shares will trade back up in short order. They think investors should focus on that profit rebound for 2013 and 2014: "Typically we view 10x forward P/E as the appropriate multiple for mid-cycle earnings. We apply a 10.5x multiple on our '13 estimate to arrive at a target price of $71."
Xerox
Photo-copy equipment maker
Xerox
(XRX) - Get Report
may seem like a dinosaur in a world of digital documents, but a 2010 acquisition of Affiliated Computer Services for $6.4 billion gives Xerox exposure to a side of the business that has much more stability. ACS provides document management and business process outsourcing services under long-term contracts.
The net result: Xerox's sales don't grow much, but it is a remarkably profitable business. Consider that Xerox generated more than $1 a share in free cash flow in 2011, with that figure expected to rise to $1.40 by 2013, according to Goldman Sachs. That means book value is likely to keep building at a solid pace.
At some point -- soon -- investors are going to realize the disconnect between the current $7 stock price and book value which is in track to exceed $10 a share some time in 2013.
To see these stocks in action, visit the
portfolio.
RELATED LINKS:
>>5 Unloved Stocks to Crush the S&P
>>5 Stocks Under $10 Set to Soar Higher
>>5 Toxic Stocks You Need to Sell Now
Follow Stockpickr on
and become a fan on
Facebook.
At the time of publication, author had no positions in stocks mentioned.
Stockpickr is a wholly owned subsidiary of TheStreet.com.