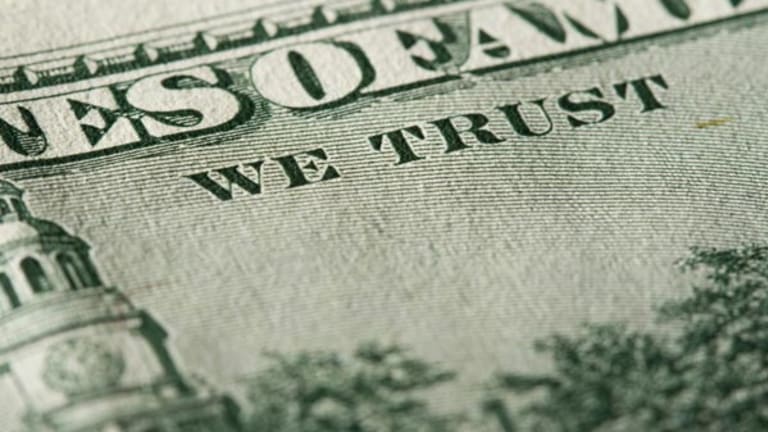 Top 5 All-Around-Value Stocks for Nov. 4
Kroger, Union Pacific, Hewlett-Packard, DirecTV and Burlington Northern make the list
Each business day, TheStreet.com Ratings compiles a list of the top five stocks in one of five categories -- fast-growth, all-around value, large-cap, mid-cap and small-cap -- based on data from the close of the previous trading session. Today, all-around-value stocks are in the spotlight.
These are stocks of companies that meet a number of criteria, including annual revenue of more than $500 million, lower-than-average valuations such as a price-to-sales ratio of less than 2, and leverage that is less than 49% of total capital. In addition, they must rank near the top of all stocks rated by our proprietary quantitative model, which looks at more than 60 factors. The stocks must also be followed by at least one financial analyst who posts estimates on the Institutional Brokers' Estimate System. They are ordered by their potential to appreciate.
Note that no provision is made for off-balance-sheet assets such as unrealized appreciation/depreciation of investments, market value of real estate or contingent liabilities that might affect book value. This could be material for some companies with large, underfunded pension plans.
Kroger
(SYMBOL)
is one of the nation's largest grocery retailers. Our buy rating for Kroger has been in place since March 2006. Although the company has generally had poor debt management, we feel that the rating is justified due to strengths such as the company's earnings per share growth, revenue growth and increase in net income. For the second quarter of fiscal 2008, the company reported revenue growth of 11.9% year over year. This growth appears to have trickled down to the company's bottom line, helping to boost EPS by 10.5%. EPS rose from 38 cents in the second quarter of fiscal 2007 to 42 cents in the most recent quarter. Net income also grew during the second quarter, improving 3.5% from $2.76 billion to $2.77 billion.
Management credited its Customer 1st strategy as the basis for its ability to create value for its shareholders. Because of its year-to-date results and management's outlook for the remainder of the fiscal year, Kroger raised its identical sales guidance for fiscal 2008 to a range of 4.5% to 5.5%, excluding fuel. The company confirmed its earnings guidance of $1.85 to $1.90 per diluted share. The company had previously released earnings guidance of $1.83 to $1.90 per diluted share. While Kroger's share price has dropped recently, we do not see any strong reason stemming from the company's fundamentals that would cause a continuation of the past year's decline.
Union Pacific
(UNP) - Get Union Pacific Corporation Report
provides rail transportation through its principal operating company, Union Pacific Railroad Company, which runs the largest railroad in North America. Union Pacific has been rated a buy since February 2005 due to its impressive record of earnings per share growth, compelling growth in net income, revenue growth, largelysolid financial position and notable return on equity.
On Oct. 23, the company reported record quarterly results for the third quarter of fiscal 2008, despite the impact of hurricanes and economic conditions. Record operating income of $1.2 billion represented a 21.0% increase year over year. Revenues rose by 15.6% when compared to the same quarter last year. Although lower than the industry average of 21%, this growth appears to have helped boost EPS, which rose 38% over the prior year's quarter. A debt-to-equity ratio of 0.54 indicates successful management of debt levels, although the company does not appear able to easily pay its short-term obligations.
Although Union Pacific's stock has shown somewhat lackluster performance recently, we feel that the company's strengths outweigh any potential weakness at this time. Union Pacific's management expects the company to produce strong earnings growth in the fourth quarter, despite challenging economic conditions, as customers continue to see freight rail transportation as a valuable and attractive choice.
Hewlett-Packard
provides products, technologies, solutions and services to individual consumers and businesses worldwide. Our buy rating for Hewlett-Packard has not changed since November 2004. This rating is based on the company's impressive record of EPS growth, increases in net income and revenue, attractive valuation levels and good cash flow from operations.
Hewlett-Packard's total revenue for the third quarter of fiscal 2008 grew 10.5% year over year, which allowed EPS to improve by 21.2% when compared to a year ago. The company has, in fact, demonstrated a pattern of positive EPS growth over the past two years, and we feel that this trend should continue. Net income increased by 14%, rising from $1.8 billion in the third quarter of fiscal 2007 to $2.03 billion in the most recent quarter.
Management attributed the company's third quarter results to the acceleration of its enterprise growth and good execution across its portfolio. Hewlett-Packard's global position, broad product and services offerings and incremental cost saving opportunities led management to state that it is confident in the company's ability to deliver expanded earnings in the future. For fiscal 2008, Hewlett-Packard expects revenue to range between $30.2 billion and $30.3 billion.
The DirecTV Group
(DTW) - Get DTE Energy Company 2017 Series E 5.25% Junior Subordinated Debentures due 2077 Report
provides digital television entertainment in the United States and Latin America. We have rated the DirecTV Group a buy since May 2006. Our recommendation is based on the company's continuing revenue growth, higher return on equity, and improving gross profit margin and bottom line.
DirecTV Group Inc.'s revenue increased 16.3% year over year in the second quarter of fiscal 2008, with U.S. revenue climbing 12.6% and Latin America revenue soaring 49.4%, aided by net subscriber additions in both segments. Net income rose from $448 million in the second quarter of fiscal 2007 to $455 million in the most recent quarter, while EPS improved from 36 cents to 40 cents during the same time period. Cash and cash equivalents almost doubled in the second quarter to $3.84 billion, while return on equity rose 85 basis points to 22.7%. The company's gross profit margin also improved during the quarter, climbing 136 basis points to 51.61%.
Although the company reported impressive revenue growth, it faces challenges fromdeteriorating operating margin, declining return on assets, and higher debt levels. Furthermore, any decline in finding new subscribers and rise in operating costs may restrict DirecTV's future financial performance.
Burlington Northern Santa Fe
( BNI)) operates one of the largest railroad networks in North America, ranging across 28 states and two Canadian provinces. We have rated BNSF a buy since July 2004. This rating is supported by the company's growth in revenue and net income.
For the third quarter of fiscal 2008, the company reported that its net income surged 31.1% year over year, largely due to a revenue increase of 20.6%. Revenue growth was boosted by strong performances from all of the company's business segments, such as the Agricultural Products segment's 33.3% growth in the third quarter when compared to the same quarter last year. This revenue growth appears to have helped boost BNSF's EPS, which improved 35.1%. Management reported that these results were the best quarterly EPS results in the company's history. Net operating cash flow increased significantly by 79.75%, while return on equity increased slightly from 16.83% in the third quarter of fiscal 2007 to 17.38% in the most recent quarter. In addition, the company's operating income increased 21%.
Management stated that it remains optimistic for the future of the company, despite the significant challenges created by the U.S. and global economies. The company is confident that its long-term financial prospects are good. Bear in mind, however, that the Road and Rail industry is particularly sensitive to the overall health of the economy.
Our quantitative rating is based on a variety of historical fundamental and pricing data and represents our opinion of a stock's risk-adjusted performance relative to other stocks. However, the rating does not incorporate all of the factors that can alter a stock's performance. For example, it doesn't always factor in recent corporate or industry events that could impact the stock price, nor does it include recent technology developments and competitive dynamics that may affect the company. For those reasons, we believe a rating alone cannot tell the whole story, and should be part of an investor's overall research.
This article was written by a staff member of TheStreet.com Ratings.