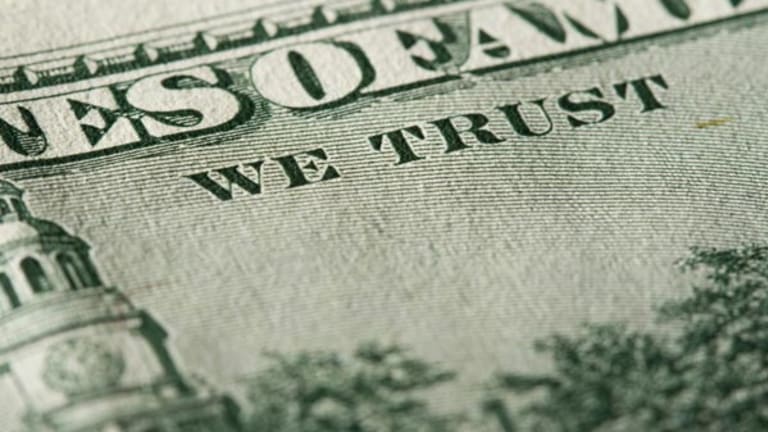 Publish date:
Top 5 All-Around-Value Stocks for June 23
Dollar Tree, New Jersey Resources, UGI, Enterprise Products Partners and Lancaster make the list.
Dollar Tree, New Jersey Resources, UGI, Enterprise Products Partners and Lancaster make the list.
TSC Ratings TheStreet.com Ratings provides exclusive stock, ETF and mutual fund recommendations using proprietary tools. Our "safety-first" approach aims to reduce risk while achieving performance on a total return basis.
Each business day, we compile a list of the top five stocks in one of five categories -- fast-growth, all-around value, large-cap, mid-cap and small-cap.
Today, all-around value stocks are in the spotlight. These companies have annual revenue of more than $500 million, below-average valuations and debt of less than 49% of total capital, and they receive buy ratings from our proprietary quantitative model, which considers more than 60 factors. They are ordered by their potential to appreciate.
Dollar Tree
(DLTR) - Get Dollar Tree, Inc. Report
operates discount variety stores in the U.S. under the names Dollar Tree, Deal$ and Dollar Bills. We have
since May 2008.
First quarter revenue jumped 14% year over year, surpassing the industry average of 7% growth, as net income increased 39% to $60 million. The company maintained modest leverage as reflected by its debt-to-equity ratio of 0.21, although a quick ratio of 0.86 indicates a less-than-ideal liquidity position.
Shares of Dollar Tree have climbed 1% year-to-date, slightly outperforming the
Dow
and
S&P 500
. The stock trades at a price-to-earnings ratio around 16, which is in line with the S&P average, and it does not offer dividends.
New Jersey Resources
(NJR) - Get New Jersey Resources Corporation Report
is an energy services company that provides retail and wholesale energy services to customers in New Jersey and other states from the Gulf Coast to New England and Canada. We have rated
since September 2002.
Second-fiscal-quarter revenue declined marginally, but EPS surged 183% to 83 cents. Net operating cash flow increased 120% to $383 million. The debt-to-equity ratio remained low at 0.63, but a quick ratio of 0.43 indicates a weak cash position.The company has increased its full-year earnings guidance for fiscal 2009 and now expects EPS between $2.35 and $2.45. Shares of New Jersey Resources have fallen 7% in 2009, underperforming the Dow and S&P 500. The stock trades at a price to earnings ratio of 13, representing a slight discount to the market, and offers an attractive 3.4% dividend yield.
UGI
(UGI) - Get UGI Corporation Report
engages in the distribution and marketing of energy products and services in the U.S. and internationally. The company also operates a heating, ventilation, air conditioning and refrigeration business serving customers in the Mid-Atlantic region. We have
since August 2004.
UGI reported a 24% year-over-year improvement in second-fiscal-quarter EPS despite a marginal drop in revenue, continuing a trend of positive growth for eight consecutive quarters. Net operating cash flow increased 104% to $503 million, but a quick ratio of 0.86 indicates a less-than-ideal liquidity position.
Management stated that higher unit margins in the propane business contributed to second quarter improvement. The company expects full year EPS between $2.40 and $2.50. Shares of UGI have climbed 4% in 2009, outperforming the Dow and S&P 500. Still, the stock trades at a price to earnings ratio under 10, indicating a discount to the market, and offers a 3.14% dividend yield.
Enterprise Products Partners
(EPD) - Get Enterprise Products Partners L.P. Report
is a midstream energy company that provides services to producers and consumers of natural gas, NGLs, crude oil and petrochemicals in the US, Canada and Gulf of Mexico. We
upgraded Enterprise Products to buy
in April.
Enterprise continues to deal with the effects of Hurricanes Gustav and Ike but posted a record gross margin in the first quarter. NGL, crude oil and petrochemical transportation volumes increased to a record 2.2 million barrels per day and net profit margin remained strong near 7%.
Shares of Enterprise Products have climbed 19% year-to-date, outperforming all major indexes. Yet, at its current price, the stock offers a cash distribution yield of 8.74%. Cash distributions are taxed differently than dividends.
Lancaster Colony
(LANC) - Get Lancaster Colony Corporation Report
manufactures and markets glassware, candles and specialty foods for the retail and foodservice markets. We have
since January.
Fiscal-third-quarter revenue jumped 7% year over year and boosted EPS 181% to 76 cents. Lancaster Colony also reported significant net income growth of 146%. The company has miniscule debt, as reflected by a debt-to-equity ratio of 0.04. A quick ratio of 1.27 indicates a strong liquidity position.
Third-quarter results were boosted by higher specialty foods volumes and operational improvements. Strong retail pricing and lower material costs are expected to boost fourth quarter results, despite uncertain consumer demand. Shares of Lancaster Colony have ascended an impressive 28% year-to-date and consequently are trading at a slight premium to the market on the basis of earnings.
TSC Ratings was recently given an award for "Best Stock Selection" amongst independent research providers by BNY ConvergEx Group. To see how your portfolio can utilize our research, click here.A rating can be viewed for any stock through our screener stock rating screener. Each rating is derived from a variety of fundamental and pricing figures and represents our opinion of risk-adjusted performance relative to a 5,000+ stock coverage universe. However, the rating does not incorporate all factors that can alter a stock's performance, such as corporate or industry events, technology innovations and shifts in competitive dynamics.