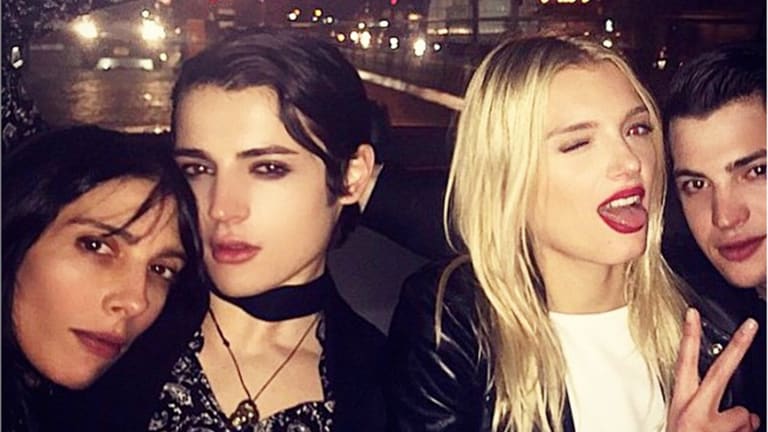 Top 10 Rich Kids of Instagram of 2018-- Who to Follow
They're young, they're rich and they're Insta-famous. Take a look at the 10 #RichKidsofInstagram you should be following, if you are not already.
When Instagram launched in 2010, it was designed for people to share and show off photos of their lives to friends and followers, and the young and wealthy elite have taken advantage of it.
The Rich Kids of Instagram Tumblr began several years ago and has spent that time curating content that shows off the lives of the young, rich and Insta-famous, or Insta-infamous. Of course, "kids" isn't the perfect phrase for it. Some of these people are in their 30s - but as heirs, heiresses and the children of industry titans, they remain rich kids.
Currently it boosts thousands of followers across all social media, with its Instagram account racking up more than 387,000 followers. Hashtags like #RKOI and #richkidsofinstagram became popular to use in both ironic and unironic fashions, some to mock the overindulgent nature of the photos and others to merely keep indulging in it. Whatever your choice, its popularity on social media was absolutely undeniable.
"It's fun, brash, sexy, intriguing and a window into another world for people," a spokesperson for Rich Kids of Instagram said in an email. "I think there's a love/hate relationship with it, and that keeps it relevant and popular."
Parading the lives of young elite has become so popular that the E! Network, owned by NBCUniversal, a subsidiary of Comcast (CMCSA) , launched a show called #RichKids of Beverly Hills in January 2014. The show averages between 590,000 and 1 million viewers per episode in key demos, ages 18-49, according to a company spokesperson. The show ended after 4 seasons in 2016.
The reasons for following the rich kids of Instagram are surprisingly varied. Many follow for aspirational purposes, wanting the luxurious lifestyle for themselves. Others see them as a good hate-follow, unable to look away from the absurd amount of wealth spent on jets, yachts and huge parties. And others still are just hoping for a follow-back to boost their brand. That's how you get the amazing number of followers that so many #richkidsofinstagram have accrued.
While it's certainly not a comprehensive one, here's a list of ten rich kids you should follow:
Dan Bilzerian - 23.8 million followers
At 37 years old, Dan Bilzerian is not a kid. But his playboy lifestyle (and the fact that his father is a famous corporate takeover specialist) qualifies him for this list. From showing off his stacks of cash to posing with hoards of scantily clad females, Bilzerian is continually sharing photos of how he is living the high life to more than 10 million followers. Bilzerian is so popular he ranks 34 out of 100 on analytics tracker Social Blade's list of Top 100 Instagram Users by Followers, positioned just above international reggaeton star J Balvin. Even his cat is popular. Smushball has more than 716,000 followers, for the many people who cannot resist seeing adorable animals in more expensive clothing than their own.
Bilzerian might have been kicked off of Snapchat six hours after he started his account, but that doesn't keep college-aged males from keeping tabs on one of their favorite bad boys. His estimated net worth is approximately $150 million, according to Celebrity Net Worth. And don't be fooled by the photo above: he may not "do country clubs" but there is no shortage of pictures on Dan Bilzerian's Instagram of him attending swanky parties, hanging out at island resorts and jet skiing. Like in the photo above, though, he is shirtless in all of them.
Dorothy Wang - 1 million followers
The first of Rich Kids of Beverly Hills to appear on this list, Dorothy Wang has gained a huge following even before she became a reality star. The 27-year-old's father is Roger Wang, the CEO of Golden Eagle International Group, which owns China's largest mall chains. Her father's net worth is almost $4 billion according to Forbes.
After #RichKids premiered, Wang was catapulted to Instagram success, gaining over 50,000 followers that first night. To date, she has surpassed 7 figures and reached one million followers. She was one of several cast members to stay on the show for the entire duration. She now has her own line of jewelry called #FABULUXE in addition to her reality TV success. Per Celebrity Net Worth, she herself is now worth approximately $10 million. Combine that with family billions, and you've got a social media feed filled with exotic vacations and fancy weddings.
E.J. Johnson - 664,000 followers
With more than 664,000 followers, Earvin "E.J." Johnson III doesn't have more followers than his famous father Earvin "Magic" Johnson, the basketball legend and part-owner of the Los Angeles Dodgers who has 1.4 million followers on the social networking site. Like many on this list, the 26-year-old is also featured on E!'s popular #RichKids series, and was promoted to series regular at the start of season two. By the end, he had received his own spin-off series, EJNYC, that lasted one season.
With his own net worth estimated at $2 million, according to Celebrity Net Worth, Johnson has worked to set himself apart from his famous father. The former New York University student not only stars on Rich Kids but also works with the network on Fashion Police, E! News and is a correspondent for Mercedes-Benz Fashion Week.
Roxy Sowlaty - 449,000 followers
Yet another #RichKid, Roxy Sowlaty, 30, joins her former cast members on this list after amassing more than 449,000 Instagram followers. She is the daughter of Sam Sowlaty, who runs Acuprint, a printing company based in Los Angeles.
The self-proclaimed Persian princess attracted viewers' sympathy during her show's first season, when her parents cut off her bank accounts after she repeatedly over spent. Sowlaty is currently running her own interior design firm in Los Angeles and sells home goods on her website, such as a discounted $28 princess candle and a $525 chair. Her individual net worth is estimated at $600,000, according to Celebrity Net Worth, or nearly 1,143 of those chairs.
Chryseis Tan - 335,000 followers
29 years of age, Chryseis Tan is the daughter of Malaysian businessman Vincent Tan, who founded Berjaya Corporation Berhad. Chryseis boasts over 335,000 followers on her Instagram account, and her feed is filled with palm trees, oceans, plane rides and one expensive-looking wedding.
Forbes estimates that her father is worth $820 million, and she is one of eleven of his children. Chryseis, though, has a job closely-related to her dad; she is the CEO of Berjaya Times Square. Earlier this year, she was wed to Faliq Nasimuddin, a fellow heir. Faliq's father also founded a Malaysian conglomerate, Naza Group.
Evan Luthra
- 307,000 followers
He is a 23-year-old entrepreneur who has millions of dollars and thousands of followers - Evan Luthra seems to have it all. Born in India, the mini-mogul began his career curating technology news at age 12, before moving on to developing mobile apps at the age of 13, according to his website. He now runs EL Group International, which combines designs and development to create custom applications. Luthra's company boosts Google, Unilever and Godiva Chocolatier as some of its clients.
It is not just helicopter rides, giant bottles of champagne and beautiful women for Luthra. He is also an accredited angel investor and is reported to have contributed $250,000 to nine separate startups. Luthra's net worth is unknown.
Robert Cavalli - 244,000 followers
Yet another list member who benefits from having a famous parent, Robert, or Robin, Cavalli, is the youngest son of fashion legend Roberto Cavalli and Eva Duringer. Cavalli's Instagram is a mix of selfies and gourmet food photos with a few pictures in between of his high society European friends. To get an idea of his extravagant lifestyle, in one photo Cavalli holds a 100-carat diamond ring in front of a Roy Lichtenstein original.
Robin, 24, lived in London and attended Regent's University London, according to a blog post by his father. Per his profile description, he is currently based in Milan. Robert one day will be able to inherit, along with his four siblings, his father's estimated-to-be $500 million fortune, according to Celebrity Net Worth.
Barron Hilton - 224,000 followers
The younger brother of socialites Nicky and Paris Hilton, Barron Hilton, 28, has a considerable following on Instagram, an incredibly on-the-nose family name and surprisingly was not featured on Rich Kids of Beverly Hills. With more than 224,000 followers, Barron still lags behind sister Paris, who has more than 9.5 million followers. Unlike his famous sisters, Barron has stayed out of the public's eye for the most part, and his Instagram lately has been vacation photos with his wife Tessa.
Hilton graduated from Loyola Marymount University in 2015. The hotel-heir made headlines in 2011, when he was fined $4.6 million in damages for seriously injuring a gas station worker with his car while driving under the influence. He also grabbed headlines in 2013 after being attacked in a bar fight, which he claims was at the behest of troubled star Lindsay Lohan.
Hilton's net worth is estimated to be $15 million, according to Celebrity Net Worth.
Peter Brant
- 132,000 followers
The son of magazine publisher and art collector Peter M. Brant, Junior, 24, is a model and heir who was raised in Greenwich, Connecticut. His status as a socialite was established early on; at just 18, he and his brother Harry, 15, got a write-up in the New York Times. Today he has over 132,000 Instagram followers who view his expensive clothes, vacations and events.
Brant was a student at Bard College, and is worth $2 million from various endeavors, according to Celebrity Net Worth. In 2016, he was arrested for throwing a drunken temper tantrum at JFK airport, the kind of thing even being rich can't get you out of.
Zachary Haroutunian - 82,800 followers
While he might not have nearly the following of the others on this list, Zachary Haroutunian's Instagram @bon_et_copieux, which translates to good and plenty, is not any less luxurious. From photos of stacked up Hermes boxes to an overwhelming amount of food pictures, Haroutunian is certainly living a first class lifestyle.
But this Instagrammer is not just talented on social media, he has been a Young Steinway Artist since 2012, playing in venues around the global. When he is not globetrotting to play his piano, Haroutunian is also the chairman and chief financial officer of his family's real estate holding and development corporation, the Taurus Group. The company takes in between $200 million and $350 million annually, and he has managed it all since 2009. He also has his own namesake real estate holding and development company, which he founded in November 2009. Finally, in October 2013, Haroutunian created ZRH Holdings, a "middle to upper-middle market private equity firm," according to his LinkedIn page.
Haroutunian's net worth is unknown.