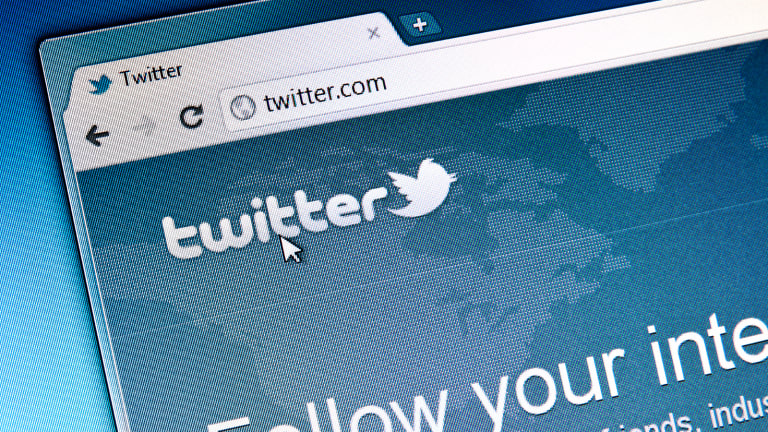 Top 10 Hottest Stocks on Social Media This Week
What did the social-media universe have to say about stocks this week? Here's a round-up of most-discussed stocks.
NEW YORK (TheStreet) -- Banks were some of the most-buzzed-about stocks this week in social media.
Let's not forget, however, about the news that Adidas (ADDYY) has made a $200 million bet to lure James Harden away from Nike (NKE) .
And more recently, news broke that IBM (IBM) and Apple (AAPL) have entered into a large partnership to enable IBM corporate customers to bring MacBooks into their existing infrastructures without any additional configuration.
Here's our weekly round-up of the most discussed stocks on Twitter and traditional media channels -- stock-related news that saw the highest levels of engagement among market experts and valid sources.
Solar3D

undefined

: Solar3D's SUNworks division announced a $2.5 million contract with Baloian Packing, which grows and packs vegetable products. As part of the contract, SUNworks will be designing and installing a 1,098-kilowatt SunPower roof solar system.
Nike: News broke earlier this week that Adidas had made a $200 million offer to NBA basketball player James Harden. Nike had been in the process of renegotiating its contract with Harden.
Red Hat (RHT) : Red Hat released Red Hat Enterprise Linus OpenStack Platform 7, which includes a host of new features focused on easier deployment and management, better security controls, high availability, network flexibility and faster backups.
Morgan Stanley (MS) : Morgan Stanley announced Wednesday that it had raised $1.7 billion for its North Haven Real Estate Fund VII Global, the bank's eighth direct investment real estate fund.
NXT-ID (NXTD) : NXT-ID, a biometric authentication company focused on the growing mobile commerce market and creator of the Wocket smart wallet, announced that it is positioning itself to launch the product to the public for the holiday season. In a shareholder letter, NXT-ID CEO Gino Pereira outlined how the Wocket will work with new chip cards being issued by card providers.
Shopify (SHOP) : News emerged earlier this week that Twitter (TWTR) and Shopify were partnering to offer Twitter's Buy buttons to a wider range of businesses. Shopify has around 100,000 merchants in the U.S. who with the Twitter integration would be able to sell within tweets.
Deutsche Bank (DB) : U.S. federal prosecutors are investigating billions of dollars of trades Deutsche Bank made on behalf of Russian clients, Bloomberg reported. The investigation is looking at what are called "mirror trades" that may have allowed Russian clients to move funds out of the country without proper oversight, Bloomberg's report said.
JPMorgan Chase (JPM) : JPMorgan Chase is renting office space in Jersey City, N.J. after the state granted $19 million in incentives to the bank. JPMorgan will move 2,150 jobs from Manhattan across the Hudson River.
SolarCity (SCTY) : SolarCity announced Wednesday that it would pay more than $15 million to acquire Mexican commercial and industrial solar developer ILIOSSON. The announcement marks SolarCity's growth in Mexico, one of the most promising solar markets in the world.
IBM: Earlier this week, a leaked internal video hinted at a serious partnership between IBM and Apple to deploy 200,000 MacBooks at IBM. On Wednesday, IBM announced a new offering to deploy Macs to enterprise clients at "speed and scale."
The above 10 stocks have been ranked according to proprietary analysis by Contix, the leading social media event detection platform exclusively for traders.
This article is commentary by an independent contributor. At the time of publication, the author held TK positions in the stocks mentioned.