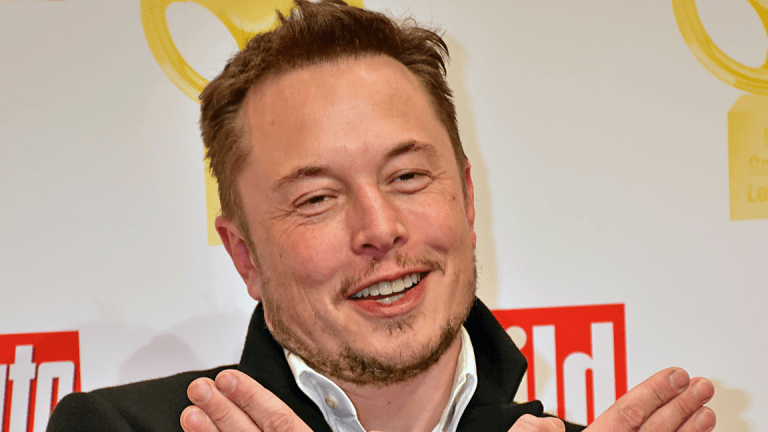 To Save Tesla From Catastrophe, Elon Musk Should Be Removed Immediately as CEO
Tesla shareholders not named Elon Musk must band together and force change at the top immediately. If not, the company risks a fiery death.
Institutional Tesla investors, now is your time to unite. 
The way I calculate it, I have been on more than 2,000 earnings calls in more than 14 years on Wall Street (I have no clue where the time has gone). It could be more, and it probably is. In all that time, I have never heard a call quite like the joke of a one hosted by Tesla (TSLA) - Get Free Report CEO Elon Musk on Wednesday evening.
If you missed the call, I suggest you grab a 100-ounce iced coffee and give it a listen on replay. Don't read the transcript as the mind-blowingness that was Musk gets lost in translation. If you own a single share of this stock, the earnings call should reaffirm why you are better off spending that $300 on an investor education class, new tires for your car or a sliver of bitcoin. Perhaps buy some shares in that hot new cannabis stock. Understand this: Tesla will not be a great company so long as Musk is running it. It's that simple.
There must be an institutional shareholder revolt that sends a powerful message to the lame Tesla board to take action and remove Musk. Tesla has enough of an operation and real promise that it deserves a real industrial CEO. I nominate former Ford (F) - Get Free Report CEO and execution wizard Alan Mulally. The top five institutional shareholders for Tesla, which own a collective 32% of the company, from largest to smallest holdings: FMR, Baille Gifford & Co. T. Rowe Price (TROW) - Get Free Report , Tencent (TCEHY)  and Vanguard.
This is your moment to rally people to drive change at Tesla. Take it now, or have your holdings forced 50% lower by Dec. 31, 2018, after three more Musk earnings calls. Here are three critical mistakes Musk made on the call.
More on Tesla 
The backlash off this call warrants another section. Here is what RBC Capital Markets Joseph Spak had to say Thursday. Spak was one of the analysts that Musk shot down on the call -- apparently the question wasn't exciting enough (aka wasn't pro Elon enough).
"The call was going somewhat normally until an analyst question about capital requirements was dismissed as a 'boring bonehead' question. We then, apparently touched a nerve, by asking about how many who have been invited to configure a Model 3 have taken the steps to do so. This was dismissed as dry, and then Elon stated "we're going to go to YouTube" and proceeded to take at least 10 questions from a financial blogger, who to be fair had some good but very big picture questions. To be clear, the point of our question was to get a sense of Model 3 demand in the face of some negative quality publicity and ultimately judge if consumers are waiting. We believe this is relevant and is a question clients have posed. Investor feedback to the call was shock that a CEO would be dismissive and the general sentiment was that the defensiveness spoke volumes. Needless to say, the call didn't go well."
Around the Horn
TheStreet's Kinsey Grant will be attending an event Thursday where some of the world's most well-known short-sellers will be in attendance. I suggest you follow @KinseyGrant for live updates from this one - it's likely to be electric.
While earnings are coming in much better than expected, the market's price-to-earnings multiple is shrinking. This is either a dream taking shape for value investors or a perfect bearish indicator (you're call). Noted Yardeni Research: "The S&P 500's undefined forward P/E, which stood at 18.6 in late January, has declined to 16.3. That's a pretty speedy drop, and it places the index's forward P/E dead on its 20-year average of 16.3." Other than that, I'm just trying to recover from the Tesla call. Have a lovely day.