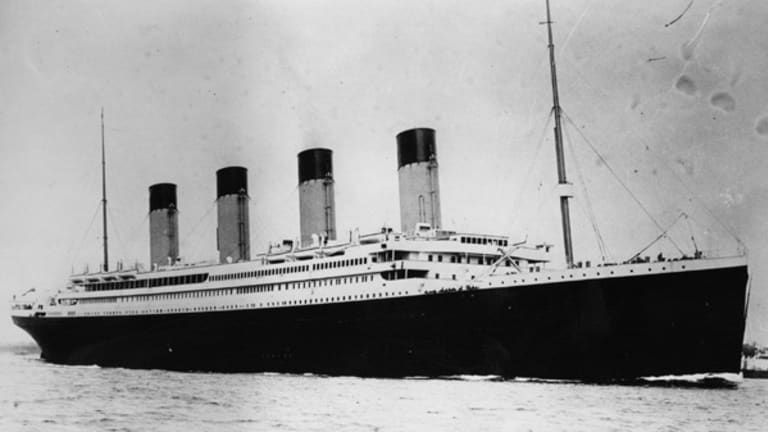 Titanic Treasures Keep Value Locked In
Finder's keepers, investors weep patiently for Premier Exhibitions to monetize wreck's riches.
Finder's keepers, investors weep patiently for Premier Exhibitions to monetize wreck's riches.
NEW YORK (TheStreet) -- Value investing and a great deal of patience go hand in hand. It sometimes takes years for situations to play out, and there are certainly times that you second guess your investment thesis; times that you decide to throw in the towel. I've done that too early at times, and it takes discipline to stick to your guns.
One current name that I've continued to stick with, although the timetable for value realization has continued to lengthen is
Premier Exhibitions
(PRXI)
.
It's a long story, but in a nutshell, the company owns an exhibition business, and more than 5,000 artifacts salvaged from the Titanic wreck site, associated intellectual property, and it remains salvor-in-possession of the Titanic wreck site.
Obtaining title to all of the artifacts that Premier recovered from several expeditions to the wreck site took years. Now, converting those assets into cash seems to be taking just as long.
The artifacts were appraised at $189 million several years ago, a figure that dwarfs the company's current $100 million market cap, but the collection must be sold in one piece, which was part of a court ruling.
Also see: Can Brazil Teach the U.S. about Financial Literacy? >>
Premier's attempts to auction the assets last year on the 100th anniversary of the Titanic sinking failed, and shares, which had a nice run-up in anticipation of a sale, fell sharply.
Last October, the company announced that it had signed a non-binding letter of intent to sell the Titanic assets for $189 million. Yesterday's earnings release and conference call raised some doubt as to whether that deal will be consummated.
In fact, the company, which has been tight-lipped all along about the most recent attempt to sell the assets, also announced that it will likely explore other strategic alternatives, which may include hiring an investment bank.
Shareholder frustration with the company's lack of communication on the sale of Titanic assets was evident during yesterday's earnings call, as several shareholders expressed their growing impatience with management.
Interestingly, while much of the focus has been on monetizing Titanic related assets, the company's operating business has turned around nicely. After four straight years in the red, the company turned a $2 million profit for fiscal 2013.
Perhaps best known for "Bodies....The Exhibition," the company has successfully cut costs, ramped up merchandise sales, made some strategic acquisitions and revitalized a business that many had given up on.
Also see: A 21st Century Les Miserables >>
The re-emergence of the operating business helps to bolster Premier's value. But that's not the reason that many investors have stuck with the name. It's icing on the cake, but the cake itself is the Titanic assets.
This is a great example of the dilemma value investors often face: we search for "50-cent dollars" but can't realize the value until the underlying assets are monetized.
Premier may be arguably worth more than twice its current price; but until there is some clarity relating to the asset sale, shares may continue to be depressed. That is, unless the exhibition business can continue to grow, regain at least some of its former glory and solid margins that supported a $17 stock price in 2007. Shares now change hands in the low $2 range.
PRXI
data by
This company went from rags to riches, then to rags again. Stay tuned; this underfollowed story may one day make a great case study.
At the time of publication the author is long PRXI.
This article is commentary by an independent contributor, separate from TheStreet's regular news coverage.
Jonathan Heller, CFA, is president of KEJ Financial Advisors, his fee-only financial planning company. Jon spent 17 years at Bloomberg Financial Markets in various roles, from 1989 until 2005. He ran Bloomberg's Equity Fundamental Research Department from 1994 until 1998, when he assumed responsibility for Bloomberg's Equity Data Research Department. In 2001, he joined Bloomberg's Publishing group as senior markets editor and writer for Bloomberg Personal Finance Magazine, and an associate editor and contributor for Bloomberg Markets Magazine. In 2005, he joined SEI Investments as director of investment communications within SEI's Investment Management Unit.
Jon is also the founder of the
, a site dedicated to deep-value investing. He has an undergraduate degree from Grove City College and an MBA from Rider University, where he has also served on the adjunct faculty; he is also a CFA charter holder.