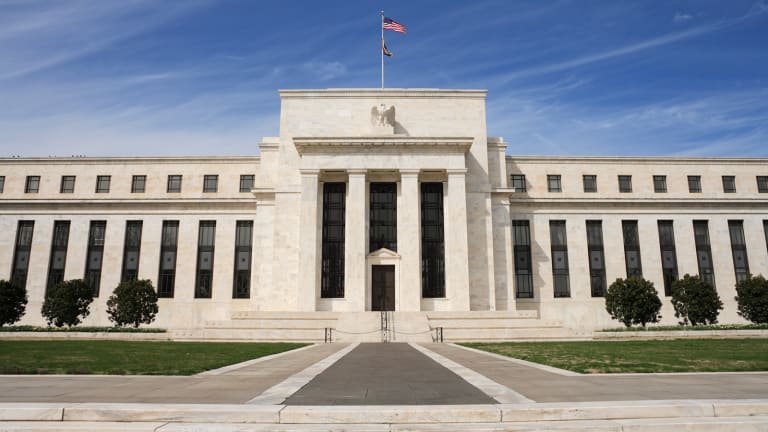 Whose job is it to fix the U.S. economy's plodding growth since the last recession? If the answer that springs to mind is the Federal Reserve, you're only part correct, says central bank vice chairman Stanley Fischer.
The Fed has attempted for the past eight years to goose the economy by keeping interest rates below 1%, he said, but the yields from that are limited since one of the pivotal economic challenges is slower productivity growth. Government action -- which economists often refer to as "fiscal policy," as opposed to the "monetary policy" of central bankers -- could do more to correct that.
"While there is disagreement about what the most effective policies would be, some combination of more encouragement for private investment, improved public infrastructure, better education, and more effective regulation is likely to promote faster growth of productivity and living standards," Fischer said in a speech at Economic Club of New York.
What action the government might take is even more uncertain than usual at present, however, with former Secretary of State Hillary Clinton fighting a bitter campaign for the White House against Republican real estate mogul Donald Trump while control of Congress hangs in the balance.
Clinton, a Democrat whose husband was president from 1992 to 2000, has called for a $275 billion five-year infrastructure plan that would "modernize" roads, bridges and tunnels and create jobs. Trump has said he would "double" Clinton's plan, although neither candidate has detailed how they would pay for the upgrades.
The plans of the winner will be measured, ultimately, in how they stack up against the productivity challenges posed by slowing innovation and an aging U.S. population that's likely to save more and spend less as workers retire.
There are also weaker investment returns after the fizzling of what McKinsey researchers characterized as a boom from 1985 to 2014, forcing Millennials to work seven years longer or double their savings to achieve the same wealth at retirement that their parents had.
"The Fed is really raising awareness of the economic costs of poor productivity growth," Ryan Sweet, Moody's Analytics director of real-time economics, said in a phone interview. "From the Fed's perspective, boosting productivity is out of their power. Monetary policy can't directly affect productivity growth. That needs to come from fiscal policy, businesses, and individuals themselves."
Average productivity has increased at 0.5% over the past five years, Fischer said, compared with annual gains of 2% in the three decades from 1976 to 2005.
The slower increases are depressing the economy's potential growth rate, "essentially the speed limit that our economy can grow at," Sweet said, which is the primary reason why interest rates are low in the U.S. currently and one reason they are likely to remain so in the long run. 
Another hindrance is perceived uncertainty that leaves companies reluctant to invest, Fischer noted. Major U.S. banks from JPMorgan Chase (JPM) - Get JPMorgan Chase & Co. (JPM) Report to Bank of America (BAC) - Get Bank of America Corp Report and Goldman Sachs (GS) - Get Goldman Sachs Group, Inc. (GS) Report , for instance, have noted slower dealmaking this year than last as companies shied away from large acquisitions amid lower oil prices, concerns about waning Chinese growth and confusion about the effects of Great Britain's departure from the European Union.
"It's very important that we see business invest in research and development today with hopes of boosting productivity in the next couple of years," Sweet said.
In the interim, the Fed has been forced to keep interest rates low to meet its Congressional mandates of stable economic growth and maximum employment, Fischer said. Members of the central bank's monetary policy committee are growing increasingly concerned, however, about the risks of maintaining that stance too long.
Doing so could "threaten financial stability" as investors seek to juice returns through riskier investments as well as "make the economy more vulnerable to adverse shocks that can put it in a recession," Fischer said.
Fischer's comments follow remarks by New York Fed President William Dudley, also a permanent member of the monetary policy committee, and Fed Chair Janet Yellen suggesting an interest-rate increase in the near future. Minutes of the committee's most recent meeting, when three of the 12 committee members, voted against leaving rates unchanged.
Interest-rate futures indicate nearly a 70% chance of a 25 basis-point hike in December, which would be only the second increase since the central bank cut rates to nearly zero to bolster the economy during the 2008 financial crisis.
"Investors are searching for yield," Sweet said. "So when interest rates are negative abroad and the U.S. rates are positive, that makes U.S. treasuries more attractive, so they pile into U.S. government debt and that drives up the price and reduces interest rates in the U.S. as well."