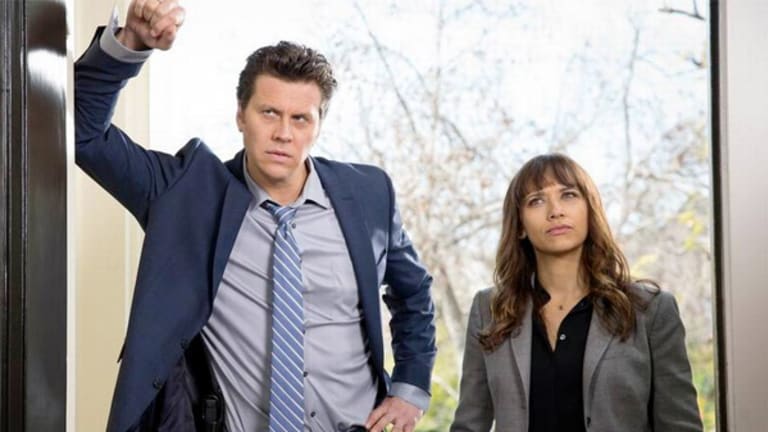 Time Warner Gives TBS More Comedy to Fight 'Skinny Bundle' Wars
Turner Networks unveiled programming for TBS and TNT, part of Time Warner's $1 billion overhaul of its largest cable-TV networks.
John Martin, chief executive of Time Warner's (TWX) Turner Networks, is preparing for the next great battle in the history of television.
Over the next two to three years, he predicts, consumers will be offered a variety of smaller packages of pay-TV channels that wil set the stage for the next chapter in the evolution of video entertainment.
Some will come from current cable-TV providers including Comcast (CMCSA) - Get Report and CharterCommunications (CHTR) - Get Report while others will come from online ventures such as Hulu and possibly others from Amazon (AMZN) - Get Report or even Apple (AAPL) - Get Report . They'll join current so-called skinny bundles such as Dish Network's (DISH) - Get Report Sling TV. 
Regardless of which bundles are transcendent, Turner Networks is in the midst of doubling the production budgets at TBS and TNT to $1 billion, part of a makeover to appeal to consumers demanding choices beyond the traditional 200-channel pay-TV bundle.
"Over the next 24 to 36 months, there's going to be a new group of aggregators that will have differentiated offerings at a lower economic price," Martin said in an interview in New York following the company's annual upfront presentation, where networks sell advertising for the coming fall season. "And that's going to draw people back into the multi-channel ecosystem. But it's up to us to make sure that we're positioning our networks for a better overall consumer experience."
From all indications, consumers aren't particularly pleased with the current state of the cable-TV experience. Subscribers to the traditional bundle are declining at a rate of about 1% a year, a fraying that reflects the success of Netflix (NFLX) - Get Report , Amazon Prime and and even Time Warner's own HBO NOW, an online subscription service.
As Martin was quick to acknowledge, consumers have long been frustrated by having to pay roughly $85 a month for a 200-channel bundle when Nielsen estimates that households watch an average of just 16 channels.
"Consumers are more in control than they've ever been, and they say they don't want to pay x-amount for 500 channels," Martin said.
To prepare for the coming proliferation of smaller aggregated bundles, Time Warner has had to stop trying to market TBS and TNT to national advertisers as lower-priced alternatives to the major broadcast networks. That strategy worked for many years as both networks sold advertising at rates lower than the major networks of CBS, ABC, NBC and Fox.
But that formula has weakened as millennials, and even older folks, are looking for content that goes beyond what's offered by mainstream broadcasters. As if Martin wasn't aware of the need for retooling TBS and TNT, Turner Networks reported "lower domestic subscribers" in the first quarter despite a doubling of CNN's audience and an airing of the NCAA men's basketball tournament.  
Turner gets more than 90% of its affiliate fee revenue, money that cable-TV providers pay to carry the channels, from four of its networks: TBS, TNT, CNN and Cartoon Network.
"For years, the strategy at TNT and TBS was to demonstrate to advertisers that they could be broadcast substitutes," said Martin. "But now, there's so much original programming available on television, we need to have a distinctive voice, something that separates us."
Toward that end, TBS on Wednesday presented promotional clips of three new serials: Wrecked, a comedythat will debut on June 14, Search Party starring Alia Shawkat of Arrested Development that was pitched as a "mystery comedy," and People of Earth, starring Wyatt Cenac of The Daily Show, which Turner's marketing people described as an "alien-abduction comedy."
TNT is launching its own makeover with Animal Kingdom, a family crime drama starring Ellen Barkin, Scott Speedman and Shawn Hatosy, followed in the fall by Good Behavior with Downton Abbey's Michelle Dockery.
The emphasis on comedy at TBS follows high ratings for its newest shows Angie Tribeca, Full Frontal With Samantha Bee and The Detour, all comedies to one degree or another. Kevin Reilly, Turner's chief creative officer, told an audience at The Theater at Madison Square Garden, that the success of those shows was evidence that TBS is making progress on a "makeover."
Even though TBS has been the top-rated basic cable entertainment network among 18- to 49-year-olds for three years, Turner President David Levy says he would still like to TBS to better appeal to a younger and more male-skewing audience whereas TNT is also targeting younger viewers but more female.
"You're starting to see a very different look and feel of our networks," said Turner President David Levy. "We have to stand out on our own now and have a fresh brand."