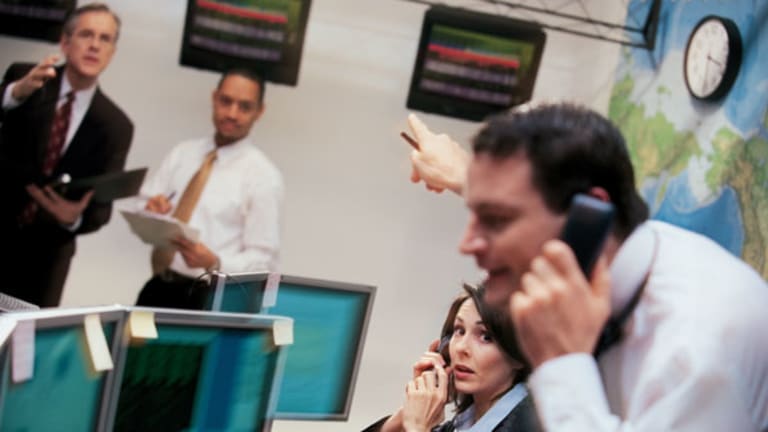 Time to Take Any Profits You Can Find in the Homebuilders
A slowdown in house-building, mainly due to the weather, is ahead.
NEW YORK (Real Money) -- We can all agree that one sector did not live up to expectations this time last year and was a subsequent drag on the economy: The housing sector. To give you an idea of how the industry missed expectations, all we need to do is compare single-family housing starts figures. The actual reported data showed 647,000 units were started in 2014 compared to the National Association of Home Builders' (NAHB) 2013 forecast that called for 836,000 units. That's a miss so wide you could drive a tractor-trailer through it!
With a miss like that, even the most gullible person you know is likely to look at the NAHB's 2015 forecast -- 803,000 single family housing units -- and be like "What'chu talkin' 'bout, Willis?" Even though we've only one month in the bag -- January, which saw a 6.7% month-over-month drop in single-family housing starts -- there are reasons to think the NAHB and others will have to revise their lofty expectations. You're probably quick to think of wages, jobs and, as evidenced by recent retail sales and personal income and spending data, consumers are more likely to spend than save.
Jim Cramer's charitable trust Action Alerts PLUS owns LOW as a play on the housing sector. Read his thoughts on the company's recent earningshere.
Those are all reasons to question the vector and velocity of the housing market, but to some extent those are not knock-you-out-of-your seat surprises. If you were tracking the lackluster wage growth in the monthly employment reports in 2014 or the steady creep in the savings rate vs. the looming crises that are retirement shortfalls and sky-high student debt, then more likely than not you weren't all that bullish on the housing industry or the stocks.
Coming into 2015, however, the "unknown unknown" -- the term former Secretary of Defense Donald Rumsfeld used for the things we don't know we don't know -- that would come to take the housing market by surprise was the severe winter weather and Arctic cold.
As you can imagine, it's extremely difficult to break ground on a new home when the underlying plot of land is covered in snow, frozen like a rock or both, if you happen to live in the Northeast. If you thought the worst was behind us, think again, as there is yet another storm set to dump snow from northern Texas to southern Virginia and threatened to snarl commutes in cities including Dallas and Atlanta.
This time last year I was focused on the month's supply of single-family homes. At the time that metric was hovering around 4.9 months. This past December it dropped to the lowest level in some time -- 4.4 months. While that level of supply crept up to 4.7 in January, odds are the winter weather we've experienced over the last several weeks is going to prohibit any major increase in February and March. In my view, the first few months of 2015 will prove to be a major drag on the NAHB's single-family housing forecast, just the way the weather soured first-quarter 2014's GDP print.
When it reported its quarterly results earlier this week, Home Depot (HD) said it expects "a continued moderate recovery in the U.S. housing market." Some see it a little differently, including David Blitzer, chairman of the index committee at S&P Dow Jones Indices, who said: "The housing recovery is faltering. While prices and sales of existing homes are close to normal, construction and new home sales remain weak."
Putting all of that together and looking at the 40%, 38% and 32% moves in DR Horton (DHI) , PulteGroup (PHM) and Toll Brothers (TOL) shares, respectively, the prudent conclusion is to take some profits. Even though the recent and current weather could make for a bounce back in housing activity come April-May, negative revisions for current quarter growth prospects for both the housing industry and the overall U.S. economy are bound to weigh on those shares as well as other homebuilders like Meritage Homes (MTH) , M/I Homes (MHO) and others.
At the time of publication, Versace had no positions in any of the securities mentioned.