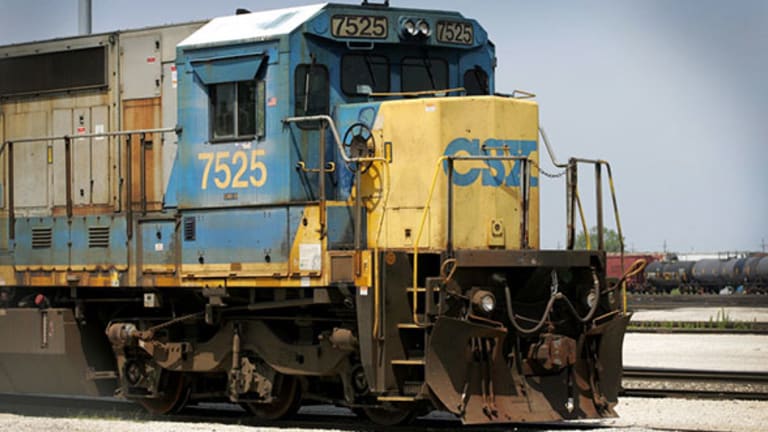 Publish date:
Time to Catch the CSX Bull Before It Leaves the Station
The stock's sharply higher open could be a breakaway gap.
The stock's sharply higher open could be a breakaway gap.
CSX Corp. (CSX) - Get CSX Corporation Report is trading sharply higher Thursday morning. The railroad company reported better-than-expected first-quarter earnings last night, along with a bump up in its dividend and a share repurchase program. Gotta love all the bullish news.
Let's check the charts and indicators through last night's close to see what is the next destination for this stock, along with some risk parameters if we derail. You always need an exit plan.
In this daily chart of CSX, above, updated only through Wednesday's close, we see that prices have been in a sideways consolidation pattern for about three months before today's pop. Prices were trading just below the flat 50-day moving average line after nearly nine months above the rising 50-day average line.
CSX is above the rising 200-day moving average line as it has been since early July. The daily On-Balance-Volume (OBV) line was steady from last April through October and has been moving higher from November to March. The OBV line turned flat in recent weeks and thus not signaling aggressive selling ahead of last night's report.
Basically, traders and investors accumulated shares of CSX aggressively since November and have largely held those positions as prices turned flat. The movement of the Moving Average Convergence Divergence (MACD) oscillator is interesting in that it has been above the zero line for the past 12 months, which is bullish.
The oscillator gave a take profits sell signal in early February and declined to the zero line. Near-term price strength in CSX is likely to turn the MACD oscillator to the upside again and a fresh outright go long signal.
The bulls have nothing to complain about with this weekly chart of CSX, above. Prices are above the rising 40-week moving average line. The weekly OBV line has been rising since January of 2016 and the MACD oscillator flashed a take profits sell signal last month. Price strength in the next few weeks could easily turn the MACD oscillator back to the upside.
In this Point and Figure chart of CSX, above, we can see the upside breakout down at $37. The consolidation in February and March does not look like much on this kind of chart. There is a long-term Point and Figure price target of $108. A little hard to believe right now, so my target would be around $75.
Strategy: CSX opened sharply higher today. This could be a breakaway gap and the gap may not be filled. Assuming a gap is made, I would suggest buying some CSX shares (assuming you like the fundamental story) today and if there is a pullback to round out the balance of your purchase. If there is no pullback, then buy on strength. A close below $45 would upset this bullish scenario.
(This article originally appeared at 9:02 ET on Real Money, our premium site for active traders. Click here to get great columns like this from Jim Cramer and other writers even earlier in the trading day.)
Employees of TheStreet are restricted from trading individual securities.