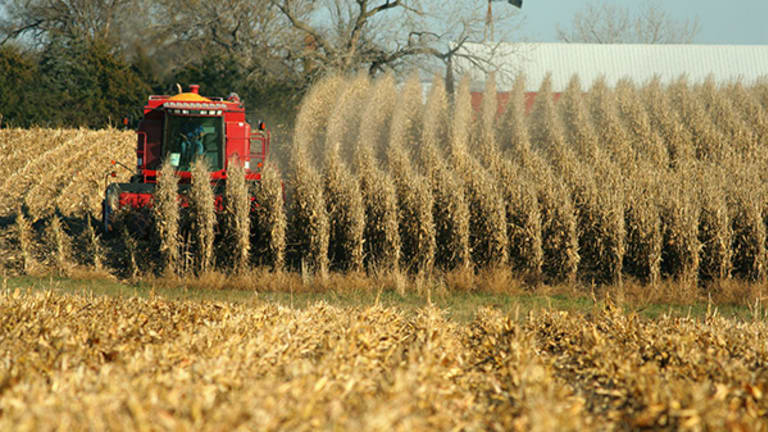 Time May Be Right to Buy Agriculture Commodities
Corn, wheat, sugar and soybean futures have been falling for a variety of reasons. Take advantage, and reap the rewards when prices rebound, says Sal Gilbertie of Teucrium Trading.
NEW YORK (TheStreet) -- The Teucrium Corn ETF (CORN) - Get Report is down 14% thus far in 2015, but the coming harvest in the Northern Hemisphere could create even more downward pressure. Sal Gilbertie, president of commodity investment firm Teucrium Trading, said that could create a good entry point for investors hoping to see corn pop again.
"China and the United States, the world's two largest corn producers, all that corn comes to market between basically the middle of September and the middle of December," said Gilbertie. "When that happens you often -- not always, but often -- get a price decline and that's a good time to come in."
Gilbertie added that corn competes with soybeans for acreage, and the drop in corn production has subsequently pulled down soybean prices. The Teucrium Soybean ETF (SOYB) - Get Report is down 14% thus far in 2015.
"Soybeans are coming off very low inventories for multiple years, and this was the first year we really had a good harvest," said Gilbertie. "Also we've had bumper crops in the Southern Hemisphere, which is also very important for soybeans."
Meanwhile, the strong dollar has been especially unkind to wheat prices, already pushed lower by huge bumper crops globally. The Teucrium Wheat ETF (WEAT) - Get Report is down 25% year-to-date.
"Wheat is finding some support right now as we speak," said Gilbertie. "It's the most political of commodities besides oil, people say, so wheat will be back."
Finally, the Teucrium Sugar ETF (CANE) - Get Report is down 32% thus far in 2015. Gilbertie blames the drop in price on the collapse of the Brazilian currency. Brazil is the largest exporter of sugar in the world.
"It's worth noting that this year will be the first year in five years that sugar economists say we may finally go into balance," said Gilbertie. "There has been a surplus of production vs. demand, and this year you may actually see more demand than production. So you could see a turning point soon."