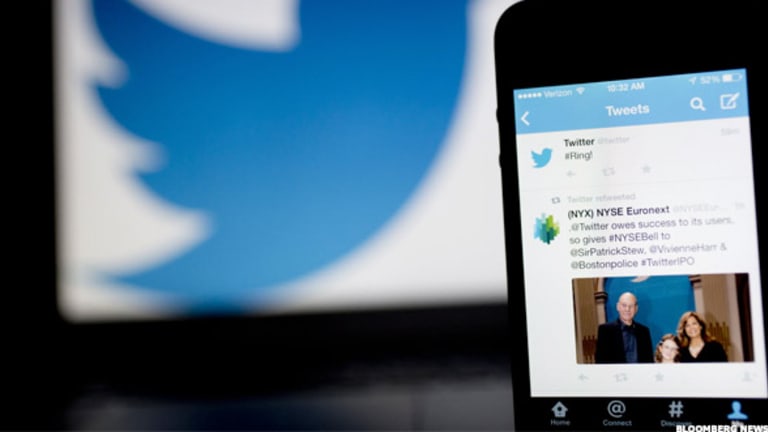 Time for Twitter to Tweet: We're Not in It for the Money
Twitter should embrace the novel idea of becoming a non-profit, for whether or not it knows it--it already is a non-profit.
Twitter should embrace the novel idea of becoming a non-profit, for whether or not it knows it--it already is a non-profit.
Twitter (TWTR) - Get Report has some 319 million users worldwide, nearly the same number as the entire population of the United States. And with all those users, including the new guy in the White House, it still managed to lose over $457 million dollars last year. Are there better places for your investment money?
As Twitter reported, the fourth quarter was one of the worst despite the company's adding of 11% more users, even while losses accelerated. Those losses are coming as revenues for the company keep accelerating to the downside as the rate of year over year quarterly revenue gains has plunged from the recent peak of the second quarter of 2014 at a gain of 125% to the current quarters barely there gain of only 0.9%.
Making things worse is the company's negative margin problem. The death knell for any company is to be making more gaining more customers - but losing more and more in the process. With the margin on its actual operations at losing 11.52% on every dollar, and the profit margin including additional costs running at over 15% on every dollar shareholders can't keep holding and hoping for change.
But perhaps there is a way out for Twitter, its workforce and its users that range from institutions to individuals as well as mega corporations to social movements.
Spinning off the tweeting system as a stand-alone not-for-profit foundation, while retaining the analytics and cooperatives that can utilize the tweets as well as other social media platforms may unlock more value for shareholders while stopping the endless bleed of cash.
The model has some successful precedents. Look back to the 1990s. Thousands of folks were quickly embracing the world wide web and subscribing to Internet service providers and installing web browsers.
Some of the first successes included Netscape and for a while - it was a formidable foe to Microsoft (MSFT) - Get Report and others. But it was seeing its ability to convert users to profits was very difficult despite many of its technical accomplishments that the world relies upon even today. So, it sought deals to save the operation and met with challenges.
Sounds familiar? It's not unlike the deal-making that Twitter has been trying to pull-off in attempting to sell itself to the likes of Alphabet (GOOGL) - Get Report , Facebook (FB) - Get Report and others.
So, Netscape figured out that by creating the Mozilla Foundation and housing the technology of browsing and other online tools it could save its core while also reaping cost and tax savings.
AOL (now Verizon (VZ) - Get Report ) was convinced to buy the rest of Netscape and it was absorbed into its operations.
Mozilla continues to thrive as a non-profit foundation with its various services including the Firefox browser that commands 15% of the world's browser market. And thanks to the non-profit status it hums along without the tax burden and millions come in via donations and contributions.
Wikipedia is another great example of a successful non-profit. The widely-used information sharing site has a world-wide audience of free contributors and that make it all a success on a mere $3 million operating budget.
The Wikipedia Foundation that oversees the site raises hundreds of millions of dollars from tech giants to individuals that more than rewards the founders and pays for all of the operations.
If Twitter spun off the tweet operations - it then could continue to utilize its vast collection of analytics and media distribution services that have been building by various acquisitions over the past several years.
Great examples include the expanding data collection on media consumption that's done for Nielsen (NLSN) - Get Report which is using it to build ratings services for online and other streaming video and music services.
And it can do interactive content cooperatives like what it has been doing with the National Football League (NFL) which of course is another success non-profit organization.
Moreover, such an analytics and content management group would make for a much better acquisition for Facebook, Google or others that like what has been happening with that bit of Twitter, but not the actual tweeting network.
Shareholders can be rewarded by reducing costs and gaining the focus on what actually works for the company while also potentially gaining some tax benefits. And as mentioned above - the remaining for-profit might bring a real bid for a merger from one of the profitable for-profit tech companies.
Pocket $67,548 EXTRA With This One Simple Investment Change
Warren Buffett reaped $4.9 billion by making this one small change to his investment strategy. It's the closest you'll ever get to NEVER losing money while investing. I made $185 every day over 1,586 days doing this. Is it time for a change that will lead to more money in your pocket? Get the full details here.
Neil George does not have any conflicts of interest including no current ownership of the companies mentioned above buy does have a Twitter account.