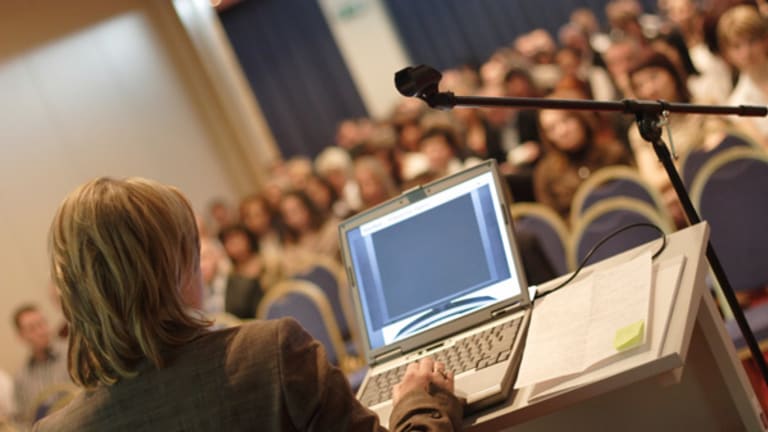 Tim Hortons Plays to Win in U.S. Growth
Tim Hortons leads a Canadian takeover of the U.S., one doughnut, drink and franchise at a time.
Editor's note: This story was part of TheStreet's 10-part Top Business Leaders of Tomorrow series.
OAKVILLE, Ont. (
) -- Arcade Fire is the baddest band in the land, Justin Bieber has entranced America's teen girls and
Tim Hortons
(THI)
is the second-fastest-growing restaurant chain in America.
More Top Leaders: US Cellular's Mary Dillon>>
Tim Hortons' David Clanachan can take credit for only one portion of this Canadian incursion, but his company's growth in the U.S. is almost Bieberian in its intensity and efficiency. Clanachan was named Tim Hortons' chief operations officer, U.S. and international, in May 2008. By last year, food-industry analyst firm
named Tim Hortons and its now 600 U.S. doughnuts-and-more locations the second-fastest-growing chain in the U.S., behind only Washington, D.C.-based East Coast burger empire Five Guys.
Canadian chain Tim Hortons has 600 locations in the U.S. and hasn't stopped growing. It plans to add another 300 in the next three years.
While
opened its first U.S. location in Buffalo in 1985, Clanachan's efforts have helped it expand in traditional markets such as western New York, Ohio and Michigan as well as into Manhattan, on base at Fort Knox in Kentucky and Naval Station Norfolk in Virginia and throughout various sporting venues in cold-weather cities. Founded by former Toronto Maple Leafs, New York Rangers, Buffalo Sabres and Pittsburgh Penguins defenseman Tim Horton, the chain now offers handfuls of its doughnut-hole Timbits to fans of Sabres, Penguins, Detroit Red Wings, Columbus Blue Jackets and New York Islanders of the National Hockey League; the Detroit Pistons of the National Basketball Association; the Buffalo Bills of the National Football League; and University of Michigan football.
That growth has helped Tim Hortons market cap percolate to nearly $6.6 billion, making it the fourth-largest publicly traded restaurant chain behind
Starbucks
(SBUX) - Get Starbucks Corporation Report
($23 billion),
Yum Brands
(YUM) - Get Yum! Brands, Inc. (YUM) Report
($23 billion) and
McDonalds
(MCD) - Get McDonald's Corporation (MCD) Report
($83 billion). Meanwhile, its share price has nearly doubled from its five-year low of $20.57 in November 2008 and is just beneath the five-year high of $39 set a year earlier in 2007.
Clanachan's not done, either. Tim Hortons intends to add another 300 U.S. locations in the next three years, expand its cafe-based concept stores beyond trial locations in Ohio and enhance its commercial offerings in grocery stores and online.
TheStreet
spoke to Clanachan about his plans for Tim Hortons' continued U.S. expansion, reaching Americans through sports and why your first taste of Tim Hortons shouldn't be from a Mr. Coffee.
Tim Horton's share price is returning to prerecession levels, its market cap exceeds $6.5 billion and it's now the fourth-largest publicly traded restaurant chain in America, but a great deal of its recent U.S. expansion happened in the middle of the global economic crisis. What made that period such an opportune time for your company's expansion, and were you somewhat surprised by the result?
Clanachan:
I'm not surprised by it, because I think what's happened is that consumers in the U.S. have discovered value and quality. Not value as in "cheap," but "I expect quality and I want it at a value price." I would say it's never been out of vogue, but when times are a little tougher and people have a little less change in their pocket, they tend to look for that, and there's an expectation now. I honestly believe that, in the U.S. marketplace, we're never going to go back to that place where it was freewheeling time -- where we'll pay anything for anything and away we go. We struck a real good chord with our customers in the U.S., and I think they're rewarding us for offering a really good price with really good, quality products. That affordableness really played well. That, and the fact that we believe we have a really good concept that allows us to play well in many different ballparks. We're not just breakfast, we're not just a beverage, we're not just a lunch player -- we're in all different parks. When you add that to a more developed food offering -- along with those hot and cold beverages that we do -- I think it gives you a really nice package for U.S. consumers.
We also decided that we're still going to build our big stores that we always have -- the "build it and they will come" approach -- but because of the flexibility and the scalability of our concept, we're going to take our brand to where people are. Where they live, work and play.
Tim Horton's U.S. expansion plans call for 300 more stores over the next three years, with 70% growth in existing markets and 30% in "contiguous markets." How has Tim Horton's approached those contiguous markets before, and have the Cold Stone Creamery partnership and embrace of nontraditional locations such as hospitals and military bases help your cause?
Clanachan:
Absolutely. If you look at our plans, we're firmly entrenched in building those stores over the next three years through that strategic plan. We think that there's a number of different ways to do it through the nontraditional locations like hospitals, universities, college campuses, sports stadiums, those types of things, as well as traditional stores and being able to do it with or without our Cold Stone partners.
As we go into markets that are adjacent to markets that we're already in, there already is a bit of a brand presence starting to be established. It's not as simple, because the whole Designated Marketing Area approach to marketing in the U.S. is somewhat complex compared to the rest of the world, but that brand awareness is there because, in that nontraditional audience, people travel around quite a bit, so it gives you that exposure.
Your company has already established a sponsor presence in the U.S. through partnerships with the NHL's Buffalo Sabres, Detroit Red Wings and Columbus Blue Jackets, the NBA's Detroit Pistons, the NFL's Buffalo Bills and the University of Michigan football team. How do sports sponsorships factor into expansion plans, and how does recent expansion into traditional, cold-weather hockey markets in Pittsburgh and Long Island benefit a company inherently tied to NHL hockey?
Clanachan:
The whole sports thing plays into our culture of what we've done for years through kids sports. More importantly, as we go into new markets and as we develop our brands in the U.S., partnering with local professional sports teams or teams on any level within the community is a big deal.
First of all, it allows you to get exposure to your brand. That's what everyone wishes for: "Just try my product and I'll impress you with my execution, my quality and my value and all of the things I bring to the table."
Secondly, in the U.S. especially, we love our sports teams. The consumer today realizes that corporate partnerships are required for these sports franchises to be funded within the marketplace. You hear so often about teams that are doing really well or barely doing it, but the key thing is that these partnerships drive loyalty at the local level and allows branding play that lets your brand act bigger than what it is in the new market you're entering.
That seems to hit especially close to home in markets such as Buffalo, Pittsburgh and Long Island, where fans in each of those locations have at various points wondered about the stability and future of the Sabres, Bills, Penguins and Islanders franchises.
Clanachan:
I call it the win-win-win. We win, the team wins and the customers in those marketplaces win on both accounts: Both for the team and, hopefully, for the product that we offer.
Tim Horton's has recently opened concept stores featuring fireplaces, televisions, an expanded gourmet coffee selection and comfort foods such as panini and macaroni and cheese. With U.S. coffee competitors such as Starbucks and McDonalds' McCafe brand also drifting toward the cafe concept, is this approach vital to Tim Horton's success in the U.S. marketplace?
Clanachan:
We see the U.S. consumer changing. In the research that we've done, consumers don't want their cafe, their bakery, their bake shop or their coffeehouse to feel like a quick service restaurant. They want it to be a little more comfortable and take that time to themselves. If you watch the way people eat today, it's not the three traditional meals anymore. There's a lot of snacking going on and it's about quick stops, but it doesn't mean they shouldn't be comfortable stops. Having said that, they still want the speed, convenience and accuracy of a drive-through, but they want to be able to check out for 15 to 20 minutes and do so in comfort.
It's more being driven by the consumer and what they want. Whether it's 2010, 2015 or the year 2000, you always have to adapt to what the consumer is looking for and how it fits your brand. That's one of the things we understand how to do, and that's something that's being led by the U.S. consumer right now. We see such great opportunities for us not only because of the ballparks we play in, but because of the products that we offer.
Coffee companies in the U.S. with a much smaller market presence than Tim Horton's -- such as Caribou Coffee( CBOU) and Peets Coffee -- have found tremendous success in the commercial sector. While Tim Hortons is available in regional retail outlets such as Wegmans and Tops in New York, Pennsylvania and New Jersey, are there plans to expand commercial offerings as well as retail?
Clanachan:
We're really excited about that whole area. We want to make sure that however the customer buys the product, they're able to replicate the experience or product quality that they would achieve at one of our stores. In other words, the worst-case scenario is that someone buys your product in a market where you don't necessarily have stores, they make the product at home and have a bad experience because they didn't make it according to the recipe -- and therefore they have a preconceived notion of your product category or what your product is before you actually get to the marketplace with your full-blown stores.
Having said all of that, there's a lot of new technology coming out based around the machines, the way the product is packaged and even some of the single-serve that's out there today. That's really exciting, because you can get to a really quick replication of your in-store experience in someone's kitchen through some of that technology. We're watching that with great interest and wondering what that could mean to us.
Last Friday we just launched our e-commerce website in the U.S. Now fans of Tim Horton's can order online and we'll deliver it right to your door whether you're in Phoenix, Ariz., or Presque Isle, Maine.
>To submit a news tip, email:
.
Top Business Leaders of Tomorrow:
United Guaranty's Eric Martinez
Jason Notte is a reporter for TheStreet.com. His writing has appeared in The New York Times, The Huffington Post, Esquire.com, Time Out New York, the Boston Herald, The Boston Phoenix, Metro newspaper and the Colorado Springs Independent.