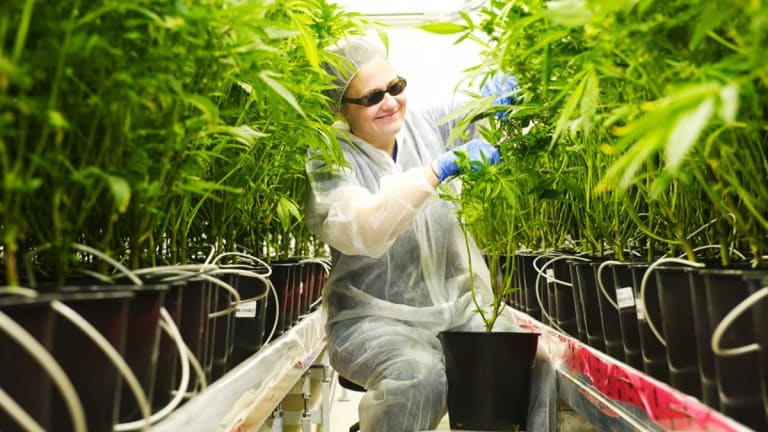 Tilray Signs $100 Million Deal With Authentic Brands
Pot company Tilray will market cannabis products along with shoe company Authentic Brands.
What is about shoes and cannabidiol (CBD)? Last week, Designer Shoe Warehouse (DSW) - Get Designer Brands Inc. Class A Report better known by its initials DSW signed an agreement with Green Growth Brands (GGB) - Get Gerdau S.A. Report to sell its Seventh Sense brand which offers CBD-infused products including muscle balms, body lotions, body washes, and foot creams. Today, Tilray Inc. (TLRY) - Get Tilray Brands Inc. Report has signed a long-term revenue-sharing agreement to market and distribute cannabis products with Authentic Brands Group (ABG), which owns the shoe brands Nine West, Airwalk, Frye, and Tretorn sneakers.
ABG has a global retail footprint of over 100,000 points of sale and more than 4,500 branded freestanding stores and shop-in-shops. Tilray noted that ABG generates approximately $9 billion in retail sales annually.
"We are thrilled to partner with ABG, a global leader known for expertly managing and marketing an owned portfolio of iconic brands," said Brendan Kennedy, Tilray President, and CEO. "As we work to expand Tilray's global presence, this agreement leverages our complementary strengths and will be accretive to our shareholders as we reach new consumers across the entertainment, fashion, beauty, home and health and wellness sectors."
Terms Of The Deal
Tilray must be expecting a big payoff because it will initially pay ABG $100 million and as much as $250 million in cash and stock, "subject to the achievement of certain commercial and/or regulatory milestones." In addition to the upfront payment, Tilray will have the right to receive up to 49% of the net revenue from cannabis products bearing ABG brands, with a guaranteed minimum payment of up to $10 million annually for 10 years. So, whether CBD runs its course or not, Tilray will get back its initial $100 million.
Tilray will be the preferred supplier of active CBD ingredients for products within the portfolio of brands. For example, Spyder ski wear also has a line of skin products that include muscle rubs and lip balms. Tilray will be the company behind putting CBD in these products.
Unlikely Pair
The DSW combo with Green Growth wasn't a big surprise. Many former DSW executives work at Green Growth. The two companies tried a test phase last autumn in which Green Growth Brands sold select its CBD-based Seventh Sense products in 10 DSW stores. Green Growth said that during the first 10 weeks of the test period, 74.4% of the product presented on shelves was sold, significantly exceeding expectations.
These Green Growth executives also hail from L Brands or Victoria's Secret, which introduced cosmetics and bath products within the lingerie chain to great success. DSW has said that the addition of these types of products is part of its strategy.
ABG's portfolio has a distinct lean toward an athletic persona. The company also houses Tapout (boxing), Shaquille O'Neal (professional athlete), Prince (tennis), Muhammad Ali (athlete) and Above The Rim (basketball.) The marriage of CBD with athlete's muscle recovery and general wellness fits with the company's image.
"Tilray's unyielding focus on science, product quality, operational excellence, and innovation has allowed them to quickly emerge as a leader in the cannabis industry," said Daniel W. Dienst, ABG Executive Vice Chairman. "We see an extraordinary potential for cannabis in the fast-growing health and wellness category - particularly for CBD products in the United States and around the world - and are excited about this long-term partnership."
Tilray also gets the boost of ABG's 150 million targeted followers through Winston, its micro-influencer network. Since cannabis companies can't advertise, Tilray gains in brand appeal by slapping its name on all of the ABG cannabis products.
On CNBC today Kennedy said, "If you can imagine Nine West foot cream where we put samples on over a million pairs of shoes sold each year? It introduces new consumers to cannabis-based products - CBD primarily."
Kennedy said he envisions Greg Norman muscle balm or tennis elbow cream, branded Juicy Couture cosmetic products. Kennedy said he hopes to have the products in the market quickly.
At the time of publication, Borchardt had no positions in any securities mentioned.
Please note that due to factors including low market capitalization and/or insufficient public float, we consider several names mentioned to be small-cap stocks. You should be aware that such stocks are subject to more risk than stocks of larger companies, including greater volatility, lower liquidity and less publicly available information, and that postings such as this one can have an effect on their stock prices.