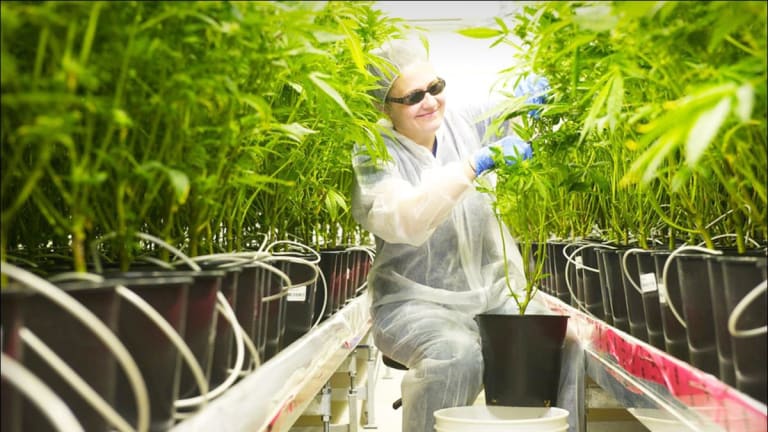 Tilray Shares Surge on Novartis Distribution Deal
Canadian cannabis producer's stock jumps on announcement that it's teaming up with Novartis's Sandoz until to sell and distribute medical cannabis products globally.
Shares of Canadian cannabis producer Tilray Inc. (TLRY) - Get Report  surged more than 12% on Tuesday, Dec. 18, after it announced that its Tilray Canada Ltd. unit has joined forces with Swiss drugmaker Novartis AG's (NVS) - Get Report  Sandoz generic pharmaceuticals subsidiary to sell and distribute medical cannabis products globally.
Shares of Tilray surged 7.1% to $70.55 in trading Tuesday on the Nasdaq Stock Exchange. The stock closed on Monday down 12.35%, or $9.24, at $65.89.
As a part of the agreement, Tilray will be able to use Sandoz's global distribution channels to support sales of Tilray's non-smokable/non-combustible medical cannabis products, Tilray said in a statement.
The agreement also allows both companies to collaborate "to educate pharmacists and physicians about medical cannabis products," and to "develop new innovative medical cannabis products," the statement said.
"Overall this is important for Tilray to maintain its leadership and its expansion in the global medical cannabis industry," said Charles Taerk, sub-advisor of the Ninepoint Alternative Health Fund, which invests in both Canadian and international publicly traded medical marijuana and alternative health companies.
"This is also important for Canadian companies to take note of. Expansion in the global market when U.S. competition is still precluded from operating allows them to establish a solid global footprint well ahead of future competition."
Passed into law on Oct. 17, 2018, The Cannabis Act allows adults aged 18 or older to legally purchase, possess and grow small amounts of marijuana. Canadian provinces and territories were allowed to impose their own age restrictions, with the majority having set 19 as the legal age.