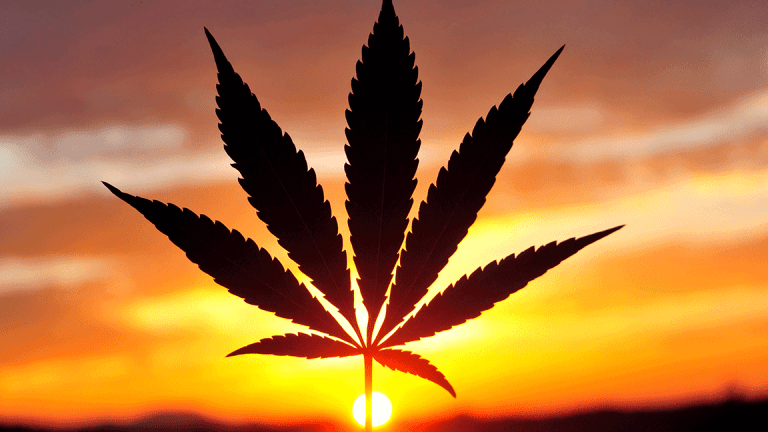 Tilray Is Smokin' as Companies Circle Cannabis Stocks
There is no denying the obvious consumer demand. There is no denying legal trends.
There is no denying the obvious consumer demand. There is no denying legal trends.
Not every cannabis stock was strong on Wednesday. One significant Canadian name sure was though. Tilray, Inc. (TLRY) - Get Report gained 9.5% on the session. Think that's something? The stock traded at a low of $20.10 on the day that trading opened at the Nasdaq market site in July. Did you get some that day? No? Me neither. The shares are now, less than two months later, 368% higher, peaking at $108.27 yesterday.
Remember the dog days of August? Andrew Left of Citron Research does. On August 15th, Left was bullish on the name, with a $45 target price (nearly a 100% premium at the time) in place. The shares would leave that target price in the dust within two weeks. I first noticed Andrew Left bearish on Tilray in early September. Amid yesterday's pop, he reiterated that call. Citron Research expects not only the existing pipeline of cannabis related IPOs to draw investor dollars away from TLRY, but Citron expects that the firm itself will be forced to go back to the secondary market in order to fund it's own plans for expansion.
As a trader, this is tricky. There is no denying the obvious consumer demand. There is no denying legal trends. Recreational pot usage goes legal in Canada on October 17th, and despite the illegal status of marijuana usage in the U.S. at the Federal level, more and more states are legalizing the usage of this drug for both medical and recreational usage every year. In fact, I am willing to go out on a limb here and say that not one state that has legalized pot has ever thought about going the other way on their decision.
Is Citron Wrong On This?
Honestly, I don't think so, but it's not about being right. It's about understanding the environment provided. This is still a money losing operation. That, gang... has never stopped the Tesla (TSLA) - Get Report crowd, so if the name achieves cult status, and the crowd is willing to ignore the fundamentals, then all bets are off. The shares are already significantly higher in the overnight. After closing at $104.95 last night, I see some volume trading above $112 per share while I work on this note, but we are still many hours from the opening bell.
Market cap for this name is, or was $9.78 billion. That will change significantly not just daily, but probably minute by minute. For the second quarter, the firm posted GAAP EPS of $-0.17. That number missed expectations by a country mile, despite revenue that printed up 95% year over year to $9.74 million. The firm's net loss for the period came in at $-12.8M, or -427%. But there's more, much more.
There seems to be a premium being built into the business in an attempt to price in consolidation, and or interest in targeted acquisitions on behalf of both alcohol manufacturers, and tobacco producers. Constellation Brands (STZ) - Get Report is known to have taken a nearly 40% ownership stake in Tilray rival Canopy Growth (CGC) - Get Report . Molson Coors (TAP) - Get Report is known to have made investment in this space in an effort to develop cannabis infused beverages.
In addition to Constellation and Molson Coors having made investment, Diageo (DEO) - Get Report , Anheuser-Busch (BUD) - Get Report , Coca-Cola (KO) - Get Report , Heineken (HEINY) , Phillip Morris (PM) - Get Report , and Altria (MO) - Get Report have all either been kicking tires across the space, or at least have been mentioned in speculative type articles written somewhere in financial media.
Thoughts From My Desk
My own set of disciplines deny me the opportunity to chase TLRY. Believe me, while sometimes preventing a trader from taking advantage of missed opportunity, this also prevents the trader from impulse shopping. In the end, this prevents tragic error. I have been doing this for a while, just in case you don't know me. These ideas are just that... ideas, and they are all somewhat speculative in nature.
For Professional Traders:
Last night, you could still buy a straddle (options strategy) with a strike close to the last sale expiring tomorrow for under $1200. One thing I think we know about this name is that the last sale is going to move around. This morning, due to the decay of time premium, that expense will likely decrease. Notice, I said last sale, and not the closing price. This is a moving target. Remember, you need the last sale to move away from your strike price by at least as much as you spend on the strategy just to break even.
One can push this out to a "strangle" in order to reduce the cost, but that will also reduce the possibility for profit. Just how dangerous is this name? Last night, a straddle strategy centered around the last sale, expiring in December (after Q3 earnings on Nov. 27th), would cost you more than $5,200 for just one contract on each side.... and more than $4000 of that expense would come from the purchase of the put side of the strategy. For those truly able to handle some risk, the sale of that same put would mean that the shares would have to drop into the mid $60's for the trade to become unprofitable.
For Retail Investors:
If one does something else for a living, and maybe invests, but can't watch a screen 16 hours a day, it might be better to invest in names that have not yet seen rampant interest from the crowd. As those big names already mentioned in this article are systematically left at the altar by the objects of their desire..... there could be door prizes for those leaving empty handed. This trend of thought has me thinking of names such as Cronos Group (CRON) - Get Report , a name that I am not crazy about, and Aurora (ACBFF) . The latter is a name that I have held in the "Stocks Under $10" portfolio, and that has been good to the portfolio. I had been waiting for the right price to re-engage, but perhaps the intent is better served more broadly here. This is a name that I would not mind seeing in my personal portfolio.
(A longer version of this column appeared at 8:24 a.m. ET on Real Money, our premium site for active traders. Click here to get great columns like this from Stephen "Sarge" Guilfoyle, Jim Cramer and other experts throughout the market day.)