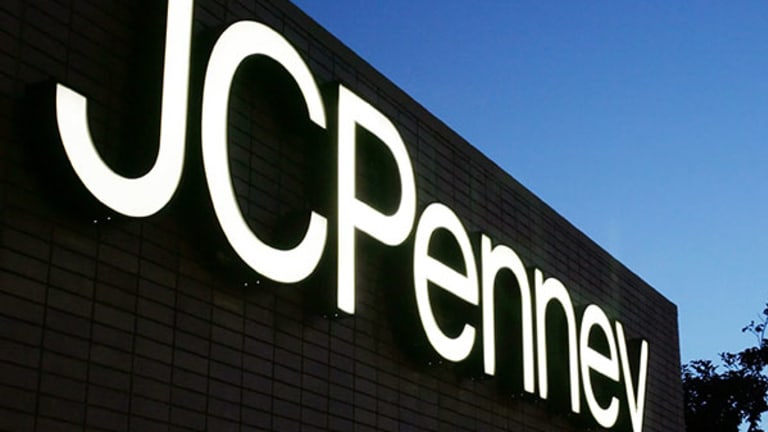 NEW YORK (RealMoney) -- I don't wish to brag (who am I kidding? of course I do!) but on Jan. 7 I wrote a cautionary piece about Best Buy (BBY). It had closed the previous day at $39.31 and lost about 25% at the open today after announcing December sales comparisons that could be politely described as disappointing. My negative view wasn't based on any pretense of knowledge about those numbers or on any complex technical analysis, just common sense.
BBY had risen significantly, not on particularly great results, but rather on relief that it was still in business. This is a terrible reason to invest in a company, as I suggested at the time. My dislike of Blackberry (BBRY) is based on the same thing, but a more pointed example comes today with the news that J.C. Penney (JCP) is closing 33 stores and shedding 2,000 jobs.
As JCP has fallen over the last few years, there have been several relief rallies. Each time, however, the hangover from the Ron Johnson tenure returns. This latest news has been greeted with selling, falling 7% at the open, which is just another nail in the coffin.
Those who keep picking levels to announce that the worst is over for JCP are making an understandable mistake. When a household name is in trouble, there is a tendency to think that it will survive, no matter what. J.C. Penney is huge and has been around forever. It is part of the landscape and has significant real estate holdings that must put a floor on the price. These and other reasons are often cited, but there is no such thing as "too big to fail" in retail.
The interesting thing is that once someone has succumbed to this temptation to clutch at a falling knife, they can usually come up with a convincing argument based on technical or fundamental analysis to support their case. Sometimes, though, in that analysis, a single, simple fact gets lost. In the case of JCP, it is that the company is losing money every day and this latest announcement, while it may slow the bleeding, will not heal the wound.
I have seen this many times before. I worked at a major U.S. wire house and when I got there early in 2010, one of their best ideas was to buy Eastman Kodak. When I saw that research report, I was stunned. It was a complex analysis of enterprise value and projected revenues, couched in analyst language that, at first, I found intimidating. I mean, this was Kodak, and this was a highly paid, highly educated analyst with a report full of numbers and jargon; how could it be wrong?
Then I came to my senses. Despite all the jargon, I couldn't escape the gut feeling that Kodak was going under as it scrambled to cut back and restructure debt. Over the next few months, the once-proud photography giant continued to pay the price for coming late to the digital revolution until the inevitable happened and bankruptcy protection was sought.
So, next time you read an article about how the worst is over at JCP, or the next time it looks like it has found a bottom, remember this: When a company is in this much trouble, the risk-reward ratio rarely works in your favor. If you do find the bottom of JCP at, say, $5 per share, you have a chance at a decent profit. If, however, you are wrong, then a total loss is the most likely outcome. There will no doubt be a slew of analyses indicating that the turnaround at JCP is coming, and there will be some relief rallies. When these arrive, just as with Best Buy (BBY) - Get Best Buy Co., Inc. Report and BlackBerry undefined, they will give a decent level for those inclined to short the stock more than anything else.
-- Written by Martin Tillier
At the time of publication, Tillier had no positions in the stocks mentioned.