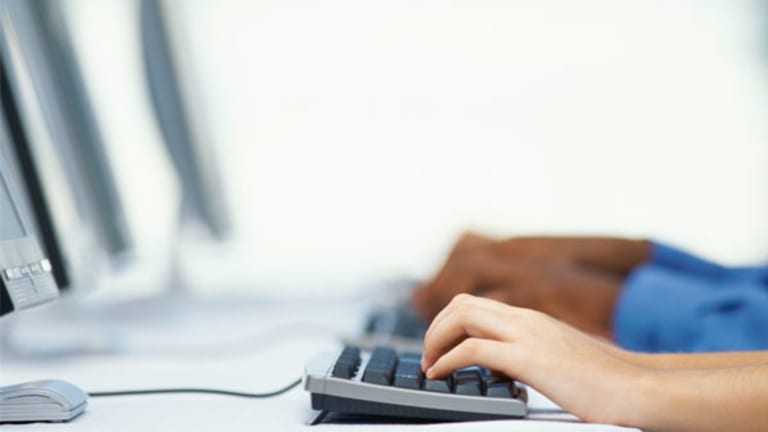 Ties May Bind Apple's CEO to Board
Analysts ponder the state of independence of a board handpicked by Steve Jobs.
Updated from 2:40 p.m. EDT
Although the role of
Apple's
(AAPL) - Get Apple Inc. Report
Steve Jobs in the granting of past stock options is still unknown, the CEO may not have been as removed from the process as some analysts believe.
During the period of the grants which are under investigation, the company's board of directors consisted largely of people handpicked by Jobs -- many of whom had significant ties to him or to Apple.
Apple admitted in late June that it had found "irregularities" in several options grants it made between 1997 and 2001, including at least one made to Jobs.
Since then, the company's backers among the sell-side community have argued that Jobs likely played no role in the grants, in part because Apple's board and compensation committee that oversaw such grants during the said time period were independent.
As
previously reported by
TheStreet.com
, Apple didn't have a compensation committee for a 16-month period between 2000 and 2001. Instead, the board of directors, ostensibly including Jobs, governed such decisions.
What's more, there are serious reasons to question how independent Apple's directors were from Jobs in the 1997 to 2001 time period. Even though many of the directors might be considered independent under even current, stricter marketplace rules, many had significant ties to Jobs or were appointed through a process with little apparent independence from him.
"This is something that goes beyond the letter of any law to the real spirit of the matter" of independence, says Alyssa Ellsworth, managing director of the Council of Institutional Investors, which represents pension funds.
If board members are golfing buddies or best friends with CEOs, "they're not going to treat them with the arms-length, director-management relationship that shareowners are looking for."
Still, at least some analysts believe that there's every reason to believe that Apple's directors at the time were in fact independent of Jobs, regardless of whatever ties they may have had to him.
Intuit
(INTU) - Get Intuit Inc. Report
Chairman William Campbell and
Oracle
(ORCL) - Get Oracle Corporation Report
Chairman Larry Ellison, both of whom joined Apple's board with Jobs in 1997 and served with him throughout the period in question, are "probably the only two people who have no problem standing up to Jobs," says Tim Bajarin, principal analyst at Creative Strategies and a longtime Apple watcher.
Meanwhile, Bajarin describes Jerome York, who served on Apple's board during the same time period, as "the most hard-nosed guy I ever met."
"There's no question in my mind that the board was very independent," says Bajarin. "I don't see anybody on the board that's 'yes people' in any way."
Citing the company's ongoing investigation into its stock grants in the late '90s and early this decade, Apple spokesman Steve Dowling declined to comment on the independence of the company's board during that time.
An Oracle representative declined to comment. Other members of the board from that period did not return calls seeking comment.
A Question of Independence
To understand the question of the independence of Apple's directors, you have to go back to the palace coup Jobs orchestrated in August 1997, which essentially put him back in charge of the company he co-founded.
According to a contemporary report in
The Wall Street Journal
, Jobs, who had been acting as the head of the company after former CEO Gil Amelio's departure in July that year, told the former board that he wanted them to resign and appoint him, along with Ellison, Campbell and York, to the board.
Jobs essentially got his wish. Three of Apple's five board members resigned, and Jobs and his three picks were named to the board, giving them majority control.
Each of Jobs' handpicked board members either had or would soon have compelling ties to Apple or Jobs. Ellison, for instance, called Jobs his "best friend" at the time, and months before Jobs' takeover, he floated an idea of acquiring Apple along with his friend, according to contemporary reports and Michael Malone's book
Infinite Loop
.
Campbell, too, thought of Jobs as a "close personal friend," according to a contemporary report in the
San Jose Mercury News
. The two had a history of working together at Apple: Campbell joined the company in 1983, roughly two years before Jobs' ouster. He later headed up
Claris
, Apple's software spinoff that the company later brought back in house.
According to the
Mercury News
report, when Jobs approached Campbell about joining Apple's board, Campbell told him, ''If you're in, I'll be in.''
Such personal ties are important to consider, say corporate governance experts.
"Somebody that says he's the CEO's best friend is much more beholden
to the CEO than someone who makes $70,000 on a consulting contract, in all likelihood," says Beth Young, a senior research associate at the Corporate Library, a business watchdog and research group.
York had no clear ties to Apple or Jobs when he joined the company's board. But in 1999, he bought and became chairman of
Micro Warehouse
, a mail-order and online retailer of tech products.
At the time that York purchased the company, sales of hardware and software for Apple's Macintosh accounted for 34% of the company's revenue, while Apple directly accounted for 11%, according to Micro Warehouse's filings with the
Securities and Exchange Commission
.
At least under new marketplace rules, such a material relationship between a director and the company whose board that director serves on would preclude the director from being considered independent.
But those four board members, including Jobs, aren't the only ones of questionable independence. Millard Drexler, who was CEO of
Gap
(GPS) - Get Gap Inc. (The) Report
at the time, joined Apple's board in 1999. Jobs joined Gap's board the same year.
During the 16-month period between 2000 and 2001, Drexler and the rest of Apple's board essentially acted as the company's compensation committee. This would call into question Jobs' independence from Drexler under current marketplace rules.
Moreover, from the time Jobs rejoined Apple until August 2001, the board of directors had no nominating committee, meaning that no formal process independent of Jobs existed to nominate and consider new board candidates.
Not only did Drexler join the board during that time period, so did Arthur Levinson, the CEO of
Genentech
(GENE) - Get Genetic Technologies Ltd Report
. (A Genentech representative said that Levinson wasn't available for comment.)
Such ties and process problems are reason to question the independence of Apple's board at the time, says the CII's Ellsworth. And the lack of an independent board is a red flag that can signal other trouble, she said.
Referring to the wider scandal involving companies that are deceptively manipulating the grant dates and strike prices of stock options, Ellsworth says, "We're going to hear a lot more about the
options backdating and cozy boards."
Apple finished trading Wednesday down $1.45, or 2%, at $70.03.