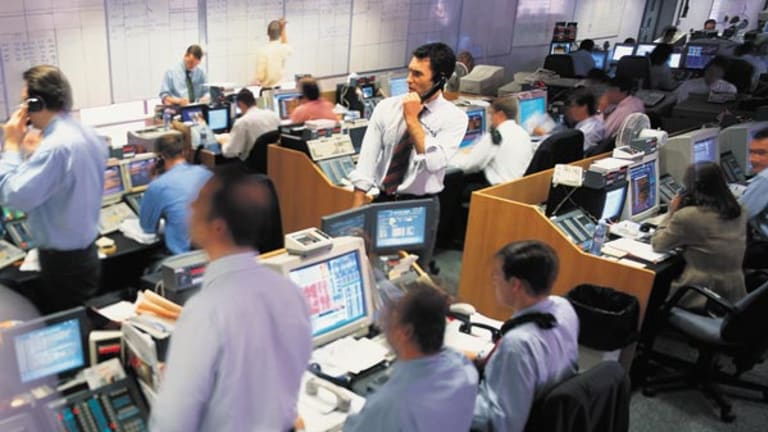 Thursday's Winners & Losers: LSI
Shares climb 20.8% after the company beats estimates.
Semiconductor and storage maker
LSI
(LSI) - Get Life Storage Inc. Report
surged after the company
reportedbetter-than-expected
first-quarter results, though it posted a lossof $14 million, compared to a net income of $30 million a year ago.Excluding items, the company reported earnings of 10 cents a share,compared with earnings of 11 cents a share the year before. Revenuerose 42% to $661 million. Analysts had been expecting earnings of 7cents a share on revenue of $634.6 million. An analyst at Carisupgraded the stock to above average from average. Shares of LSI wereup $1.03, or 20.8%, to $5.99.
Apple
(AAPL) - Get Apple Inc. Report
gained $6.05, or 3.7%, to $168.94 following the company's
, which blew past Street expectations for the quarter.Apple posted a profit of $1.05 billion, or $1.16 a share, comparedwith profit of $770 million, or 87 cents a share, the year before.Revenue climbed 43% to $7.51 billion. Analysts were expecting earningsof $1.07 a share on revenue of $6.96 billion.
Gross margin, however, fell to 32.9% from 35.1% in the year-ago quarter and the company offered a conservative forecast of revenue of $7.2 billion andearnings of $1 a share. Analysts were expecting revenue of $7.15billion and earnings of $1.10 a share in the current quarter.
Progenics Pharmaceuticals
(PGNX) - Get Progenics Pharmaceuticals, Inc. Report
surged $2.61, or 32.5%, to $10.64 Thursday. The stock was already up nearly 19% from Monday's open prior to Thursday's rally, as investors showed enthusiasm for the prospects of
Wyeth
( WYE) and Progenics' Relistor for treatment of constipation induced by pain-killers in patients who are receiving palliative care.
The Food and Drug Administration is expected to make a decision on the drug -- previously delayed from January of this year -- on or by April 30. On Thursday, the European Medicines Agency's Committee for Medicinal Products for Human Use (CHMP) recommended the agency approve Relistor.
Shares of
NextWave
( WAVE), a developer of mobile multimedia and wireless broadband products based in San Diego, Calif., swelled 41.1% to $6.70. The company announced its intention to sell its spectrum holdings in the U.S. The company, which has licenses and lease rights for a total of 4.7 billion MHz/pops of spectrum, has retained Deutsche Bank and UBS to explore a possible sale.
Among the losers,
Calumet Specialty Products Partners
(CLMT) - Get Calumet Specialty Products Partners L.P. Report
, an Indianapolis company that produces and sells specialty hydrocarbon products, saw shares drop 22.3% to $14.26. The company announced a cash distribution decrease to 45 cents for the quarter ended March 31 from a previous 63-cent distribution.
Orthopedic-device maker
Zimmer
(ZMH)
reported profit of $239.3 million, or $1.02 a share -- up just 3% from $233.4 million, or 98 cents a share, in the 2007 period -- and $244.3 million, or $1.04 a share, on an adjusted basis. Sales rose 11% to $1.06 billion, in line with the Thomson Financial consensus target of $1.04 a share on revenue of $1.06 billion.
The company also announced it has authorized the addition of another $1.25 billion to its stock-buyback program. The new program expires at the end of 2009.
Zimmer shares gave up $3.08, or 4.1%, to $72.87.
This article was written by a staff member of TheStreet.com.