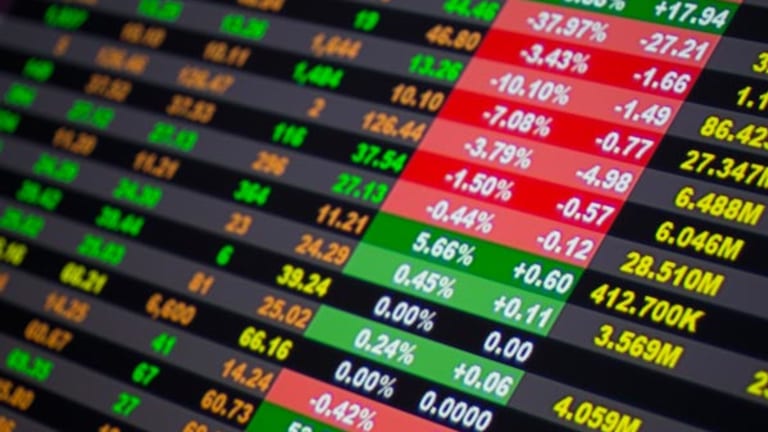 Thursday's Winners & Losers: Bear Stearns Shares Bear Up Well
The brokerage's stock finishes in positive territory despite a big quarterly loss.
Bear Stearns
( BSC) was among the volume leaders after the New York broker said that $1.9 billion in mortgage-related writedowns
disintegrated its bottom line to a loss of $878 million, or $6.90 a share, in the fiscal fourth quarter. Just last month, CFO Sam Molinaro had
pegged the writedowns at just $1.2 billion, though he has also proved prescient in adding, "
I don't want to predict that things couldn't get worse, because things keep surprising."
The report came a day after Britain's
Barclays
(BCS)
sued Bear over one of its
troubled subprime-focused hedge funds, according to several published reports. Bear shares, following some mixed trading, closed up 0.9% at $91.42.
Bond insurer
MBIA
(MBI)
fared much worse, with shares tanking more than 26% on a
crushing disclosure. The Armonk, N.Y., firm said it has $8.14 billion in exposure to collateralized debt obligations (CDOs) backed by high-grade collateral, 85% of which consists of other CDOs -- in other words, CDOs backed by other CDOs, or CDO squareds. A Morgan Stanley analyst said he was "shocked" at the lateness of this revelation.
Altus Pharmaceuticals
( ALTU) tumbled $4.38, or 44%, to $5.50 Thursday. After the close on Wednesday, the company said that it's regaining the North American commercialization rights to ALTU-238, a once-weekly IV human growth hormone product that uses its drug delivery technology, from
Genentech
( DNA). Altus said it still plans to resume clinical study of the drug, which is in midstage development, in mid-2008.
Genentech closed up 63 cents, or 0.9%, at $67.97 on Thursday.
Also on the decline on Thursday,
Array BioPharma
(ARRY)
, which delivered disappointing news on Wednesday after the closing bell. Array said that AZD6244, an experimental treatment for advanced melanoma, failed to meet its primary goal in a midstage trial. Subsequently, its co-developer
AstraZeneca
(AZN)
has opted not to take the drug to late-stage development. Array slid $3.06, or 28%, to $7.96, and Astra Zeneca traded down 35 cents, or 0.8%, to $43.95.
BlackBerry maker
Research In Motion
( RIMM) gained 4.8% ahead of its third-quarter earnings after the market close Thursday. Analysts are expecting EPS of 62 cents on revenue of $1.65 billion, compared with earnings of 31 cents a share on revenue of $835 million a year ago. For the fourth quarter, analysts are expecting EPS of 65 cents on revenue of $1.74 billion. The stock was up $4.86 to $106.99.
Accenture
(ACN)
added $2.28, or 6.5%, to $37.24 after the company reported higher-than-expected earnings for the first quarter and raised guidance. Accenture said revenue increased 19% to $5.67 billion in the quarter and it reported EPS of 60 cents. That was higher than analysts' expectations of revenue of $5.45 billion and earnings of 56 cents a share. For the full fiscal year, Accenture raised its EPS outlook for the full year by 15 cents to a range of $2.36 to $2.41. Analysts were expecting EPS of $2.26 for the full year.
Green Bankshares
(GRNB)
shares sank 26% after the Greeneville, Tenn.-based bank announced lowered fourth-quarter 2007 guidance and withdrew its full-year 2008 view. Citing "deteriorating market conditions," Green Bankshares will increase its loan-loss provisions and now expects earnings between 28 cents and 33 cents a share, vs. 52 cents a share a year ago. Analysts predict EPS of 32 cents. Shares fell $6.77, to $19.51.
Meanwhile, digital imager
Presstek
( PRST) announced new developments in its delayed third-quarter 2007 regulatory filing today. Citing a review of worldwide inventory, the Hudson, N.H., firm declared that GAAP operating income would be negatively impacted. Presstek also mentioned that the
Securities and Exchange Commission
is conducting an informal inquiry into its announcement of preliminary third-quarter results. Investors sold the stock down 15% to $4.80 on the news.