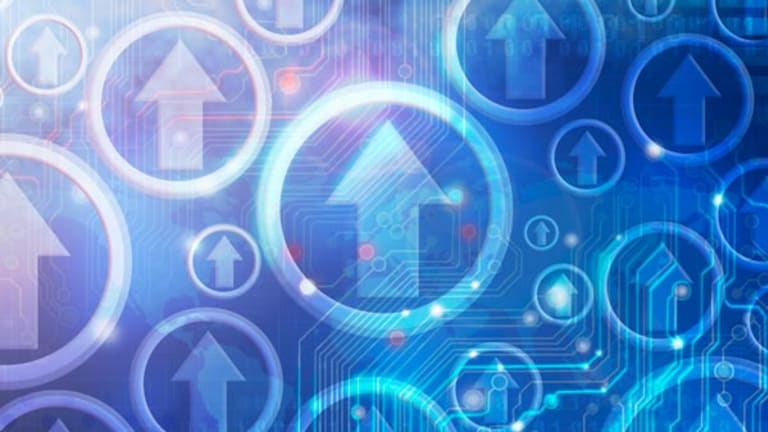 Thursday's Late Winners & Losers
RIMM benefited from the explosive demand for Blackberry's.
Research in Motion( RIMM) led the tech winners after the bell on Thursday. RIMM has jumped nearly 12% since the Canada-based company doubled its fiscal third-quarter profit.
The maker of Blackberry handheld devices earned a reported $370.5 million, or 65 cents a share, compared with 31 cents a share a year ago. $10.7 million of that derived from a tax-related gain. Revenue roughly doubled to $1.67 billion, coming ahead of the $1.65 billion average analysts estimate from Thomson Financial.
RIMM also pegged current-quarter sales at an above par range of $1.8 billion and $1.87 billion. Wall Street is seeking $1.75 billion. Shares were gaining $12.60 to $119.59.
Tibco Software
(TIBX)
, meanwhile, added 5.9% with the share price climbing to $7.75 after saying that non-GAAP income totaled $34.2 million, or 18 cents a share,
beating analysts' per-share estimates by 3 cents. A year ago, the Palo Alto, Calif., company made 14 cents a share. Revenue, at $186.1 million, was also higher than expected.
Also among the late losers was
Jabil Circuit
(JBL)
which surrendered 10.6% to $16.47 after the tech-products maker estimated fiscal second-quarter "core" profit of 16 cents to 20 cents a share, which would come in well under the 31-cent average analyst call. Sales should be between $3 billion and $3.1 billion -- at least $200 million below targets.
In the quarter ended Nov. 30, the St. Petersburg, Fla., company's core income leapt by 24.1% to 36 cents a share, which meets the consensus.
Elsewhere in tech, memory chipmaker
Micron Technology
(MU)
recently lost 3.7% after swinging to a
far bigger-than-expected loss. The Boise, Idaho, company's red ink came to $262 million, or 34 cents a share, which reverses a year-ago profit and widens from last quarter's loss of 21 cents a share. Analysts were looking for the loss to narrow by a penny sequentially. Shares were changing hands at $7.63 in recent after-hours action.
Also, among the losers was
Genitope
(GTOP)
, which plummeted some 50% after the Fremont, Calif., biotech company said that its MyVax investigational cancer treatment failed to demonstrate a statistically significant difference vs. the control substance regarding patient survival without further worsening of the disease. It didn't, therefore, meet the primary endpoint of the testing.
The trial tested patients with a low-grade form of B-cell non-Hodgkin's lymphoma, which is the more common form of lymph-system cancer in the U.S., according to the American Cancer Society. Genitope said that patients who mounted a positive immune response to the tumor-specific target showed a "highly statistically significant difference" in progression-free survival compared with those who didn't. That, said Genitope, was also a pre-specified endpoint. Still, shares were down $1.28 to $1.31 after market close.