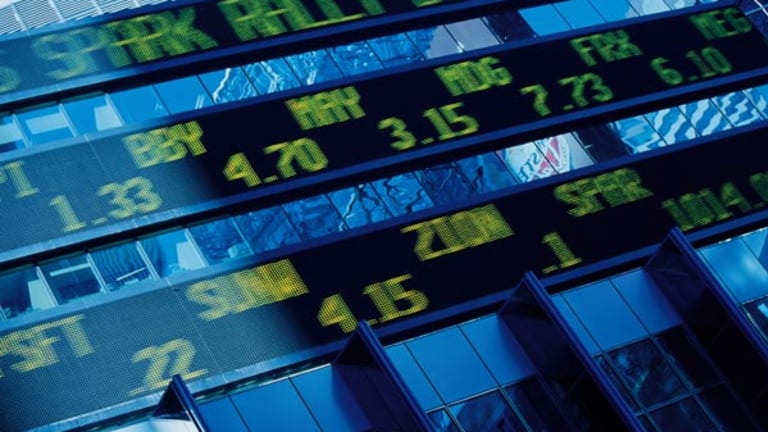 Thursday's Late Winners & Losers
Las Vegas Sands rolled snake eyes after-hours.
Las Vegas Sands
(LVS) - Get Las Vegas Sands Corp. Report
plummeted in after-hours trading, as did several stocks' earnings following a brutal regular session.
The casino-resort operator plunged nearly 16% after reporting that its adjusted profit slid 63.6% year over year to 12 cents a share, or $41.8 million. That's well below Wall Street's target of 31 cents per share. On a GAAP basis, the company swung to a loss, and its $661 million revenue was far under analysts' forecasts. Shares surrendered $19.80 to $105.50.
Itron
(ITRI) - Get Itron Inc. Report
, which makes solid-state meters and other products for energy and water providers, joined the late losers as well after its third-quarter profit wasn't up to snuff. The Liberty Lake, Wash., company said non-GAAP earnings rose 16.1% from last year to 65 cents a share, but analysts were seeking 12 cents more. The stock was sinking 18.1% to $82.75.
And
Cogent
(COGT)
, a Californian maker of automated fingerprint ID systems, widely missed with non-GAAP income of a nickel a share on sales of $22.5 million. Analysts were looking for 9 cents a share on $30.2 million in sales. Cogent also announced it will buy back up to $100 million of its shares over the coming year, but its stock still dropped 14.9% to $12.05 in recent extended trading.
On the flip side,
Denny's
(DENN) - Get Denny's Corporation Report
, the Spartanburg, S.C.-based restaurant chain, said third-quarter same-store sales gained 1.3% at company locations and 3.2% at franchises, with total revenue coming in at a better-than-expected $241.4 million. Income fell year-over-year to a nickel a share. Analysts polled by Thomson Financial were looking for 4 cents a share, excluding extraordinary items.
Denny's also narrowed its full-year adjusted-earnings outlook to the upper end of its prior range, now expecting between $8 million and $10 million. Previously, the company had estimated $9 million to $10 million. Shares were edging higher 1.4% to $4.51.
Electronic Arts
( ERTS), a video-game publisher based in Redwood City, Calif., gained 3% after fiscal second-quarter non-GAAP earnings
leapt 28.6% from last year to 27 cents a share, or $87 million. Analysts were seeking just 20 cents a share. EA stock was up $2.58 to $61.32.
Management-software developer
CA
likewise saw a sharp rise in non-GAAP earnings to 32 cents a share, which handily beats analysts' expectations for flat income year-over-year. The company's $1.07 billion in revenue represents an 8.1% rise and tops the consensus. The Islandia, N.Y., company also
ratcheted up its 2007 outlook. Shares added $1.53, or 5.8%, to $27.80, in recent after-hours trading.
Cepheid
(CPHD)
, which develops testing systems for the molecular diagnostics industry and other markets, narrowed its third-quarter loss. Excluding special items, the company shed $1.5 million, or 3 cents a share, from 4 cents a share a year ago. That beats projections by a nickel a share. The Sunnyvale, Calif., company's stock bounced 13.4% to $27.54.