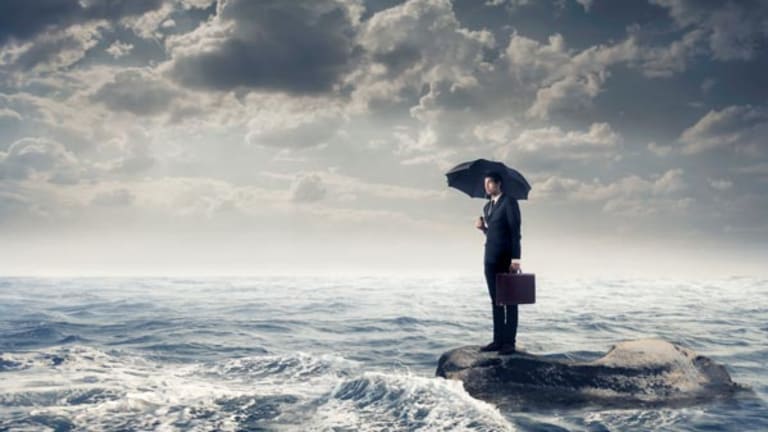 Thursday's Financial Winners & Losers
A Goldman analyst gives tough love to the financial sector.
Updated from 2:13 p.m. EST with new stock prices
The falling major indices, along with
downbeat research courtesy of Goldman Sachs, helped to kick most of the financial stocks lower on Thursday.
The
NYSE
Financial Sector Index gave up 1.6% to 8,286.33 after a Goldman analyst said that effects from the credit crunch have yet to fully play out. That echoes the recent sentiments of a number of other analysts.
Goldman specifically pegged
Citigroup's
(C) - Get Free Report
writedowns for collateralized debt obligations (CDOs) at $18.7 billion, according to several published reports, which balloons from the analyst's prior $11 billion projection. And, notwithstanding last month's
$7.5 billion cash infusion by the Abu Dhabi Investment Authority, the analyst said those writedowns might force Citi to cut its dividend by 40%.
The Goldman analyst also nearly doubled his writedown forecast for
Merrill Lynch
( MER) to $11.5 billion in that quarter, per
Reuters
, and fully doubled that for
JPMorgan
(JPM) - Get Free Report
to $3.4 billion. Bottom-line expectations were slashed at all three New York-based firms.
Citi shares were sliding 2.9% to $29.56, pulling down the KBW Bank Index along with JPMorgan, which surrendered 2.9% to $43.64. The sector tracker was down 2.3%. The Amex Securities Broker-Dealer tracker lost 2.1% to 206.54 under pressure from Merrill Lynch. Merrill was off 2.5% after
CNBC
reported that the firm will lay off about 1,600 people, or roughly 10% of its work force.
Among the biggest individual price decliners, however, was
Sallie Mae
(SLM) - Get Free Report
. The student lender fell 11.2% after saying it will
offer $2.5 billion in stock, consisting of $1.5 billion in common shares and $1 billion in mandatory convertible preferred shares.
$2 billion of the proceeds are planned for buying back around 44 million shares under an outstanding equity forward-purchase contract. Any remaining capital will go to general corporate purposes. Shares of the Reston, Va.-based firm dropped $2.48 to $19.65.
Sterling Financial
(STSA) - Get Free Report
was also suffering today after warning investors of a grim fourth-quarter report. Among other things, the Spokane, Wash., bank cut down its fourth-quarter profit projections to between 31 cents and 34 cents a share and said its credit-loss provision will more than triple sequentially to $13 million. Analysts polled by Thomson Financial are looking for earnings of 53 cents a share. Sterling shares plunged $2.12, or 10.9%, to $17.44.
Similarly, Georgia's
United Community Banks
(UCBI) - Get Free Report
shed 13.9% after ratcheting down its GAAP earnings forecast to between 8 cents and 10 cents a share, in large part thanks to a mushrooming loan-loss provision of $29.5 million. The Street is seeking a profit of 43 cents a share, less special items. Shares were off $2.47 to $15.26.
On the other hand,
Fannie Mae
( FNM) and
Freddie Mac
( FRE) each gained ground after the Office of Federal Housing Enterprise Oversight said that both mortgage investors had had more than enough cash in the third quarter. According to the regulator, Fannie's capital levels were 5.9% above the OFHEO-directed requirement, and Freddie had a 1.7% surplus above that threshold. Shares of the firms spiked 2.1% and 4%, respectively.