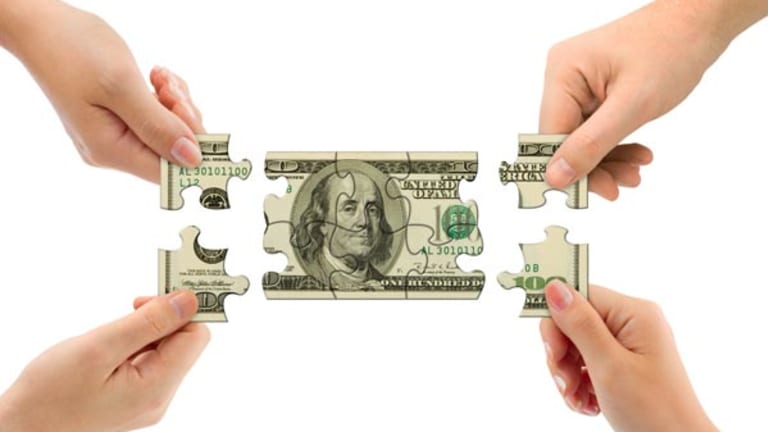 Thursday's Financial Winners & Losers
Piper Jaffray falls on a downgrade.
After a couple of gleeful days in positive territory, financial stocks eased back into the red Thursday amid negative analyst notes and other assorted bad news.
The
NYSE
Financial Sector Index lost 58.57, or 0.7%, to 8,499.92, and the KBW Bank Index shed about a point, or 1%, to 94.21.
Still,
E*Trade
(ETFC) - Get E*TRADE Financial Corporation Report
managed to stay afloat for most of the day after Citadel Investment Group agreed to inject the online broker with
$2.5 billion in cash. The New York firm has foundered since announcing
more writedowns at its banking unit, which prompted a stock-battering
downgrade. Today, shares were trading substantially higher before taking an afternoon fall. They closed down 8.7% at $4.82.
As for analyst calls,
Lehman Brothers
( LEH) lost ground after CIBC World Markets slashed $16 off its price target to $79. The New York broker's fourth-quarter and full-year 2008 profit targets were also whittled down, though the analyst kept Lehman's sector outperformer rating. Shares slid $3.16, or 4.9%, to $61.69.
Similarly, UBS maintained
American International Group's
(AIG) - Get American International Group Inc. Report
neutral rating but chopped its price target down to $61 from $75 while lopping 25 cents off its 2008 EPS expectation to $6.19. Shares of the insurance giant gave up 0.7% to $57.33.
Investment bank
Piper Jaffray
(PJC) - Get Piper Jaffray Companies Report
fell 8.9% to $45.30 after Wachovia cut the stock to market perform from outperform, citing broad-market worries, and a Piper analyst slapped a sell sticker on
State Auto Financial
(STFC) - Get State Auto Financial Corporation Report
. Shares of the Ohio insurer lost $2.47, or 8.4%, to $26.91.
Wells Fargo
(WFC) - Get Wells Fargo & Company Report
, which rose yesterday despite saying it would
set aside $1.4 billion pretax to cover losses from its riskiest mortgage investments, gave back some ground today. Analysts are
skeptical that the provision will ultimately be enough. Shares of the San Francisco bank finished down 0.6% to $30.54.
Away from brokerage research,
Principal Financial Group
(PFG) - Get Principal Financial Group Inc Report
tumbled 8.5% to $63.99 after the Iowa asset manager said that, due to general market weakness, it expects operating earnings of between $4.20 and $4.45 a share. That's at least 3 cents shy of the consensus analyst estimate, per Thomson Financial.
Lender
Allied Capital
(ALD)
offered 3.25 million shares at $24.75 apiece, as well as an underwriters' option for another 487,500 shares, under a shelf registration statement. Proceeds are slated to reduce borrowings under its line of credit, among other things. And insurer
Citizens
(CIA) - Get Citizens Inc. Class A ($1.00 Par) Report
agreed to sell 2.68 million shares to institutional investors for around $18.8 million, also pursuant to a shelf filing.
Allied closed off 5% to $24.20; Citizens surrendered 16% to $6.65.
Among relatively few financial gainers today, mortgage lender
Countrywide
( CFC) jumped 6.7% to $9.30; mortgage insurer
Ambac Financial
( ABK) rose 5% to $23.41; and bank
Downey Financial
(DSL) - Get DoubleLine Income Solutions Fund of Beneficial Interests Report
ended up $2.86, or 7.7%, to $39.85.