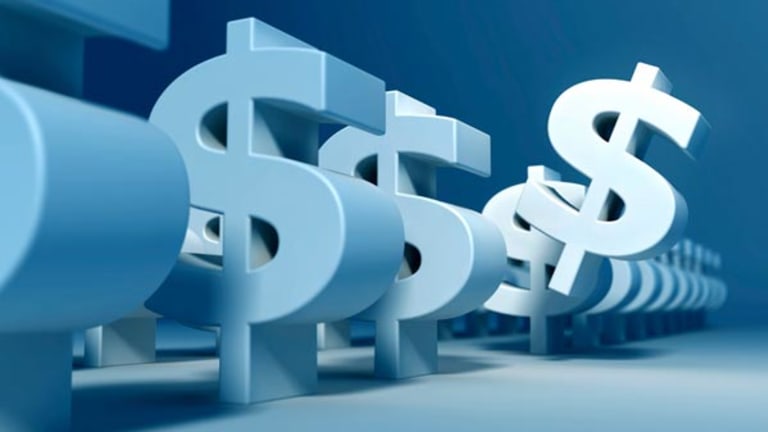 Thursday's Financial Winners & Losers
Citi plunges.
Citigroup's
(C) - Get Citigroup Inc. Report
plunge, catalyzed by a couple of downgrades, helped to drag down both the financial sector and the broader market Thursday.
CIBC World Markets
lowered Citi's rating to sector underperformer, saying the banking giant will need to raise significant cash in order to pad its currently thin capital ratio. That will weigh substantially on its stock price, said the analyst, and the bank may also have to cut its dividend. Credit Suisse, which cut the stock to neutral from outperform, also cited capital-related worries.
Citi shares took a 6.8% tumble to $38.54, which put heavy pressure on both the
NYSE
Financial Sector Index and on the KBW Bank Index. The former plunged around 276 points, or 2.9%, to roughly 9,135; the latter slid 4.3% to 98.9.
Another component of both trackers,
Bank of America
(BAC) - Get Bank of America Corporation Report
, also got a CIBC downgrade to sector performer from sector outperformer on revenue concerns. And Merrill Lynch cut Swiss bank
UBS
(UBS) - Get UBS Group AG Registered Report
to neutral from buy, citing the possibility of more subprime-mortgage-related writedowns. Shares fell 3.7% and 4.8%, respectively.
Credit Suisse
(CS) - Get Credit Suisse Group American Depositary Shares Report
, meanwhile, sank 5.1% to $64.25 after third-quarter income fell 11.3% from last year's continuing-operations earnings to about $1.12 billion (1.3 billion Swiss francs), or $1.02 a share. Revenue wilted 19% to $5.2 billion.
Radian Group
(RDN) - Get Radian Group Inc. Report
yanked down the mortgage-insurance sector after posting a third-quarter loss of $704 million, or $8.78 a share, to reverse year-ago earnings of $1.36 a share. As expected, writedowns from its exposure to Credit Based Asset Servicing and Securitization (C-BASS), which focuses on subprime mortgages, took the single biggest bite out of its bottom line.
C-BASS troubles were pivotal in
killing Radian's planned merger with fellow mortgage insurer
MGIC Investment
(MTG) - Get MGIC Investment Corporation Report
earlier this year.
Radian shares plunged another $2.39, or 19%, to $10.20, following a painful few months. MGIC surrendered 10.2%;
PMI
( PMI), which was cut to neutral from buy at Merrill Lynch, lost 14.7%; and
TGIC Guaranty
(TGIC)
was off 8.9%.
Financial guaranty insurers were also among the sector's biggest decliners.
Ambac Financial
( ABK) suffered a 19.4% plummet to $29.67;
Security Capital Assurance
(SCA) - Get Stellus Capital Investment Corp 5.75 % Notes 2017-15.09.22 Report
slid 20.5%, and
MBIA
shed 9.4%.
Rounding out the losers, finally, was
Bear Stearns
( BSC). Shares dropped 3.3% after
The Wall Street Journal
reported that said CEO James Cayne has
smoked marijuana at out-of-town bridge tournaments -- which, said the
Journal
, was where Cayne was during some of the worst days of Bear's
hedge fund crisis this summer. Bear shares were trading down $3.70 to $109.90.
Among the few financial gainers were a number of insurers, among them
Unum Group
. Adjusted continuing-operations earnings surged 30.4% to 60 cents a share in the third quarter -- well over Wall Street's 51-cent estimates, as per Thomson Financial. The Tennessee firm also raised its 2007 profit outlook. Shares ramped up 9% to $25.45.
Insurers
Assurant
(AIZ) - Get Assurant Inc. Report
and
Aon
( AOC) also shot past third-quarter earnings estimates, and Aon additionally said it will lay off 2,700 employees as part of a larger restructuring plan. This should cost about $360 million pretax, while 2008 savings are pegged at $50 million to $70 million, to increase substantially thereafter.
Assurant shares added $3.64, or 6.2%, to $62.08; Aon gained 4.6% to $47.40.
Elsewhere in the green, commodities exchange
Nymex
( NMX) and online broker
Investment Technology Group
(ITG)
each beat top- and bottom-line expectations in the third quarter. Shares of the companies rose 1.6% to $130.61 and 2.2% to $42.82, respectively.