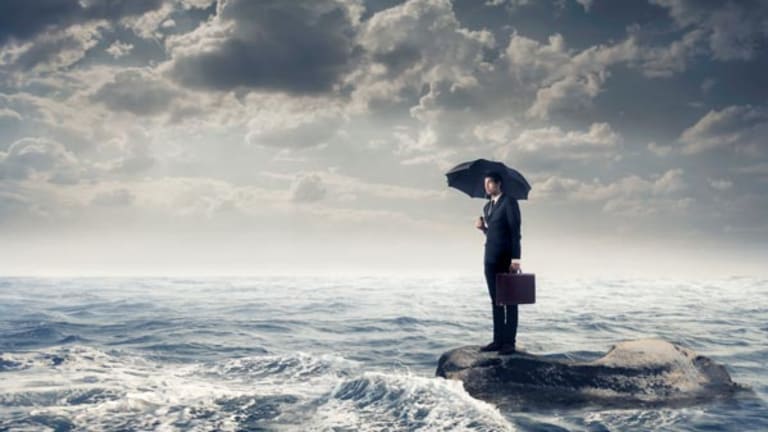 Thursday's Financial Winners & Losers
Triad Guaranty falls hard after swinging to a quarterly loss.
Updated from 2:45 p.m. EDT with new stock prices
Financial stocks pressed lower Thursday as a surprise September rise in new-home sales, per the Census Bureau, was countered by a congressional report that forecasted some 2 million subprime mortgage foreclosures by the end of 2008.
Among individual names,
Triad Guaranty
(TGIC)
plummeted 26.61% to $6.04 after "rapid deterioration of the housing markets" helped pressure a loss of $31.8 million, or $2.13 a share, to reverse a year-ago profit.
Fellow mortgage insurers
Radian
(RDN) - Get Free Report
and
MGIC Investment
(MTG) - Get Free Report
were each off sharply as well, as MGIC slashed its dividend by 90% to 0.025 a share. Radian tumbled 23.62% to $9.99; MGIC sank 9.32% to $17.90.
Investment manager
W.P. Stewart
( WPL) outright suspended its 15-cent quarterly dividend, kicking shares down 18.81% to $6.26.
WellCare
(WCG) - Get Free Report
, a health insurer and managed-care provider, dove 62.95% to $42.67 following a
government raid of its offices.
Meanwhile,
Merrill Lynch
( MER) was battered by downgrades from UBS, Wachovia and Bernstein on the heels of yesterday's release of
dismal financials. Goldman Sachs also slashed 2007 earnings estimates by around 79%. Merrill shares shed $2.32, or 3.67%, to $60.90.
Thornburg Mortgage
( TMA) slid 6.37% on a UBS cut to neutral from buy, and JP Morgan lowered
Moody's
(MCO) - Get Free Report
to underweight following yesterday's disappointing earnings report. Shares of the credit-ratings firm traded down 5.66% to $43.33.
MBIA Insurance
(MBI) - Get Free Report
swung to a net third-quarter loss and posted slipping operating income of $1.52 a share, which missed the average analyst estimate by 7 cents. Shares of the Armonk, N.Y., company tumbled 14.86% to $46.99.
IntercontinentalExchange
(ICE) - Get Free Report
beat third-quarter earnings projections, per Thomson Financial, but retreated 3.89% following yesterday's big run-up.
Ameriprise
(AMP) - Get Free Report
lost 3.83% to $63.28 after the asset manager posted an in-line adjusted profit for the quarter.
Elsewhere,
Bank of America
(BAC) - Get Free Report
announced it's laying off roughly 3,000 employees "in light of market conditions and strategic imperatives" and following last week's
huge reported profit slide in the third quarter.
Shares of the Charlotte, N.C., banking giant were recently down 1.01% to $47, which weighed on both the
NYSE
Financial Sector Index and the KBW Bank Index -- down 0.64% and 0.58%, respectively.
Insurance behemoth
American International Group
(AIG) - Get Free Report
fell 3.21% in heavy trading on rumors that third-quarter financials, set to issue in a couple of weeks, might reflect subprime-related writedowns. And
Countrywide
( CFC), which is due to report tomorrow and which at least one analyst expects will
suspend its dividend, surrendered 5.50% to $13.07.
On the other hand,
Amerigroup
( AGP) said third-quarter earnings jumped 26.1% year over year to 58 cents a share -- 6 cents higher than the mean Street target. The Virginia Beach-based company also upped its full-year guidance to top consensus. Shares climbed $3.12, or 9.39%, to $36.36.
In more positive earnings,
Boston Private Financial's
(BPFH) - Get Free Report
54-cent "cash" earnings per share easily beat the 39-cent Street targets. Pennsylvania brokerage
SEI Investments
(SEIC) - Get Free Report
and Britain-based insurance broker
Willis Group
(WSH)
also came in ahead. Shares of the firms were gaining 5.43% or more.
Finally,
Commerce Bancorp
(CBH) - Get Free Report
traded mostly in the green despite swinging to a third-quarter loss of $47.9 million, or 24 cents a share. Earlier this month the New Jersey bank agreed to be taken out by
Toronto-Dominion Bank
(TD) - Get Free Report
in an $8.5 billion stock-and-cash transaction. Commerce shares recently added 34 cents to $38.92.