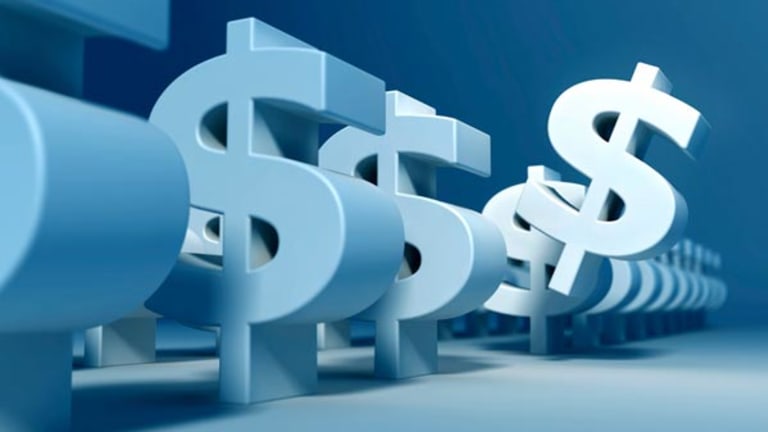 Thursday's Financial Winners & Losers
Radian slips further after an analyst lowers its price target.
Updated from 1:52 p.m. EDT
Financial stocks were hit harder than most Thursday following yet another round of disheartening data out of the housing industry -- second-quarter mortgage delinquencies and subprime delinquencies climbed 5.1% and 14.82%, respectively, as foreclosures hit an all-time high.
The
NYSE
Financial Sector Index was down 0.1% at 8,937.71 as it continued to underperform the broad indices. The KBW Bank Index also trailed despite recouping early losses to rise 0.1% to about 105.
Among individual names,
Radian Group
(RDN) - Get Radian Group Inc. Report
and
MGIC Investment
(MTG) - Get MGIC Investment Corporation Report
helped to pressure the NYSE financial tracker as they continued to pull back from Wednesday's intraday gains, which were triggered by news the mortgage insurers
won't close their proposed merger.
Friedman Billings cut Radian's price target by $15 to $20 today, citing the canceled takeout. The Philadelphia-based company shed 4.7% as MGIC gave up 2.9%.
In another negative analyst call, real estate investment trust
SL Green Realty
(SLG) - Get SL Green Realty Corp Report
was cut to equal-weight from overweight at Lehman Brothers. The analyst cited, among other things, the New York-based firm's inordinate exposure to the financial-services market. Shares sank $1.62, or 1.5%, to close at $107.47.
Elsewehere,
Countrywide Financial
( CFC) stock lost ground after
The Wall Street Journal
reported that the nation's biggest mortgage lender is
laying off 900 more employees, primarily in its mortgage-production division, in response to falling lending volumes and defaults. That move follows last month's 500-person staff cut. Shares of the Calabasas, Calif., company sank 1.8% to close at $18.48.
Strongly on the upside today, however, was
Alabama National
undefined
, which surged 45.1% after a
Royal Bank of Canada
(RY) - Get Royal Bank Of Canada Report
subsidiary agreed to buy it for $1.6 billion in cash and stock, or $80 a share -- a whopping 50.6% premium to yesterday's closing price. Alabama shares ratcheted up $23.98 to close at $77.10; Royal Bank shares ticked down 0.6% at $51.17.
Finally,
Thornburg Mortgage
( TMA) shares got a lift after RBC Capital Markets said recent efforts to boost liquidity -- such as
raising cash in a collateralized mortgage-debt deal and
selling some of its mortgage-backed securities portfolio -- will help steel the company against the mortgage industry's current calamities. The analyst upped Thornburg to sector perform from underperform. Shares of the Santa Fe, N.M., company closed up 2% to $12.06.