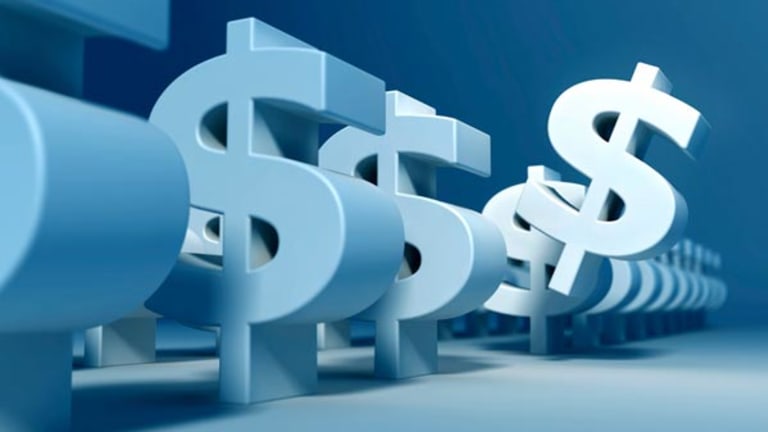 Thursday's Financial Winners Losers
Friedman Billings' shares rise after the brokerage firm swings to a fourth-quarter profit.
Friedman Billings Ramsey
undefined
jumped nearly 13% after the Virginia-based broker swung to a respectable fourth-quarter profit of $3.8 million, or 2 cents a share, from last year's loss of $271.6 million, or $1.60 a share. Full-year losses narrowed to $67.3 million, or 39 cents a share, from $1.01 a share in 2005. Shares were gaining 89 cents to $7.80.
LandAmerica Financial
( LFG) rose after it powered past fourth-quarter Street estimates. Income ebbed year over year to $34.3 million, or $1.95 a share, on $1.09 billion in revenue, but analysts surveyed by Thomson Financial had the insurer earning $1.76 a share on $1.03 billion in revenue. The Richmond, Va., company also announced it will repurchase up to another 1.5 million of its shares through October 2008. Its existing 1.25-million-share program expires in July. Shares were adding $3.79, or 5.9%, to $68.54.
Germany's
Allianz
( AZ) reported a 49% rise in preliminary fourth-quarter income to roughly $1.8 billion (1.37 billion euros), or $4.21 a share. Revenue edged down 1.5% from last year to $32.57 billion. The insurance giant may also boost its per-share dividend by $2.36, to $4.99. Shares were up 83 cents, or 4%, to $21.51.
Heritage Financial
(HBOS)
got a lift after the Georgia-based regional bank said it will buy back up to 300,000 of its shares. Heritage stock was rising 43 cents, or 2.7%, to $16.51.
EMC Insurance
(EMCI) - Get EMC Insurance Group Inc. Report
slid after per-share operating profits declined steeply to 78 cents from $1.34 a year ago. The Iowa-based company was off $2.54, or 7.8%, to $30.21.
Astoria Financial
(AF)
slipped after the bank said fourth-quarter interest margins might undergo "modest compression" in 2007, given a newly factored-in estimation that the inverted U.S. Treasury yield curve won't flatten until mid- to late 2007. The Lake Success, N.Y., bank was down 30 cents, or 1%, to $29.21.