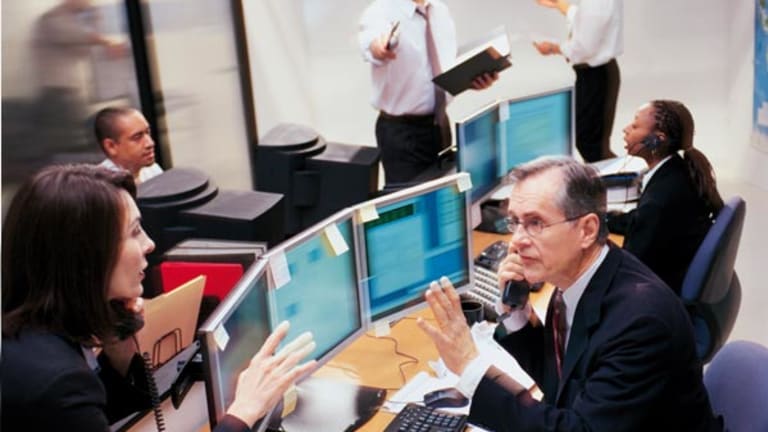 Thursday's Early Winners & Losers: Hot Topic Sizzles
Shares of the mall-based retailer surged after hours on rising profits.
Pop-culture apparel retailer
Hot Topic
( HOTT) soared 8% after the closing bell rang Wednesday on rising profits that met Wall Street expectations for the quarter ended Oct. 28.
The City of Industry, Calif.-based company posted earnings of $7.1 million, or 16 cents a share, compared with $5.9 million, or 13 cents a share, a year ago. Revenue rose 2% to $196.7 million, which just slid by estimates of $196.4 million from analysts polled by Thomson First Call. Looking ahead, Hot Topic expects to open 35 new stores and remodel about twice as many in fiscal 2007. Shares were trading up 89 cents to $12.00.
Planar Systems
(PLNR)
gained after posting impressive results for the quarter ended Sept. 29 and for full-year 2006.
The Beaverton, Ore.-based electronic-display developer posted GAAP income of $1.2 million, or 9 cents a share, on revenue of $53.3 million. That compares with a loss of $32.1 million, or $2.18 a share, on revenue of $54.5 million a year ago. Non-GAAP income rose to 14 cents a share on revenue of $53.4 million, sprinting past two analysts' estimates of 9 cents a share for income and $48.7 million in revenue.
Total fiscal 2006 GAAP income swung to a profit of $6.3 million, or 43 cents a share, on revenue of $212.7 million, compared with a loss of $34.9 million, or $2.37 a share, on revenue of $231.8 million a year ago. Non-GAAP income for the year also moved past analysts' expectations, jumping to 63 cents a share on revenue of $212.8 million from 21 cents a share in 2005. Analysts had projected earnings of 44 cents a share and revenue of $207.6 million in 2006. Shares were up 50 cents, or 4.2%, to $12.50.
Capstone Turbine
(CPST) - Get Capstone Turbine Corporation Report
rose after announcing it would partner with Agile Turbine Technology and Brayton Energy in order to further develop a series of intercooled recuperated gas-turbine commercial-vehicle engines.
The ICR 225 will be the first of these products, the Chatsworth, Calif.-based company said. The product's distinguishing characteristic will be a patented technology rendering the engine's generator equally efficient whether utilizing all of its 225 kilowatts of power or only 75 kilowatts -- in other words, whether the vehicle using it is flying down a highway or churning slowly through traffic. Shares were up 17 cents, or 12.6%, to $1.52.
HandHeld Entertainment
(ZVUE)
continued to surge in after-hours trading following its 304% skyrocket before the closing bell rang Wednesday. The small San Francisco-based company, which designs portable media players, announced an hour before market close that it had acquired a comedy Web site called Dorks.com for $1.5 million. In addition, the company projected positive cash flow for 2007.
On Tuesday, the company announced it had struck a deal with Comedy Time Network to make hundreds of hours of comedy clips available to owners of ZVUE, the company's own portable video player, as well as to owners of other brands of portable video players (PVPs). Shares were up $1.56, or 25.6%, to $7.66.
BEA Systems
( BEAS) dropped on revenue for the quarter ended Oct. 28 that barely missed Wall Street projections. The San Jose, Calif.-based business-software developer posted revenue that rose to $347.7 million from $291.5 million a year ago. Still, analysts had expected $348.7 million. The company said its filing was incomplete due to its previously announced voluntary internal review of its historical stock-option grants. Shares were down $1.34, or 8.5%, to $14.35.
Video-game developer
Activision
(ATVI) - Get Activision Blizzard, Inc. Report
fell after the company announced that it is in danger of being delisted from the Nasdaq. The Santa Monica, Calif.-based company said it received a letter from
Nasdaq
indicating that, because it did not file its quarterly report on time, it is not in compliance with the filing requirements for continued listing on the exchange. Shares were down 55 cents, or 3.3%, to $16.10.