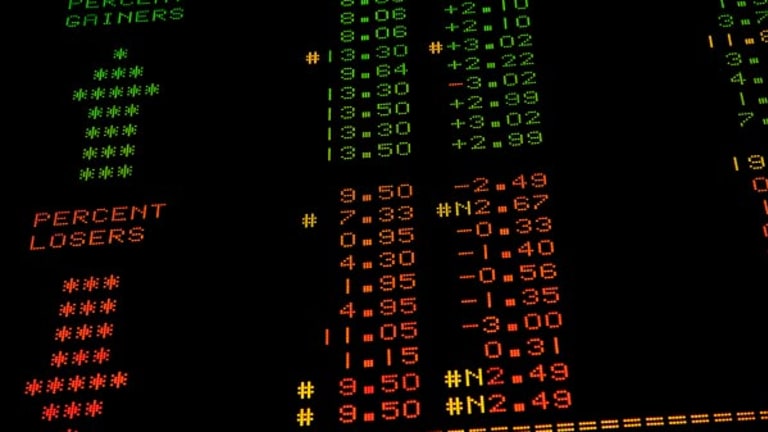 Thursday's Early Winners & Losers
Airspan Networks falls after posting a fourth-quarter loss.
Airspan Networks falls after posting a fourth-quarter loss.
Airspan Networks
( AIRN) was hit hard in after-hours trading Wednesday as the wireless-equipment maker said fourth-quarter sales plunged 17% year over year to $31.3 million, just shy of the $31.5 million estimate from Thomson Financial. Losses broadened to $4.1 million, or 10 cents a share, compared with $3.3 million, or 8 cents a share, a year ago.
Next quarter, the Boca Raton, Fla., firm pegs sales of between $26 million and $28 million, which would miss two analysts' $31.8 million expectations. Airspan also predicted unspecified double-digit sales growth for full-year 2007. Shares were losing 54 cents, or 11.9%, to $4.
DealerTrak Holdings
(TRAK)
climbed after fourth-quarter income (minus stock-option expenses and $2.7 million in amortization) totaled $9.3 million, or 23 cents a share, on a top line of $45.7 million. A year ago, the Lake Success, N.Y., maker of automotive-retail software had a profit of $3.7 million, or 12 cents a share, on sales of $33.4 million. On average, the Street was looking for a bottom line of 19 cents on $43.2 million in revenue. Shares were rising 80 cents, or 2.8%, to $29.75.
Smith Micro Software
(SMSI) - Get Report
rose on word that the company took in pro forma fourth-quarter profits of $7 million, or 26 cents a share, compared with year-ago income of $2.6 million, or 11 cents a share. The California-based company, which makes software for wireless-telecom products, also said sales more than doubled to $17.2 million. The Street had sought 15 cents a share on revenue of $16 million. Shares were gaining 66 cents, or 4.9%, to $14.15.
Medicis Pharma
(MRX)
slid after fourth-quarter revenue reached only $99.1 million, about $6 million short of what analysts were seeking. The Scottsdale, Ariz., biotech also said non-GAAP income, which excludes a nickel a share in stock-option costs, totaled 33 cents a share, or $23.3 million. This represents a climb from last year's $20.1 million, or 29 cents a share. Analysts were looking for a 33-cent profit.
Looking ahead, the company expects full-year 2007 earnings to be about $1.33 a share, excluding 21 cents worth of stock-option costs. Analysts are looking for $1.48 a share. Medicis stock was falling $1.94, or 5.3%, to $34.42.
Eagle Bulk Shipping
(EGLE) - Get Report
said fourth-quarter earnings came to $4.5 million, or 13 cents a share. Stripping out a noncash compensation charge that the New York-based company says didn't dilute per-share value, its bottom line reached $11.8 million, or 33 cents a share, which is what the Street was seeking. Revenue rose 17% to $28.4 million, just past the $28.3 million consensus. But shares were off 90 cents, or 4.5%, to $19.10.