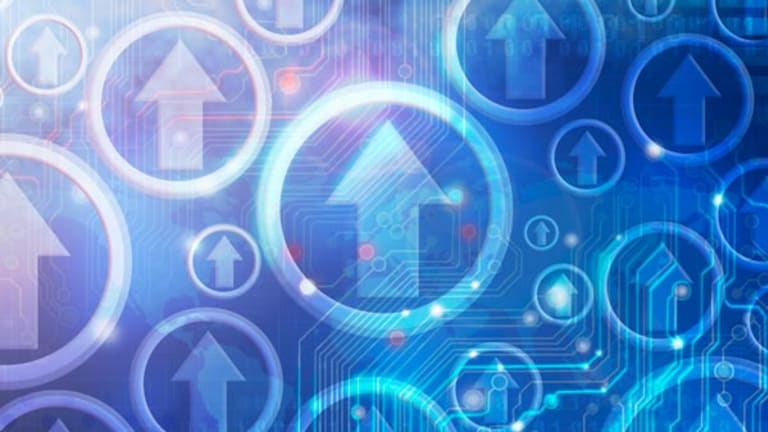 Thursday's Early Winners & Losers
Hot Topic tumbles after slashing its earnings outlook for the fourth quarter.
Hot Topic
( HOTT), a mall-based chain that sells pop-culture apparel, plunged 11% in after-hours trading as the company cut its guidance to below Street expectations. The company, based in City of Industry, Calif., now expects to see earnings between 20 cents and 22 cents a share, down from its previously announced forecast of 33 cents to 38 cents a share. Analysts polled by Thomson Financial are seeking earnings of 33 cents a share. The company explained the downturn by citing its dismal holiday-season sales figures: Same-store sales fell 5.1% in December, and total revenue for the month edged down 1% from last year to $131 million. Shares were losing $1.46 to $12.08.
AngioDynamics
(ANGO) - Get AngioDynamics Inc. Report
jumped on impressive earnings for the period ended Dec. 2. The Queensbury, N.Y., medical-devices maker posted income of $2.5 million, or 15 cents a share, compared with $1.7 million, or 13 cents a share, a year ago. Analysts had expected earnings to flat-line with last year. Also, revenue was up 30% to $24.4 million, edging past the $24 million consensus. Shares were gaining $1.23, or 5.6%, to $23.20.
Intervoice
(INTV)
, which sells converged voice-and-data technology, lost $88,000 in the fiscal third quarter, or break-even a share, compared with year-ago profits of $3.6 million, or 9 cents a share. However, the results beat estimates by a nickel, and the Dallas-based company was up 20 cents, or 2.7%, to $7.70.
Immucor
( BLUD) rose after the Georgia-based company nearly doubled its income for the quarter ended Nov. 30. Earnings came to $14.1 million, or 20 cents a share, up from $8.1 million, or 11 cents a share, a year ago. In addition, the company, which makes reagents (substances that identify blood properties for the purpose of transfusions), posted revenue of $54.4 million. Wall Street was looking for 18 cents a share on revenue of $51.4 million. Shares were climbing 60 cents, or 2%, to $30.72.
Zumiez
(ZUMZ) - Get Zumiez Inc. Report
ballooned after the sports-apparel maker reported an 11.5% same-store sales increase during December. The results don't represent as dramatic an increase as last year's 20.9% rise for the same period, but total sales did leap 40.5% to $62.5 million year over year. Shares of the Everett, Wa.-based company were adding 83 cents, or 2.7%, to $31.88.
Citi Trends
(CTRN) - Get Citi Trends Inc. Report
fell on disappointing same-store December sales figures. The Savannah, Ga., urban-apparel retailer saw a same-store sales decrease of 0.1% for the five weeks ended Dec. 31, down from a 21.4% increase a year ago. Total sales were up 17.8% to $60.4 million. According to the company, 2005's spectacular same-store sales boost was due to the one-off event of catastrophic hurricanes, including Katrina, which brought an inordinately high number of customers into Citi stores lying in and around the hurricanes' paths. Shares were down 84 cents, or 2.1%, to $39.29.
Wireless Facilities
( WFII) slipped after it predicted lower fourth-quarter results. The San Diego company didn't mention any specifics, but analysts are projecting that earnings will remain unchanged from last year's 2 cents a share (on a GAAP basis), so fourth-quarter income will plausibly miss expectations. Wireless Facilities, which sells a variety of services to the wireless communications industry, blames the downtick on one-time restructuring charges -- including a $7.5 million hit in order to stop employee stock options -- while also admitting to dwindling fourth-quarter operating performance. The company says the restructuring will benefit shareholders in the long run, but shares were slipping a nickel, or 1.8%, to $2.80.