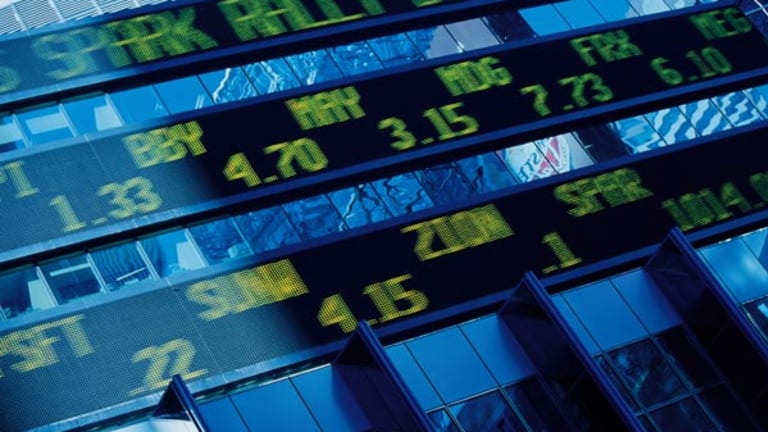 Thursday's Early Winners & Losers
A surge in third-quarter earnings boosts shares of G-III Apparel.
G-III Apparel Group
(GIII)
surged after the close Wednesday on mounting third-quarter profits that easily beat Wall Street estimates. The New York-based company, which makes sportswear and accessories, earned $23.3 million, or $1.59 a share, in the quarter ended Oct. 31.
This compares with $14.8 million, or $1.15 a share, a year ago. The two analysts who follow the company were looking for $1.37 a share, according to Thomson Financial. Sales went up 31.1% to $244.7 million, also beating estimates by about $6 million.
Citing these solid numbers, as well as "strong outerwear reorders and the impact of new, non-seasonal businesses," the company hoisted its full-year outlook. It now expects fiscal 2007 earnings to range between 90 cents and 95 cents a share, up from its previous forecast of 63 cents to 67 cents a share. Analysts are calling for 66 cents a share. Full-year revenue expectations were adjusted to about $430 million, a figure that tops G-III's previous estimate by $20 million. Shares were up $2.85, or 15.5%, to $21.30.
Delia's
undefined
earnings towered over estimates in the quarter ended Oct. 28, and shares ballooned in kind. The New York-based direct marketing outfit posted a nearly doubled profit of $3.3 million, or 11 cents a share, on revenue of $67.5 million, compared with $1.7 million, or 6 cents a share, a year ago. The revenue represents a 12% increase over the year-ago period. Analysts were looking for 7 cents a share on revenue of $68.2 million. Shares were up $1.00, or 9.4%, to $11.59.
San Diego-based
Maxwell Technologies
(MXWL)
jumped after the company, which makes energy storage and power delivery systems, announced that 3 million of its Boostcap D-cell ultracapacitors had been ordered by a "leading European producer of wind energy systems."
Alan Riedo, senior vice president and general manager of the company's Swiss subsidiary, says this order -- to be filled over two years -- is for twice the amount of its previous largest D-cell order. The European entity will use the product in its wind-turbine-blade pitch systems. Shares were up 56 cents, or 3.8%, to $15.16.
Liquidity Services
(LQDT)
lost nearly all of its anticipatory Wednesday gains, despite solid results for the quarter and year ended Sept. 30, on disappointing guidance.
The Washington, D.C.-based online auctioneer topped earnings estimates for the fourth fiscal quarter, and for full-year 2006, by a penny-a-share each. Fourth-quarter income totaled $2.2 million, or 8 cents a share, on revenue of $39.8 million, compared with $1.6 million, or 7 cents a share, a year ago. Full-year earnings were at $8 million, or 31 cents a share, on revenue of $147.8 million, compared with $4.1 million, or 18 cents a share, a year ago. Quarter and full-year revenue climbed 64% and 65%, respectively, from year-ago periods.
But the company also said it expects to earn only 8 cents a share in the next quarter, and 40 cents to 42 cents a share in fiscal 2007. Analysts are looking for fiscal first-quarter profits of 9 cents a share, and full-year 2007 profits of 43 cents a share. Shares were down $1.74, or 8.7%, to $18.20.
Biopharmaceutical
Insmed
(INSM)
continued its Wednesday plummet after a jury in the U.S. District Court for the Northern District of California found that it had infringed on patents licensed by
Tercica
( TRCA) from
Genentech
( DNA), and upheld the validity of another Genentech patent that the court had already determined was infringed by Insmed, in the company's process for making a component of its Iplex product.
Insmed must pay Tercica $7.5 million in damages and royalties, as well as 15% royalties for damages on past Iplex sales totaling up to $100 million and 20% royalties on anything greater than that amount. Tercica had issued these patents in connection with its Increlex product in 2002. Insmed shares were down 11 cents, or 8.4%, to $1.20. Tercica shares rose 39 cents, or 6.6%, to $6.29.
Parlux Fragrances
( PARL) slid after selling the Perry Ellis fragrance brand back to
Perry Ellis International
(PERY)
for $63 million in cash. The deal includes the license for the Perry Ellis fragrance brand, as well as inventory, molds and other related assets. Shares were down 46 cents, or 6.8%, to $6.30.