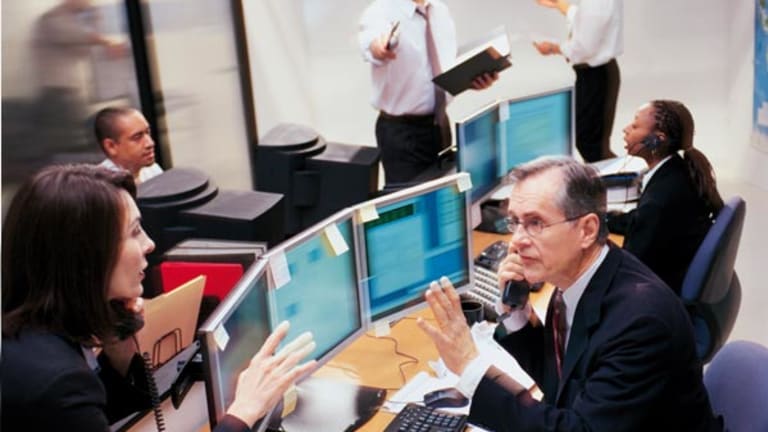 Thursday's Early Winners & Losers
Shares of Durect climb after closing a deal with Nycomed.
Biopharmaceutical
Durect
(DRRX) - Get DURECT Corporation Report
rocketed 42% in after-hours trading Wednesday after closing a deal with Denmark-based Nycomed in order to jointly develop Posidur, Durect's postoperative pain relief product.
Privately held Nycomed will pay Durect up to $202 million, including an upfront $14 million license fee and additional milestone payments of up to $188 million upon achievement of defined development, regulatory and sales milestones. In exchange, Nycomed will have exclusive commercialization rights to Posidur in Europe and other defined territories. Durect will make and supply the product to Nycomed and, depending on annual sales, Nycomed will pay the California-based company blended royalties of 15% to 40%. Durect is to retain full ownership of Posidur in the U.S., Canada, Asia and elsewhere. Shares were up $1.60 to $5.40.
DSW
(DSW) - Get Designer Brands Inc. Class A Report
gained on widening profits that flew past Wall Street expectations and boosted full-year guidance.
The Columbus, Ohio-based shoe retailer earned $16 million, or 36 cents a share, compared with $10.9 million, or 25 cents a share, a year ago. Analysts were looking for earnings of 27 cents a share. The company now expects to make between $1.35 and $1.38 a share in fiscal 2006, up from its previous guidance of $1.24 to $1.27 a share, and forecasts a same-store sales increase of about 1% to 3% for the full year. This quarter's same-store sales rose 2.6% from the year-ago period, and revenue rose to $332.2 million from $302.2 million a year ago. Sales totals did not reach the $333.1 million consensus estimate. However, shares were up $3.80, or 11.3%, to $37.51.
Synopsys
(SNPS) - Get Synopsys, Inc. Report
surged after the semiconductor company nearly doubled its profits and beat Wall Street estimates.
For the quarter ended Oct. 31, the Mountain View, Calif.-based company posted income of $30.1 million, or 21 cents a share, compared with $15.3 million, or 11 cents a share, a year ago. Analysts polled by Thomson Financial were looking for earnings of 21 cents a share. Revenue rose 11% to $283.4 million for the quarter, beating the $279.8 million consensus estimate, and full-year revenue climbed 10.4% to $1.1 billion. Full-year earnings totaled $111.2 million, or 77 cents a share, topping estimates by 2 cents a share -- which compares with fiscal 2005 earnings of $58.1 million, or 40 cents a share.
Looking ahead, Synopsys expects to earn between 26 cents and 28 cents a share next quarter on revenue of between $292 million and $300 million. It forecasts full-year 2007 earnings of between $1.20 and $1.28 a share, and revenue in a range between $1.18 billion and $1.21 billion. Shares were up $2.11, or 9.1%, to $25.35.
Hot Topic
( HOTT) jumped on better-than-expected November results. The retailer said November same-store sales fell 4.3%, beating analysts' expectations for a 6.8% drop, while sales rose 2% to $55.7 million.
The City of Industry, Calif.-based company shaved the top end of its fourth-quarter earnings guidance and now expects earnings of 33 cents to 38 cents a share, compared with its earlier forecast of 33 cents to 44 cents. The guidance is still at or above analysts' average forecast of 33 cents a share, however, and shares were up $1.40, or 10.9%, to $14.30.
TiVo
(TIVO) - Get TiVo Corp. Report
sank after it issued disappointing fourth-quarter guidance, despite improved third-quarter results. The digital video recorder lost only $11.1 million, or 12 cents a share, compared with a loss of $14.2 million, or 17 cents a share, a year ago.
Sales rose to $65.7 million from $49.6 million a year ago. Both figures beat the consensus estimate, which called for a loss of 14 cents a share on revenue of $55.6 million. But TiVo also forecast sales of between $54 million and $55 million in the fourth quarter, falling short of analysts' $61.2 million expectations. Shares were down 31 cents, or 4.9%, to $5.98.