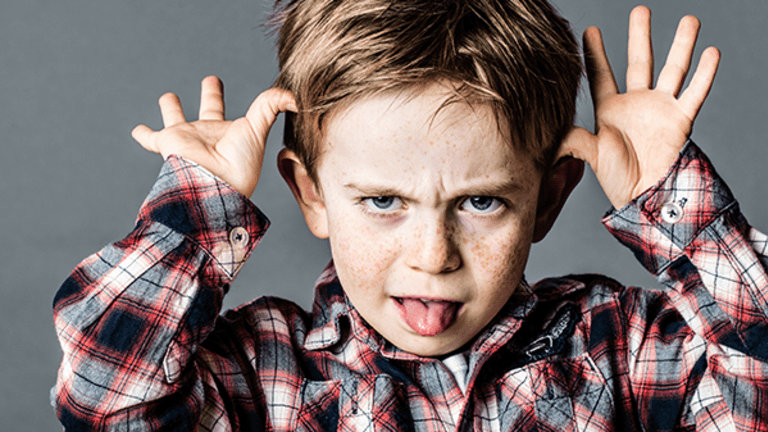 So starts the week.
Jim Cramer: The Thumb-Suckers Are Wrong With Their Growth Vs. Value Theory
The "big thinkers" are out on last week's move, and here is what they are saying: "Growth is out and value is back; the big switch is on, because of macro factors that allow for a better economy, which we know from the increase in interest rates that we have just seen has to be the case."
Originally published July 5 at 5:32 a.m. EST
This is the kind of "non-logic" gobble-de-gook that has truly taken over as analysis for this market, and it drives me crazy. It is almost entirely based on thumb-sucking, no actual thinking, and it is easy to do because it requires not getting your hands dirty at all.
Plus, it is based on all of the "inputs", meaning that it makes sense based on the flow of funds one sees in front of you -- as if you could ever just look at a screen and make a determination. And it is circular reasoning that can't be pulled apart and makes for a very neat combination.
Except it's wrong.
There is no shift into value. There is no abandonment of growth. Go over the charts. Go do the homework on the stocks and here is what you will see: a typical rotation based on some actual changes in the market that have much more to do with money chasing performance than anything else.
So, before you buy everything that is going up and sell everything that is going down, here's the story.
First, you have to stop using FANG -- Action Alerts PLUS holding Facebook (FB) - Get Facebook, Inc. Class A Report , Trifecta Stocks name Amazon (AMZN) - Get Amazon.com, Inc. Report , Netflix (NFLX) - Get Netflix, Inc. (NFLX) Report and Google parent Alphabet (GOOGL) - Get Alphabet Inc. Class A Report . In an accompanying long take out on the S&P winners in tech in the first half -- none of which were FANG -- you can see that the stocks just kept climbing and climbing and climbing, pretty much right into the last week of the quarter.
My take? Great quarters, but the stocks were marked up hideously and over-extended. That's typical money manager behavior, which we have seen a thousand times. If we just want to focus on FANG, we are doing a real disservice, given that I came up with that moniker simply because nothing else was going up except for those four stocks.
We have the opposite occurring now, although I think that all four of them represent opportunities, particularly Alphabet, which is shifting its model quickly away from advertising. I like Amazon, too, but I recognize that right now it has become all things to all people, especially momentum people, and they get shaken out.
Plus, if it were really a turn against growth, how do you explain the myriad health care stock rallies? They are entirely about growth. You could argue that the money has shifted from tech to healthcare as of last week, but I think that's wrong, too. I believe that what has happened is simply that health care is dead in Congress, and the winners in death are all of the companies that were winning before: the entire complex is rallying.
So, no, it isn't the death of growth. And if you sell "growth", you are playing the same idiotic macro nonsense that has you trading in and out of stocks forever and leaving the big winners behind.
How about value? Total different kettle of fish, so to speak. Oil represents the deepest value in this market and what happened here is, once again, patently obvious to me. The oil stocks are dictated by the price of crude and ever since crude peaked in February when the large hedge funds had their biggest long positions on -- a record, by the way, according to the COT or commitment of traders report from the CFTC -- it's been downhill.
What happened at precisely the time that the rig count showed no growth on Friday and the April stats showed no growth in production? The longs liquidated making it, so there's about half the number of those who own futures than at the peak.
Of course, that's now leading to a mad scramble to get long all things oil, which, as someone who owns a lot of oil for my trust, is a godsend, because I think that I am being given a chance to trim exposure even as I like my positions.
Jim Cramer shares his views every day on RealMoney. Click here for a real-time look at his insights and musings.
The other value? That's banks, and I think that to perceive these as value just when we get the results of the Fed Reserve's Comprehensive Capital Analysis and Review, is just plain stupid. The review showed that there is a "new" Fed that is allowing banks to be unfettered in what they do with their capital.
That doesn't mean a shift to value. It means an opportunity for the banks to return bountiful capital that has been sitting on their balance sheets that many thought would not be returned because the Fed, after all, is still the same Fed. The big difference, I believe, is that Dan Tarullo, the Fed's chief regulator and the man most hated by banks, resigned in April. He has been systematically running the balance sheet side of all major banks in this country and with him gone the Fed has indeed changed.
Now, let's go back to the notion of rates going higher. They did, indeed, inch up last week, but I think that the move is so minuscule that to base any decisions on it is just to truly hang on a branch. If oil goes down today and we get any sort of tepid numbers, then I think that rates will go right back down and the whole scenario of "value" over growth really could take a hit if you are thinking that value is oil and banks -- which I think is precisely how these wags gauge things -- and growth is FANG.
Finally, let's face it. What is real value in this market? Retail. And it hasn't come back at all. The other two have particular cycles or inputs that momentarily turned positive, with the banks getting a second wind from rates, but the move really triggered by the change in regulatory posture.
The ultimate sign that the thumb-suckers are wrong? Housing stocks. They were among the best in show last week, along with health care. Why? Simple: because there is demand, and demand begets higher prices, and that means the notion of value over growth because of higher rates is an inadequate justification. Why? Because higher rates also mean fewer sales.
It's not the rates driving things, though, it is a housing shortage. You want further proof? The real estate investment trusts rallied. Why? Because of a recognition that the real estate under the retailers isn't as related as we thought.
I know these last observations seem random, but the fact is that it's the opposite: it's a sign that you can't make sweeping judgments like value versus growth as reasoning for the moves we see, because they simply can't hold up under any close scrutiny.
A detailed look of why tech can come back -- not FANG tech, which I like anyway, but the high performing tech, follows.
Jim Cramer: Give Me Something to Pounce On

Nothing to trade on so let's sell?
Does feel that way doesn't it? Think about what little news we have today: Costco (COST) - Get Costco Wholesale Corporation Report with great numbers; a deal for HSN (HSNI) ; better-than-expected numbers for Steelcase (SCS) - Get Steelcase Inc. Class A Report ; worse-than-expected for L Brands (LB) - Get L Brands, Inc. (LB) Report ; and a push number for Yum China (YUMC) - Get Yum China Holdings, Inc. Report . Throw in a weak ADP number and some geopolitical tension and you have a laundry list of basically nothing.
In these situations the idea that we should be pummeling pretty much all stocks except the oils seems a little simplistic. That doesn't mean you want to get in front of a real or imagined freight train, but as we survey the market for stocks that stand out as buys for Action Alerts PLUS, I come back with that same gnawing feeling: Give me something that's a huge discount and I will pounce.
So far?
No pouncing.
If Nvidia (NVDA) - Get NVIDIA Corporation Report turns and Costco rallies then we might have something.
Otherwise not.
Originally published July 6 at 10:57 a.m. EST
Facebook and Alphabet are holdings in Jim Cramer's Action Alerts PLUS Charitable Trust Portfolio. Want to be alerted before Cramer buys or sells FB and GOOGL? Learn more now.
Visit here for the latest business headlines.