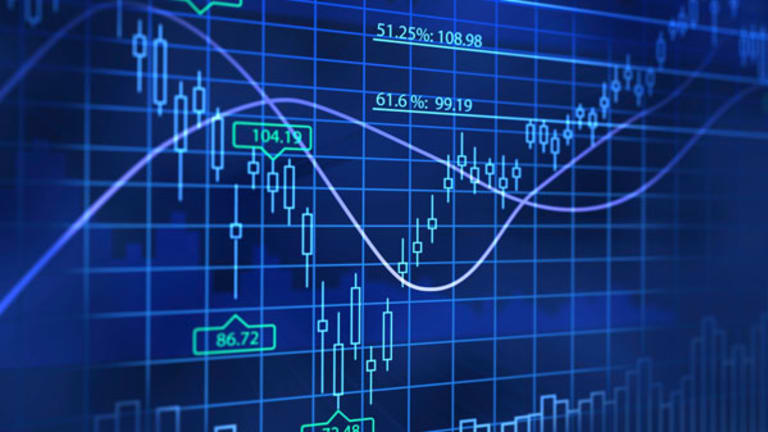 Three You Must Watch and Another Coming to Market
After a slow week for earnings, these companies have the potential to make headlines.
NEW YORK (TheStreet) - Three companies reporting earnings next week are a must watch, because they can make or break a lot of traders. Two of the stocks are short-squeeze candidates and the third can go either way. HOV data by YCharts

Hovnanian Enterprises Inc
(HOV) - Get Free Report
Hovnanian Enterprises Inc
(HOV) - Get Free Report
Hovnanian Enterprises
(HOV) - Get Free Report
is one of the nation's largest homebuilders. The company's homes are marketed and sold under the trade names K. Hovnanian Homes, Matzel & Mumford, Brighton Homes, Parkwood Builders, Town & Country Homes, Oster Homes and CraftBuilt Homes.
52 Week Range: $1.52 to $7.43
Book Value: $-4.43
Wall Street expects earnings to come in below last year's quarter. The earnings release is scheduled before the market opens Wednesday.
The current mean estimate is a loss of five cents a share, declining seven cents from a profit of two cents in the corresponding period last year. Analysts' estimates for this quarter range from losing 10 cents to losing only three cents a share.
Also see: Tesla's Hazard Lights Are Flashing >>
Analyst opinion is mixed. Most of those surveyed don't believe a buy or a sell is warranted. The stock appreciated 225% in the last year, and the average analyst target price for Hovnanian is $5.25.
Hovnanian could turn a profit in 2013, and the market is pricing in sunnier days, but you want to buy this one only during dips. We don't know how the housing market will react to rising interest rates and at the time of writing, the average 30-year fixed rate is flirting with 4%.
We have to travel back over a year, and almost into 2011 to find a week when average rates were over 4%. Regardless of why rates may continue to climb, we can safely assume that with all else being equal, higher rates are inversely correlated with home prices and demand.
Because of those expected headwinds, which also create price and profit pressure, analysts may be generous with 2014 profit projections near 50 cents a share. Without any hiccups, a safer number to model is 40 to 45 cents for upside potential.
With the Affordable Care Act starting to kick in next year, smaller take-home paychecks by the primary home-buying demographic may also weigh on builders. To be clear, I mean the young couples that buy homes. Increases in health insurance costs may hit their take-home pay disproportionately, compared to renters not looking to buy and older workers who already own a home.
Short sellers tell the whole story rather quickly. The short interest is altitudinous and is a strong warning that short sellers expect lower share prices to come. The short interest is an eye- popping 32%. One caveat: If they beat estimates and guide higher, the shares are set to soar from a short squeeze. Hovnanian has the ingredients for the short squeeze, minus the "enriched core," known as profits.
data by
Ciena Corporation
(CIEN) - Get Free Report
Ciena
(CIEN) - Get Free Report
is a network specialist, focused on expanding the possibilities for its customers' networks while reducing their cost of ownership.
52 Week Range: $11.65 to $18.39
Book Value: $-0.78
Earnings are expected to come in below last year's quarter. The earnings release is scheduled before the market opens Thursday.
Also see: Apple: Keep Tim Cook's Feet to the Fire >>
Analysts estimate Ciena will report a loss of one cent a share, declining a nickel from four cents' profit during the same quarter last year. The lowest estimate calls for a loss of eight cents, and the highest is a profit of seven cents. You just can't call a consensus with such a wide range of estimates.
Since we don't have a realistic earnings number to use, you will want to focus on guidance. Analyst opinion is mixed, and most of those surveyed suggest a hold at this point. The stock appreciated 30% in the last year, and the average analyst target price is $19.56.
The shares whip around with more than their fair share of gap moves, but if you can take the volatility, technically they are also in a bull upward trend. Look for pullbacks or use options for entry, but investors should expect continued, but mild, appreciation into 2014.
Ciena's short interest is anything but short. The number of shares shorted is markedly elevated and should be a warning that shorts anticipate upcoming price weakness. The current float short is 30.5%. While the short interest is high, it's also near the lowest level in a year. If shorts continue to cover, they'll provide a natural support base that investors can use to their advantage.
data by
--------------------------------------------------------------
data by
FuelCell Energy Inc.
(FCEL) - Get Free Report
FuelCell Energy
(FCEL) - Get Free Report
, together with its subsidiaries, designs, manufactures, sells, installs, operates and services stationary fuel-cell power plants for distributed baseload power generation.
52 Week Range: $0.83 to $1.64
Price-to-Book: 43.6
Wall Street and investors are planning on more of the same in the upcoming second-quarter earnings report expected after the close Wednesday, June 5. The consensus is a loss of five cents a share, a small improvement from the corresponding period's six-cent loss last year.
Estimates from analysts range from losing five cents, up to an optimistic estimate of losing only three cents. This quarter also is expected to outperform last quarter's loss of seven cents.
Analyst opinion is mixed. Most surveyed believe in doing nothing at this point. The stock has appreciated 51% in the last year from an exceptionally small base, and the average analyst target price is $1.81, with most of the climb within the last couple of weeks.
Don't get too excited over the pre-earnings move higher. This could be a rerun of the same movie we watched during the last quarter's earnings. Shares moved strongly higher into the release, which possibly caused investors to believe information was leaking, or insiders knew something. After the release, the shares fell back to earth rather quickly.
The current proportion sold short based on the float is 6.1%, and I consider this much short interest for a company in the tech space trying to achieve profitability to be only mildly bearish.Investors may find that
Bloom Energy
(pre IPO) takes the spark out of FuelCell's prospects. Bloom may beat FuelCell to profitability. If you're interested in FuelCell, you'll want to keep close tabs on Bloom, too.
data by