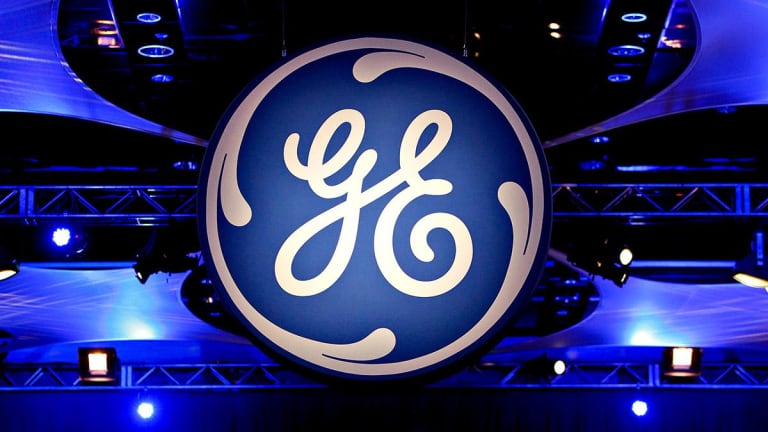 Three Things to Watch in General Electric's Third-Quarter Results
Boston-based GE is expected to report adjusted earnings of 20 cents a share on revenue of $29.6 billion, according to FactSet.
With a new Chief Executive at the helm, some GE investors may be eyeing a revised outlook for the beleaguered industrial conglomerate.
General Electric Co. (GE) - Get General Electric Company (GE) Report investors are keen on a reset, which may include a dividend cut or an equity raise, and perhaps some better news surrounding the company's troubled power division.
Larry Culp, 55, the former Danaher Corp. (DHR) - Get Danaher Corporation Report CEO who joined GE's board in April, was appointed CEO on the first of the month and was given five extra days to "complete initial business reviews," the company said. Culp will "share his initial observations," during the third-quarter earnings report "with more detail expected in early 2019," GE said.
"We still expect Mr. Culp to use the [third-quarter] earnings call to qualitatively triage the major challenges that the company is facing, including the balance sheet leverage and potential remedies, prospects for an accelerated timeframe to exit Baker Hughes (BHGE) - Get Baker Hughes, a GE Company Class A Report , timing of a dividend cut, ring-fencing GE Capital's long-term care insurance liabilities, and fixing Power," RBC Capital Markets Deane Dray wrote in an Oct. 12 research note.
General Electric is now scheduled to report third-quarter financial results before the bell on Tuesday, Oct. 30. The Boston-based company is expected to report adjusted earnings of 20 cents a share on revenue of $29.6 billion, according to FactSet. But beyond the top- and bottom-line, there are several other items investors (and others, like credit rating giants) will be watching.
DIVIDEND
Many analysts tend to agree that Culp will need to act to shore up GE's balance sheet. A dividend cut is a likely possible action as is an equity raise.
"We expect actions to shore up the balance sheet (dividend cut; EPS/FCF reset; possible equity raise), but a full reset isn't likely until early 2019, extending the overhang," Cowen's Gautam Khanna said in mid-October. Khanna rates GE at Market Perform with a $12 price target.
Former CEO John Flannery in November 2017 cut GE's dividend in half, marking the second dividend cut in a decade, as he grappled with the company's less consistent cash flow.
UBS analyst Steven Winoker thinks Culp "will work towards closing the balance sheet gap through some combination of a steeper dividend cut (>90%) and possibly a one-time equity raise to add some cushion for future investment, but the road doesn't look easy." Winoker noted that GE Capital continues to weigh heavily on the company, as "consolidated net debt stands at $51 billion, but contingent liabilities inflate that number by another approximately $27 billion." In total, the UBS analyst sees about $97 billion of net obligations.
UBS rates GE at Neutral with a $13 price target.
"Given GE's grim cash backdrop, the bigger the cut, the better, in our opinion," Gordon Haskett Research Advisors analyst John Inch told the Wall Street Journal. Inch joined Gordon Haskett after working at Deutsche Bank, where he was notoriously bearish on GE and predicted that the beleaguered industrial would be dropped from the Dow Jones Industrial Average about five months before it happened.
Barclays analyst Julian Mitchell noted on Oct. 15 that most investors expect a dividend cut, while many expect an equity raise, thereby making the timing of the share price impact of a "re-set" difficult to judge.
POWER
Investors have heard for more than a year that GE's power unit is challenged, and shareholders will be looking at Culp to turn around the business, especially after the company also disclosed that the power business would be taking a goodwill charge of nearly $23 billion, although it noted the final amount was "not yet finalized and remains subject to review."
"Flannery's sudden firing signifies eroding fundamentals, especially at power where share loss from the blade failures is inevitable," Cowen's Khanna said on Oct. 15.
GE acknowledged at the end of September that there was an "oxidation issue" that could cause distress on blade components of the HA gas turbine.
"Obviously, this was a frustrating development, for us, as well as for our customers," GE Power CEO Russell Stokes wrote in a LinkedIn post. "But we have identified a fix and have been working proactively with HA operators to address impacted turbines."
Further, the macro environments don't bode well for GE's power unit in the near-term.
"Natural gas power markets are fundamentally challenged owing to renewable plus storage and distributed power and gas turbine downsizing," Credit Suisse analyst John Walsh said on Oct. 11. "GE also increased its exposure to Fossil Power with the Alstom acquisition and is now facing a significant goodwill impairment charge."
The disappointing developments with power and the goodwill charge prompted credit ratings giant Moody's Investors Service put its A2 credit rating on review for possible downgrade.
"Among the range of issues that Moody's will consider is the impact on GE's earnings and cash flow prospects of the continuing deterioration in its Power business, which is likely to persist for some time," Moody's said. "The dimmer prospects for GE Power take on heightened importance given the loss of free cash flow from GE's planned divestitures, including the highly cash generative GE Transportation and GE Healthcare."
"The review will also assess other measures that could improve GE's free cash flow relative to its debt balance," Moody's added. "These could include measures to address the very substantial pension deficit, GE's $4.2 billion annual dividend, improving working capital or investing efficiency. The potential for disruption, or acceleration, of efficiency programs already underway with another change at senior management level will be assessed."
While much needs to be done to put the power business back on track, there is perhaps one potential bright spot: the Iraq-power generation deal.
Munich-based Siemens AG (SIEGY) had been close to securing a contract to supply 11 gigawatts of power-generation equipment to Iraq, a deal reportedly worth $15 billion, but then the Trump administration intervened on behalf of GE, the Financial Times reported on Oct. 17, citing unnamed people familiar with the matter.
Days later, GE signed Principles of Cooperation with the Iraqi Ministry of Electricity to develop the country's power sector. The plan is expected to generate up to 14 gigawatts of power and create up to 65,000 direct and indirect jobs. Rival Siemens AG also signed a memorandum of understanding to add 11 gigawatts of power generation capacity in four years.
But the deal is not a major catalyst for GE Power, according to J.P. Morgan analyst Stephen Tusa.
"The ultimate outcome of the much-discussed Iraq roadmap is more of the same in the way GE and Siemens are competing heavily for the little volume available in the [heavy-duty gas turbines] industry, including spending significantly on unrelated support to government customers in what is likely loss-leading business," Tusa said in an Oct. 19 research note.
CHARGES/ONGOING LITIGATION
In addition to the goodwill charge related to the power business, GE may end up owning billions of dollars more for its insurance reserves, on top of the $15 billion in cash already committed, due to upcoming accounting changes, according to Gordon Haskett's Inch.
Inch said the Financial Accounting Standards Board-issued changes will apply to insurance companies, including GE, that issue long-term contracts such as life insurance, disability income, long-term care insurance and annuities. Those changes, however, will be effective at the beginning of 2021. Inch has an Underperform rating on the stock with an $11 price target.
Investors should also monitor management commentary about the ongoing investigations by the U.S. Securities and Exchange Commission and the Department of Justice.
Shares of GE rose 2.2% to $11.55 at 11:30 a.m. New York time on Monday. The stock has declined about 33% year to date.