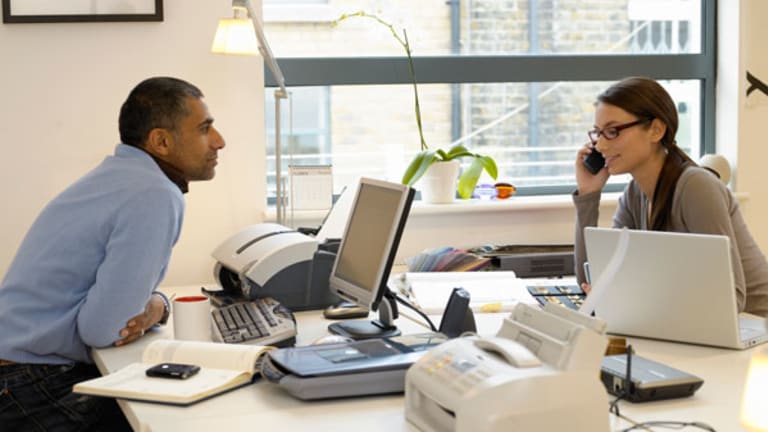 Three Great Summer Reads With an Entrepreneurial Twist
It there's no such thing as summer vacation for business owners, how about some business books for the beach?
CHICAGO (MainStreet) -- There may be no such thing as summer vacation for anyone who runs their own business, but that doesn't mean you can't slip into a summer state of mind. When your work schedule is a little less hectic, you might even find time to catch up on reading that you'd consider a luxury at any other time of the year.
With a new "gamechanging" business book coming out seemingly every week, it may be impossible to stay up to date on all of them. By consulting small-business experts and reviewing "best of" roundups from sources such as
Inc.
magazine,
The New York Times
and
Amazon
(AMZN) - Get Amazon.com, Inc. Report
, we narrowed down the ideal summer reading list to three top titles.
It there's no such thing as summer vacation for business owners, how about some business books such as Eric Ries' for the beach?
All share the same important criteria. The book must speak to the small-business experience: You should come away with practical solutions for making your company more efficient, profitable and/or financially sound. The book should feel fresh, offering a new take on old problems. And most crucially, it must be engagingly written -- able to keep a reader's attention even at the beach or by the pool.
1.
The Lean Startup: How Today's Entrepreneurs Use Continuous Innovation to Create Radically Successful Businesses
, by Eric Ries (Crown Business, 2011)
This book, which appeared on numerous "Best of 2011" lists, adapts the concept of lean manufacturing to the process of starting a business. Using a combination of case studies and scientific methodology, it gives business owners specific metrics to gauge their progress and explains the importance of "pivoting" to refine and redefine the company's approach.
Marketing strategist Francine Hardaway of
Stealthmode Partners
in Phoenix says
The Lean Startup
was one of the best business books she has read this year (along with
The Startup Owner's Manual
, by Steve Blank and Bob Dorf). Hardaway, who founded the Arizona Entrepreneurship Conferences and has helped many start-ups get off the ground, agrees with the book's central message: "Spend as little money as possible to get to market in the shortest possible time, then let the market decide. Customers are more important than whatever the product is.
The Lean Startup
and
The Startup Owner's Manual
are somewhat controversial outside the tech community because they may not seem to apply on the surface, but I've been able to adapt them successfully to non-tech businesses with a little thought."
2.
Great by Choice: Uncertainty, Chaos, and Luck -- Why Some Thrive Despite Them All
, by Jim Collins and Morten T. Hansen (HarperBusiness, 2011)
This was another popular pick for best-of lists, which is no surprise considering Collins' track record. His previous books,
Built to Last
and
Good to Great
, have become required reading for B-school entrepreneurship courses, thanks to their combination of exhaustive data and compelling, real-world anecdotes. The concept behind
Great by Choice
could not be more timely, given the uncertainty that has pervaded the U.S. economy over the past few years.
The book focuses on top-performing companies such as
Amgen
(AMGN) - Get Amgen Inc. Report
and
Southwest
(LUV) - Get Southwest Airlines Co. Report
, whose earnings beat their industry average tenfold (what the authors refer to as "10Xers"). In essence, it explains the importance of being methodical and consistent and shows why planning for the worst allows some companies to survive while others go out of business. Although
Great by Choice
is not an entrepreneurial how-to, it's inspirational reading, and its lessons apply to business of all sizes.
3.
Employees First, Customers Second: Turning Conventional Management Upside Down
, by Vineet Nayar (Harvard Business Review Press, 2010)
"If you only have time for one book, this is one that will really make a difference," says Rebecca Ray, Ph.D., senior vice president of human capital at The Conference Board. Nayar, CEO of India's
HCL Technologies
, gives a firsthand account of how he transformed the company from one that focused on the customer experience to one that made management accountable first and foremost to its employees.
"It's about an organizational culture where innovation is part of the DNA," Ray says. "It shows how companies can be a way to lift people up." Once workers know they are valued and trusted, better customer service follows.
(Ray also suggests two other picks for entrepreneurs:
The Art of Engagement
, by Jim Haudan, which "talks about engagement from a different perspective," and
The Wisdom of Teams
, by Jon Katzenbach and Douglas Smith, which "really maps it all out for your -- how to build teams and lead them.")
A business book may not exactly fall under the category of "beach read," but one that is both well-written and inspirational might make you feel a little less guilty about taking time off to read it. Who says business and pleasure can't mix?
This commentary comes from an independent investor or market observer as part of TheStreet guest contributor program. The views expressed are those of the author and do not necessarily represent the views of TheStreet or its management.