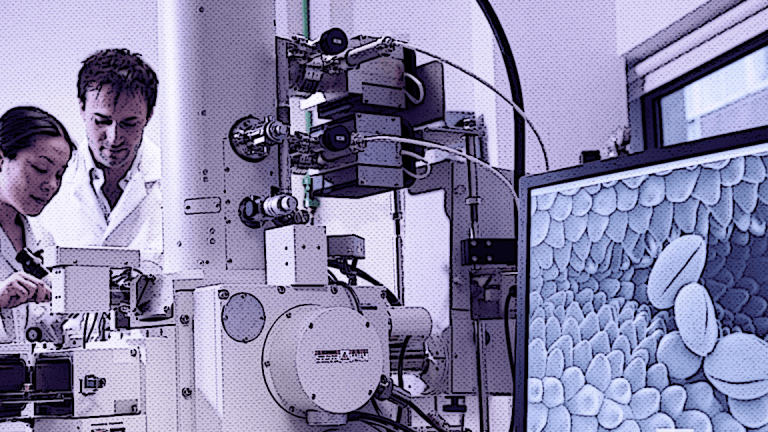 3 Cutting-Edge Biotech Stocks That Can Double in Value
These three "strong buy" biotech stocks are primed for outsized growth in the next 12 months. Here's why.
These three "strong buy" biotech stocks are primed for outsized growth in the next 12 months. Here's why.
If you crave risk.
Biotechs often present intriguing, and potentially lucrative, investment opportunities. Share prices can explode on positive trial results or key regulatory approvals. However, buyers beware: these rewards can disappear just as quickly if critical data disappoints. To minimize this risk, we specifically searched for stocks with a high degree of confidence from the Street.
We used TipRanks to ensure that each of these stocks boast a "strong buy" analyst consensus rating right now. In fact, all three of these shares only show 100% buy ratings and huge upside potential of over 100%. With this in mind, let's delve deeper into why the Street is so bullish on these stocks.
Syndax Pharmaceuticals Inc.
Syndax (SNDX) - Get Report is developing entinostat, a Class I HDAC inhibitor, for the treatment of solid tumors. Shares popped recently following the release of Syndax's first quarter earnings results, but a bigger catalyst on the horizon is the upcoming ASCO oncology conference in June. Syndax is due to present updated data from the ENCORE-601 Phase 2 trial in melanoma and lung cancer.
Shares are too cheap right now, argues top Oppenheimer analyst Hartaj Singh. Indeed, his $29 price target indicates huge upside potential of around 150%.
"We believe SNDX shares at this time are not reflecting the opportunity for entinostat in advanced ER+ breast cancer (currently in a pivotal Phase 3 trial)," he wrote on May 9. "Entinostat's ability to be combined with other therapies across a range of tumor types is, we believe, underappreciated," adds Singh.
Top B. Riley FBR analyst Madhu Kumar echoes this analysis. He has a $40 price target on Syndax, indicating 246% upside potential from current levels. Like Singh, this Top 100 analyst believes the market under-appreciates the opportunity for entinostat in hormone receptor-positive (HR+) breast cancer. He notes that the drug is already in Phase 3 trials and has received Breakthrough Therapy Designation from the FDA.
Crucially, Kumar points out that even if "one fully discounted entinostat in HR+ breast cancer, we continue to believe the market materially undervalues the SNDX pipeline."
And outside of entinostat, Syndax has anti-CSF-1R antibody SNDX-6352 in Phase Ib studies, for which data is expected in the second half of this year. Indeed, over the last year analysts have published six consecutive Syndax buy ratings. The average analyst price target based on just the last three months of ratings is currently $30 (174% upside potential).
uniQure NV
Dutch biotech company uniQure (QURE) - Get Report appears to be rising from the ashes. Its previous therapy Glybera for an ultra-rare disease fizzled out. The world's first gene editing therapy missed U.S. approval and was withdrawn from Europe last year. Now, the company is focusing on the much bigger market of hemophilia, and interest in the company is spiking again. In fact, uniQure is increasingly looking like a prime takeout target for larger biotechs looking to enter the potentially very lucrative gene therapy space.
UniQure expects to begin a late-stage study of its hemophilia therapy, called AMT-061, early in the third quarter, aiming to be first to market with such a treatment as early as 2020. It better hurry, Spark and Pfizer (PFE) - Get Report are also collaborating on a hemophilia treatment.
For now, HC Wainwright analyst Debjit Chattopadhyay isn't feeling too concerned. She writes that based on each company's projected timelines, "Pfizer might be in a position to initiate patient screening during 1Q19, which puts uniQure at least six months ahead and armed with the patent family covering mPADUA (R338L variant, patent # 9,249,405 issued on February 2, 2016), which gives uniQure significant commercial leverage, in our view."
Plus, in a very bullish move top Leerink Swann analyst Joseph Schwartz ramped up his uniQure price target by an eyebrow raising $37 from $26 to $63. This new price target indicates 107% upside potential from current levels. According to Schwartz, this new projection is based on (1) pricing estimates for AMT-061 in hemophilia B of $1.5 million per patient in the U.S. and $1 million per patient in the EU; (2) increasing his probability of success for AMT-130 in Huntington's disease/HD to 15%; and (3) incorporating uniQure's first quarter financial results.
Allena Pharmaceuticals Inc.
Also keep an eye on Allena Pharmaceuticals Inc. (ALNA) - Get Report . This late-stage clinical biotech is developing treatments for rare and severe metabolic disorders of the kidney. Prices have exploded by 117% in just three months. This is nothing compared to the upside predicted by Roth Capital's Yasmeen Rahimi.
She initiated coverage of Allena Pharmaceuticals with a buy rating and $61 price target (275% upside potential). Allena is a "leading pioneer" with a Phase 3 asset (ALLN-177) in enteric hyperoxaluria, a space with minimal competition points out Rahimi. She believes Allena is significantly undervalued, in part because of limited awareness about this specific disease.
While Rahimi may be more bullish than most, the outlook from the Street in general is still pretty uplifting. With an average analyst price target of $41, the Street is forecasting massive upside potential of 151% from the current share price. Indeed, Allena has received only buy ratings from analysts over the last five months.
Cowen & Co's Ritu Baral also recently initiated coverage on the stock (but with no price target). According to Baral, "ALNA has a promising platform to address unmet need in renal-metabolic disorders." Its lead product candidate, ALLN-177, is a first-in-class oral enzyme therapy for hyperoxaluria with "compelling POC Ph2 data." Bear in mind that our data ranks Baral as one of the Top 25 analysts out of over 4,700, with a startling 35% average return per rating.
Baral says Allena stands out in terms of both safety and efficacy. "The lack of absorption prevents the drug and its metabolites from accumulating in organs or the bloodstream... Additionally, we see the gut-restriction of ALLN-177 as intuitive and likely to drive efficacy, as it acts at the relevant site (the gut) to eliminate oxalate from the body."
By targeting a central aspect of the disease process, ALLN-177 has the potential to address all enteric hyperoxaluria patients. Baral places this at a conservative 185,000 U.S. patients, though Allena's market research calculates a more generous 250,000 U.S. patients. Based on her figures, she models for peak ALLN-177 U.S. sales of $672.5 million and peak EU sales of $380.1 million in 2026. 
More Content From TheStreet
-Analysis by Harriet Lefton.
This piece is brought to you by TipRanks. TipRanks offers investors the latest insight into eight different sectors by tracking the activity of over 4,750 analysts, 5,000 financial bloggers and even 37,000 corporate insiders.