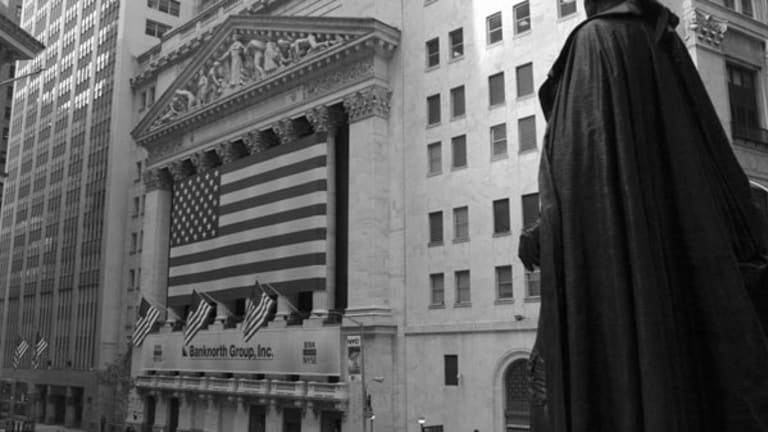 Three China Funds on Top This Week
Three funds specializing in Chinese companies beat all geographically focused funds this week.
Three funds specializing in Chinese companies beat all geographically focused funds this week.
While bank failures have occurred in the U.S., the Bank of China posted a 42.8% gain in first-half profit. And the growth received criticism because it was the only one of 14 publicly traded Chinese banks that saw profits rise below 50%.
Unlike the 2004 Olympics in Athens, in which Greece, the host nation, is still paying off the accumulated debt, the 2008 Beijing games were easily absorbed by China's economy, which is estimated by
JPMorgan
to reach $4.5 trillion in 2008.
Over the last five years, China spent about 1% of its total fixed-asset-investments budget to build Olympic venues. And on top of this, China increased railroad network funding to sustain economic growth, helping China Railway Group's six-month profit to rise 37% from the same period a year earlier.
The top three funds for the week ended Thursday, Aug. 28, were
JF China Region Fund
(JFC)
, up 8.9%;
Direxion China Bull 2X Fund
(DXHLX)
, up 8.8%; and
Greater China Fund
(GCH)
, up almost 8%.
All three funds benefited from the 11.8% jump in
CNOOC
, China's largest offshore oil driller, and the 10.3% spike in
Ping An Insurance Group of China
(PIAIF)
.
CNOOC reported $4.03 billion in first-half profit, up 89.2% from a year earlier. Ping An is recapitalizing its life insurance unit to continue playing in a life insurance market that's growing at a 66.7% annual rate.
The worst-performing fund this week is the
Direxion China Bear 2X Fund
(DXHSX)
, down 9.2%. This is the inverse fund of the second-best performer and targets a 200% opposite return from the FTSE/Xinhua China 25 Index. Since its inception on Dec. 4, 2007, the bear fund has had the upper hand. But the tide may have turned.
In economic releases this week, year-over-year household spending in Japan in July fell 0.5%, on top of a drop of 1.8% in June. More than 15% of the
Japan Smaller Companies Fund
(JSCFX)
is tied up in retail stocks, along with 29.9% invested in real estate and 26.7% in real estate investment trusts.
In addition, 13.3% of the fund is in cash holdings of yen. As the U.S. dollar strengthened against the yen this week, the dollar value of yen holdings fell. The fund lost 7.6%, making it the second-worst performer.
Down 5.4% for the five trading days under review,
The Korea Fund
(KF) - Get The Korea Fund Inc. Report
was the third-worst performer. The fund has large holdings of
Samsung Electronics
(SSNLF)
,
Posco
(PKX) - Get POSCO Report
and Hyundai Heavy Industries.
For an explanation of our ratings,
.
Kevin Baker became the senior financial analyst for TSC Ratings upon the August 2006 acquisition of Weiss Ratings by TheStreet.com, covering mutual funds. He joined the Weiss Group in 1997 as a banking and brokerage analyst. In 1999, he created the Weiss Group's first ratings to gauge the level of risk in U.S. equities. Baker received a B.S. degree in management from Rensselaer Polytechnic Institute and an M.B.A. with a finance specialization from Nova Southeastern University.