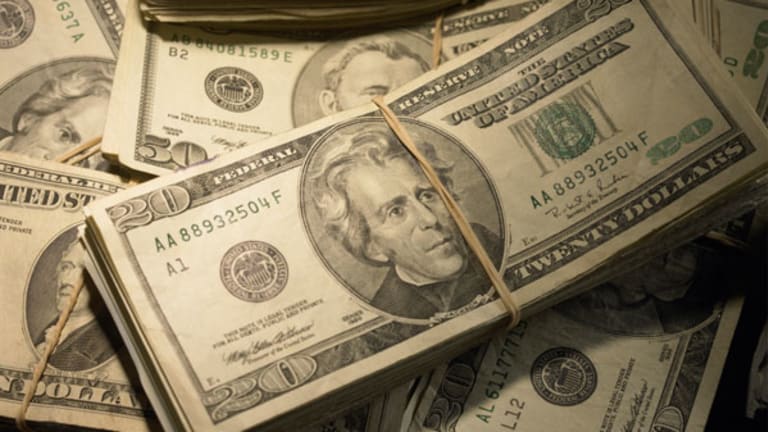 Three Blue-Chips With Legs
<I>RealMoney's</I> John Reese sees these Dow component stocks headed for even higher ground.
While the
Dow Jones Industrial Average
is in record territory, investors must wonder if the top is here and if the immediate future is downhill, or if this is just an intermediate peak with a summit that has yet to be climbed.
I do not know what the future holds for the Dow, but some of the stocks that make up the index appear headed for even higher ground. I base this prediction on the fact that several Dow stocks get high grades from my guru strategies. These are computerized strategies I created to mirror the way some of Wall Street's greatest investors analyze stocks.
One member of the Dow that is earning a high grade is
Pfizer
(PFE) - Get Free Report
, the world's largest pharmaceutical company, founded in 1849 in Brooklyn, N.Y. According to the strategy I base on the writings of James P. O'Shaughnessy, Pfizer is very healthy and is likely to remain so. The strategy looks at market cap (Pfizer's is $201 billion), cash flow which must be positive (Pfizer's is), shares outstanding (of which Pfizer has more than enough) and sales (Pfizer's are a hefty $59 billion). The final step in the analysis is to find the top 50 companies that pass the previous hurdles and have the highest dividend yield. Pfizer's 3.43% yield places it among these top 50 companies.
This article originally appeared on March 15, 2013, on RealMoney. To read more content like this + see inside Jim Cramer's $3 Million portfolio for FREE Click Here NOW.
Another favorite of my O'Shaughnessy-based strategy is
E. I. du Pont de Nemours
(DD) - Get Free Report
, which is even older than Pfizer, having been founded in Delaware in 1802. DuPont is a giant chemical company that operates in over 80 countries, and it introduced to the world such innovative products as nylon and Tyvek. DuPont easily gets over the strategy's first four hurdles of market cap, positive cash flow per share, shares outstanding and sales. It makes it into the final 50 by having a dividend yield of 3.47%.
UnitedHealth Group
(UNH) - Get Free Report
is a major health benefits and health services company. The strategy I modeled on Peter Lynch's investment approach gives high marks to UnitedHealth. A key component to this strategy is a company's price-to-earnings relative to growth, or P/E/G, which the strategy caps at 1.0 -- UnitedHealth is at 0.58. Its low P/E/G suggests that the stock is well priced. Also in the company's favor is a rock-solid equity-to-assets ratio of 39%, well above the strategy's 5% minimum.
The Dow is an index that moves as its 30 component parts move overall. But these three companies are not just part of the Dow, they are agile and strong individual performers. Any of them would be a strong asset in one's investment portfolio.
John Reese and his clients are long Pfizer, DuPont and UnitedHealth.
John P. Reese is founder and CEO of
, an investment research firm, and
, an asset management firm serving affluent investors and companies. He is also co-author of two investing books, including
The Guru Investor: How to Beat the Market Using History's Best Investment Strategies
(Wiley). Under no circumstances does the information in this column represent a recommendation to buy or sell stocks. Reese appreciates your feedback.
to send him an email.
TheStreet.com has a revenue-sharing relationship with Amazon.com under which it receives a portion of the revenue from Amazon purchases by customers directed there from TheStreet.com.