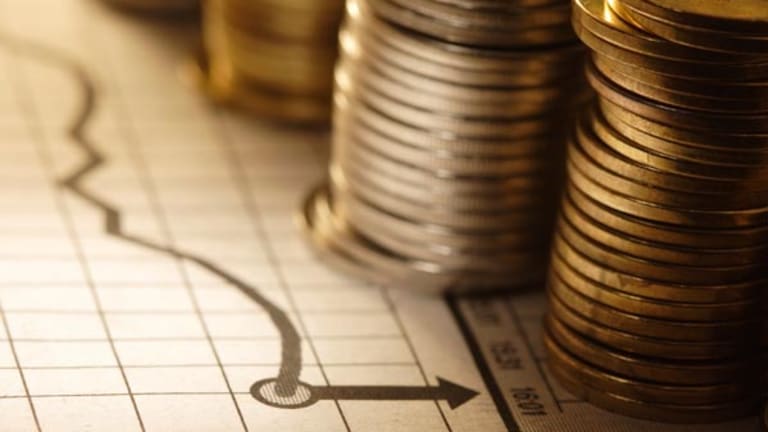 Three Banks With Rising Shares, Big Dividends
The following smaller banks have outperformed their rivals while continuing to pay relatively large dividends.
(The following story is the first in a two-part series on bank and thrift stocks that outperformed their peers last year and still pay attractive dividends.)
NEW YORK (
) -- Investors usually must choose between stock-price appreciation and big dividends.
But a select group of
small banks
have seen their shares jump, with one posting an 18% increase this year while the
S&P 500 Index
has fallen 5%. Another is paying a dividend almost twice as high as the benchmark 10-year Treasury bond yield.
Following an earlier look at
three bank stocks with outsized dividends
, published in November, this expanded list features more conservative measures, excluding companies whose dividend payouts exceeded their 2009 net income.
The group was pared further by leaving out current participants in the Troubled Asset Relief Program, or TARP. Thinly traded names were also avoided, as were those with a Texas ratio of more than 20%. (The Texas ratio is nonperforming loans/core capital and loan loss reserves.)
New York Community Bancorp
New York Community Bancorp
( NYB) stand outs with a dividend yield of 6.74%. The shares have returned 22% since the company acquired the deposits and most assets of the failed
in early December.
The Amtrust acquisition was a
for New York Community, fitting the company's strategy of expanding its retail deposit base as it moves away from more expensive wholesale funding. The company also received the now-customary Federal Deposit Insurance Corp. loss-sharing guarantee on the $6 billion in single-family mortgages and consumer loans it gained.
For several years through 2008, New York Community had been earning less than the $1 a share annual dividend it was paying. Net income was $170 million in the fourth quarter and $414 million, or $1.17 a share, last year, dropping the dividend payout ratio to 85.47%.
When we previously mentioned New York Community's
, the shares were yielding 9.43%. After the recent appreciation, the yield is 6.61% -- still attractive for such a strong banking franchise.
New York Community's shares are selling for 1.2 times book value, slightly more than SNL Financial's index of banks with more than $10 billion in assets. The price-to-earnings ratio (factoring out the gain on the bargain purchase of AmTrust) is 13, less than the peer group's 15.
Several analysts put "neutral" ratings on New York Community after the recent run-up in the stock and the one-time gain in the fourth quarter. Peter Winter of
MBO Capital Markets
lowered New York Community's 2010 earnings projections to $1.25 from $1.37 a share to factor in higher-than-expected loan-loss provisions as well as expenses related to the integration of AmTrust. He estimates earnings of $1.50 a share for 2011 and has a 12-month price target of $16.
New York Community is a worthy choice for a conservative long-term bank play with a generous dividend. But after the shares have risen so much, they may not be appropriate for investors looking for quick gains.
United Bankshares
United Bankshares'
(UBSI) - Get United Bankshares, Inc. Report
stock has soared 42% since
TheStreet.com
highlighted the company's
in November. The dividend was increased by a penny to 30 cents a share for the fourth quarter, and the stock now yields 5.10%.
The company has its headquarters in Charleston, West Va., and reported $7.8 billion in assets as of Dec. 31. Net income for the fourth quarter was $17.4, or 40 cents a share, improving from $12.1 million in the third quarter, or 28 cents, and $16.5 million, or 38 cents, a year earlier.
The improvement in fourth-quarter earnings mainly reflected a decline in provisions for loan-loss reserves to $6.7 million from $12.2 million in the third quarter and $8 million a year earlier. The ratio of net charge-offs (loan losses) to average loans for 2009 was 0.67%. United Bankshares has kept ahead of the pace of loan losses, with reserves covering 1.44% of total loans as of Dec. 31.
The shares closed at $24.25 last Wednesday, up 18% this year.
While United Bankshares has remained profitable, with capital ratios rising through 2009 and asset quality remaining decent, the volatility of the shares makes this attractive dividend pick only suitable for long-term investors.
Dime Community Bancshares
Dime Community Bancshares
(DCOM) - Get Dime Community Bancshares, Inc. Report
is a thrift whose headquarters are based in Brooklyn, N.Y., with total assets of $4 billion. Based on a quarterly dividend of 14 cents, the shares yield 4.81%.
Dime reported fourth-quarter net income of $8.1 million, or 24 cents a share, compared with $8.3 million, or 25 cents, in the third quarter and $5.3 million, or 16 cents, a year earlier.
The company's net interest margin -- the difference between the average yield on earning assets and the average cost of funds -- rose to 3.48% from 3.11% in September and 2.63% in the fourth quarter of 2008. The fourth-quarter decline in net income mainly resulted from increased loan-loss provisions on loans sold with recourse to
Fannie Mae
( FNM), as well as write-offs on trust-preferred securities investments.
For all of 2009, net income was $26.2 million, or 79 cents a share, down from $28 million, or 85 cents. The return on average assets (ROA) for 2009 was a mediocre 0.66% but was sufficient to allow Dime to maintain the dividend.
Despite increased credit costs, Dime's overall asset quality is strong. The nonperforming-asset ratio was 0.32% as of Dec. 31, a low level of problem loans and repossessed real estate even in a strong economy. The industry aggregate was 3.07% as of Sept. 30, according to the FDIC.
More importantly, loan losses have been light, with a ratio of net charge-offs to average loans of 0.27% for 2009. The company stayed ahead of the pace of loan losses, with reserves covering 0.63% of total loans as of Dec. 31.
Despite years of stability and very low credit risk, Dime hasn't been a strong earnings performer, as full-year ROA hasn't exceeded 1% since 2005. The shares haven't shown much life lately and trade for 1.4 times book value and 15 times earnings, which trails an aggregate P/E ratio of 16 for SNL Financial's thrift index. However, Dime's year-end P/E ratios ranged between 19 and 21 for 2006 through 2008.
Analysts' opinions are mixed. Supporting a "neutral" rating for the shares,
Sterne Agee
analyst Matthew Kelly was "incrementally more positive," saying loan growth would push earnings "closer to a 1% ROA" by the end of 2010. Kelly said a secondary offering of common shares was a possibility for the company to fund new growth.
The tier 1 leverage capital ratio for main subsidiary
Dime Savings Bank of Williamsburg
was 7.59% and the total risk-based capital ratio was 11.22%. While these ratios are well above the 5% and 10% required by regulators for most banks and thrifts to be considered well-capitalized, they're not excessive during recessions, and support Kelly's comment.
Barclays Capital
analyst Bruce Harting has an "overweight" rating (equivalent to a "buy") on the shares, with a 12-month price target of $15.
Dime Community Bancshares represents a very conservative choice, and it's trading significantly below its historical P/E levels. An investor considering the stock might face some dilution over the short term, but this is a strong company that has weathered the crisis well and has an amazingly long track record of solid credit quality.
-- Reported by Philip van Doorn in Jupiter, Fla.
Philip W. van Doorn joined TheStreet.com Ratings., Inc., in February 2007. He is the senior analyst responsible for assigning financial strength ratings to banks and savings and loan institutions. He also comments on industry and regulatory trends. Mr. van Doorn has fifteen years experience, having served as a loan operations officer at Riverside National Bank in Fort Pierce, Florida, and as a credit analyst at the Federal Home Loan Bank of New York, where he monitored banks in New York, New Jersey and Puerto Rico. Mr. van Doorn has additional experience in the mutual fund and computer software industries. He holds a Bachelor of Science in business administration from Long Island University.