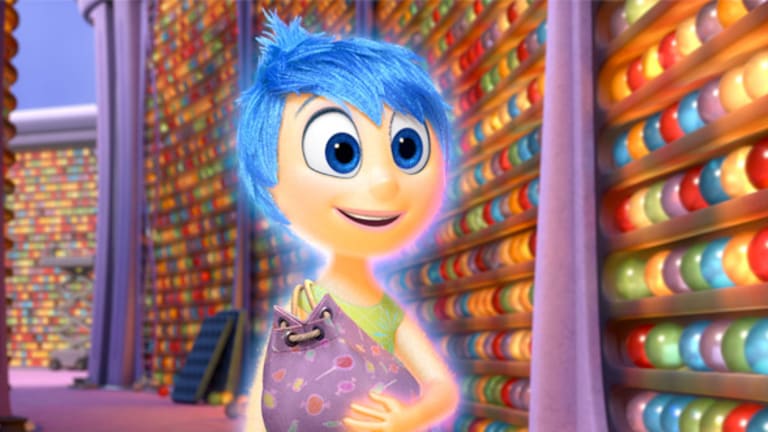 Huge Success of 'Jurassic World' and 'Inside Out' Could Mean a Toy Explosion
Successful openings for two major summer films suggest big things to come for the toy industry this year.
*Updated from June 8, 2015 to include box office totals and additional information for Jurassic World and Inside Out.
NEW YORK (TheStreet) -- Thanks to the public's embrace of scary dinosaurs and overly emotional children on theater screens, sales of movie-based toys may enjoy a blockbuster holiday season.
Universal Pictures' Jurassic World took in $102 million in gross box office receipts domestically this past weekend, bringing its domestic total to $398.2 million since its June 12 release. Internationally, Jurassic World's $106.5 million weekend of receipts brought its total earned overseas since release to $500 million. In China alone, the film has earned about $167.1 million.
The resounding success of the dinosaur thriller may already be spilling over into the toy market, some six months before Christmas. On EBay (EBAY) - Get Free Report, rows of Jurassic World plastic action figures are listed as having "one left" or a crowd of bidders "watching" the auction, likely readying for a last minute bid at well above retail price.
Jurassic World felt a little competition for eyeballs this past weekend. Disney/Pixar's Inside Out, which depicts the warring emotions of a young girl, was a surprisingly big hit at theaters. The film opened with an estimated $91 million in the U.S, making it the second-highest Pixar opening ever behind only Toy Story 3. Internationally, where Inside Out is having a staggered rollout to theaters, the film raked in $41 million last weekend.
Wal-Mart's website is loaded with Inside Out merchandise, while on EBay, sellers are offering five packs of talking Inside Out dolls for $160. At the Disney Store, one talking doll retails for $19.95.
The retail industry is already coming off a solid year for sales of licensed toys on the back of Disney's (DIS) - Get Free Report latest children's movie classic Frozen. According to NPD Group, an industry data provider, sales of licensed toys, which represented 31% of total toy industry sales, rose 7% in 2014 compared with 2013. The growth in licensed toys outpaced overall U.S. retail sales of toys, which rose 4% last year.
More broadly, the licensed merchandise business is a gold mine to be cultivated by retailers. In a new report, the International Licensing Industry Merchandisers Association (LIMA) estimated that retail sales for products bearing the trademarked names and likenesses of cartoon characters, corporate logos and major sports teams raked in $13.4 billion in royalty revenue and $241.5 billion in retail sales in 2014.
By category, the licensing industry continues to be dominated by five main sectors: character and entertainment, corporate trademarks, sports, fashion and collegiate. Together, the categories represented 89% of all licensing revenue in 2014.
The year ahead for sales of licensed products is shaping up to leave 2014 in the dust because of the much stronger movie release schedule, including such films as the next installment in the Star Wars series and the wildly popular Jurassic World. Target (TGT) - Get Free Report to Toys R' Us to toy maker Hasbro (HA) - Get Free Report, stand to reap the rewards.
"When you look at the movie side of it, there are an awful lot of big tent-pole films that are coming down the pike, that are going to drive an awful lot of merchandise sales," LIMA executive Marty Brochstein said. The floodgate of movie-based toys and related merchandise has already begun to surface on the Web sites of Wal-Mart (WMT) - Get Free Report, Target and Toys R' Us.
Marvel's Avengers: Age of Ultron gear is all over the place, ranging from a green, plastic $9.99 Hulk mask to a $19.50 Iron Man-themed play set. The newest super-hero movie from the Marvel brand, which was acquired by Disney in 2009 for $4 billion, recently became the sixth title in history to surpass $900 million in gross box office receipts worldwide. The popularity of the film has likely helped sales at Hasbro in the second quarter, in large part explaining the 39.6% surge in the company's stock price this year.
In 2013, Hasbro and Disney amended and extended the terms of the license for Marvel characters through 2020. The revised agreement provided additional guaranteed royalty payments with respect to both Marvel and Lucasfilm's Star Wars franchise. Disney purchased Lucasfilm for $4 billion in 2012.
But Avengers: Age of Ultron, Jurassic World and Inside Out are only the first round in what is a series of blockbusters about to arrive to theaters.
Universal's Minions is scheduled to hit theaters on July 10. The prequel is based on the popular, yellow-colored characters from the hit movie Despicable Me.
On Amazon (AMZN) - Get Free Report, a plush doll of Stuart, the main character from the film, costs $17.98. Amazon has even started to ship its products in boxes emblazoned with yellow minions in a recent deal struck with Universal Pictures and its in-house animation studio, Illumination Entertainment.
In December comes the heavyweight release of the year in Star Wars: Episode VII The Force Awakens. No Star Wars toys are set to go on sale until Sept. 4, ahead of the movie's Dec. 18 release.
"We're planning a global event on Sept. 4 to launch new merchandise inspired by the upcoming movie, with retailers around the world and online kicking off sales of the new line at midnight with a unique celebration of all things Star Wars," Disney Chief Operating Officer Tom Staggs said on the media giant's May 5 earnings call. That hasn't stopped speculation on Star Wars-related products, however. According to Hotbricks.com, which tracks developments at Lego, there will be seven Lego sets based on The Force Awakens, with prices ranging from $20 to upward of $150.
Possibly adding some wind to the sails of Star Wars toys and apparel could be the addition of new fans to the series and a growing audience of international film watchers.
"A film has not been released in 10 years, and so while we're not treating this as something that is brand new, we're mindful of the fact that there's a whole generation of people out there that were not as steeped in the Star Wars lore and not as, in effect, in love with the franchise as an older generation," Staggs said.
He added, "And there are markets around the world that weren't as developed back 10 years ago and beyond that, China is probably the best example--it's now the number two movie market in the world."
Another unexpected licensing boon, similar to Inside Out, may come from the upcoming Peanuts movie, which is scheduled to hit theaters on Nov. 6. The film is based on the iconic comic strip created from Charles Schultz that ran from 1950 to 2000, and features popular characters such as Snoopy and Charlie Brown.
"Peanuts has a very well-established fan base, the characters resonate with a large part of the population," Brochstein said. The largest part of the population? The legion of baby boomers, who grew up reading Peanuts in good old-fashioned newspapers and who may be willing to spend some money on a Snoopy desk toy or a tee shirt for a trendy grandchild.
Even teens and young adults will get the opportunity to purchase stuff related to their favorite summer movie blockbuster.
Specialty apparel retailer Hot Topic, which was acquired by private-equity firm Sycamore Partners for $600 million in 2013, has historically been a destination for pop-culture wares.
For example, a girl's R-2 dress, designed off the robot character featured in Star Wars, is listed as a top seller on the Web site.
"Star Wars will be an amazing release," Hot Topic CEO Lisa Harper said in a June 8 interview, although she pointed out that the retailer has sought to avoid relying too much on headline-grabbing movies to foster sales.
Less than 5% of Hot Topic's sales rely on blockbuster movie titles, Harper said. Instead, under its new owners, Hot Topic has diversified into apparel and accessories that draw inspiration from streaming content on Netflix (NFLX) - Get Free Report or World Wrestling Entertainment (WWE) - Get Free Report Network.
For example, the company's Web site prominently displays merchandise on its homepage from HBO's Game of Thrones and Showtime's Penny Dreadful.
"Great quality, streaming content has opened a new world of fans, and has opened up our business even more," Harper said.
As for a movie that's already on Hot Topic's radar screen as a possible product gold mine: the May 2016 release of Alice in Wonderland: Through the Looking Glass, starring Johnny Depp.
This article is commentary by an independent contributor. At the time of publication, the author held no positions in the stocks mentioned.