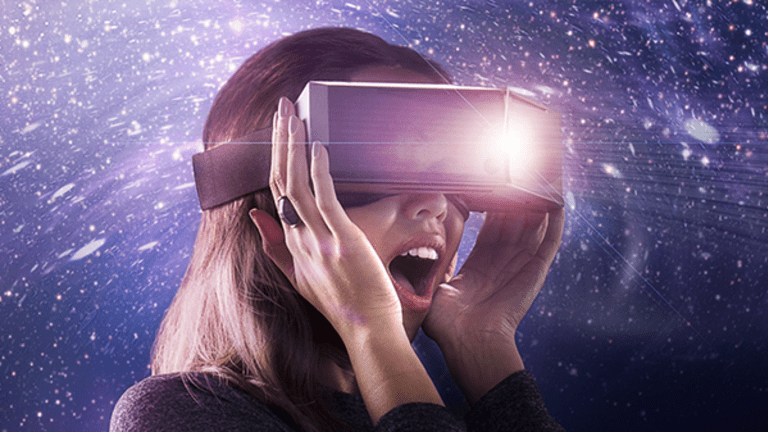 This Virtual Reality Mid-Cap Stock Is Set to 'Wow' Investors
As virtual reality takes off, consider this little-known mid-cap stock that should outperform its larger brethren.
As virtual reality takes off, consider this little-known mid-cap stock that should outperform its larger brethren.
A floundering Trump administration, political warfare in the halls of Congress, a divided nation and seesawing stock markets are making your investment decisions tougher. That's why you need to focus on "momentum trends" that will continue to unfold regardless of today's financial and political chaos.
One such trend is the exponentially rising demand for Virtual/Augmented Reality (VR/AR). One of the best pure plays on VR/AR is HiMax Technologies (HIMX) - Get Report .
Founded in 2001 and based in Taiwan, HiMax supplies, or is expected to supply, display circuits to three of the most-popular VR headset brands: Facebook's (FB) - Get Report Oculus Rift, Microsoft's (MSFT) - Get Report HoloLens, and the second generation of Alphabet's (GOOGL) - Get Report Google Glass.
The projected profits in the VR/AR industry are enormous. Goldman Sachs (GS) - Get Report estimates the market will reach $80 billion by 2025, with the potential for that figure to soar much higher, to more than $180 billion.
Sales of HiMax's devices should ignite once VR headsets and AR smart glasses achieve sufficient economy of scale to bring prices down to a broader segment of consumers. As the supplier of the chips that manage the displays in these devices, HiMax stands to be one of the first component suppliers to benefit from increased sales.
In an industry dotted with tiny, fly-by-night start-ups, HiMax boasts a solid balance sheet that will ensure its competitiveness even during unexpected economic shocks. The company has more than $194 million of cash on the books and its operating cash flow is a robust $84.6 million.
One of HiMax's most attractive features as a stock is its mid-cap status, in a year when small- and mid-cap stocks are expected to outperform. The company is big enough to survive the vicissitudes of the volatile VR/AR market, but small enough to hand investors the outsized capital gains that are difficult for mature Silicon Valley titans to achieve.
With a trailing 12-month price-to-earnings ratio (P/E) of 32, HiMax's valuation is a bargain compared with the industry's lofty P/E of 91.4.
HiMax's stock has gained more than 56% year to date, but further upside is likely as projected earnings growth kicks in. The average analyst expectation is that HiMax will rack up year-over-year earnings growth next year of 50%, and 25% over the next five years on an annualized basis. Get aboard now, while shares are still reasonably priced.
Pocket $67,548 EXTRA With This One Simple Investment Change
Warren Buffett made $4.9 billion by making this one small change to his investment strategy. It's the closest you'll ever get to NEVER losing money while investing. I made $185 every day over 1,586 days doing this. Is it time for a change that will lead to more money in your pocket? Get the full details here.
John Persinos is an analyst at Investing Daily. At the time of publication, he owned none of the stocks mentioned.
Action Alerts PLUS, which Cramer manages as a charitable trust, is long FB and GOOGL.