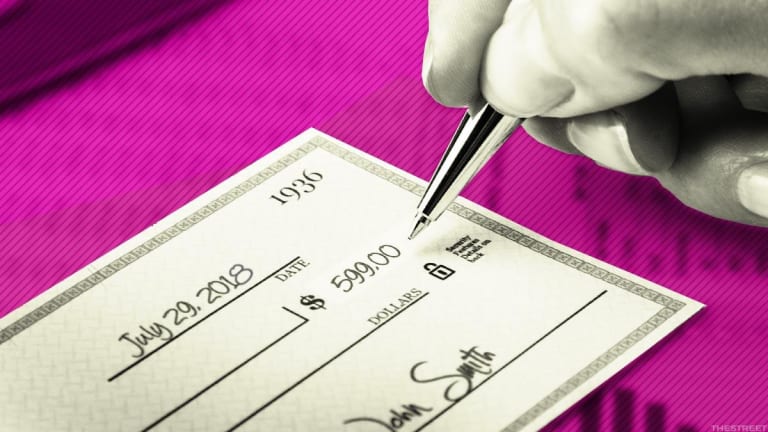 This Top Analyst Loves These 4 Banking Stocks
One of Wall Street's best experts puts four bank players under the spotlight.
One of Wall Street's best experts puts four bank players under the spotlight.
As interest rates soar, pop goes loan yields.
Now is prime time to capitalize. With economic growth recovering, loan losses are getting narrower in the process. In other words, the banking sector is a savvy bet these days.
Which stocks are the sector's brightest? Vining Sparks' Marty Mosby shines a lens on four banking giants with room to run.
Turning to TipRanks' Top 25 Wall Street Analysts tool, we can see Mosby is ranked #22 out of over 4,8000 analysts we cover. Mosby specializes in the financial sector with a 76% success rate.
Here are his top three picks.
JP Morgan Chase
Banking giant JP Morgan Chase (JPM) - Get Report is a force to be reckoned with as it's the biggest bank by assets in the U.S. JPMorgan boasts a monster $388.9 billion market cap, and shares have vaulted almost 9% just this year.
Not only is Mosby positive on the stock, he calls the name a "Strong Buy." The analyst sets a $125 price target, meaning he bets the giant can surge another 8%.
Worthy of note, Mosby has mostly been bullish in his history of rating JPMorgan. These upbeat bets have translated to a nice pay-off: Mosby earns 21.9% in average profits. 
For context, price-to-tangible book value per share suggests how much money an investor would make for each share should the company halt operations and liquidate all assets -- at the value recorded on the accounting books. Additionally, return on average tangible common equity (ROTCE) is used as a key measure of businesses consistency.
Mosby sees a P/TBV multiple of 196% for JPMorgan set to approach 215% over the next 12 months, "as investors incorporate the 4 percentage point year-over-year improvement in ROTCE into its valuation."
"Thus, JPMorgan's meaningful return of capital coupled with these high returns make it a strong value investment at this entry point. Moreover, JPMorgan has a strong valuation floor around 200% of TBV given its dividend yield and higher quality business mix which makes its current return-to-risk ratio exceed 2 times," highlights the analyst.
This is important, as experts recommend a ratio between 2:1 and 3:1 for an investment deemed worth the risk/reward. Ultimately, Mosby confidently backs JPMorgan's stock as an investment.
The 'Moderate Buy' stock has scored buy ratings from four of Wall Street's best performing analysts. With a return potential just under 6%, the stock's consensus price target stands at $122.29.
More broadly, TheStreet's founder Jim Cramer is bullish on financial stocks. Watch why below. 
Zions Bancorp
Salt Lake City-based Zions Bancorp (ZION) - Get Report has hit a $10.3 billion market cap, one of the leading banks of the U.S. Last year, the company had over 10,000 employees in its workforce. In the second quarter, investment-owned investment manager Cambridge Financial Group boosted its position in Zion by 7.5%.
Mosby rates Zion a Buy with a $63 price target, angling for almost 19% more room for the shares to rally. The company's current price-to-tangible book value is primed to approach 200%, by the analyst's bet, which would yield 20% of shareholder value throughout the next 12 months.
"We believe Zion should continue to produce one of the strongest year over year improvements in its ROTCE, as it begins to accelerate capital deployment, generate further positive operating leverage, and utilize its higher concentration of non- interest-bearing deposits to grow NII [net interest income]," contends Mosby.
Wall Street attention is robust here, making Zion a 'Strong Buy' stock. The banking player has attracted nine buy ratings from the best- performing analysts over the last three months. With a solid return potential of close to 13%, the 12-month average price target stands at $59.70. 
State Street Corp
Boston-based State Street Corp (STT) - Get Report has 30,000 employees under its wing and as of last year was managing $238.4 billion in assets. Present-day, the banking giant showcases a whopping $31.5 billion market cap.
Mosby recently reiterated a Buy rating on State Street's stock with a $115 price target (38% upside potential). The stock has "a few temporary headwinds" when looking at the back half of 2018. State Street is working to close its acquisition of Charles River System (a premier provider of investment management front office tools and solutions) and build capital levels. The impacts of these efforts are not unseen, as Mosby wagers these pressures are baked into the stock price.
"Thus, we believe as these impacts wane and its core profitability begins to be realized, State Street should create over 20% of total shareholder returns over the next 12 months," highlights the top an analyst.
State Street is a 'Moderate Buy' stock with the two best-performing analysts in its corner, over the last three months. Yet, consensus expectations point to robust upside potential ahead. The 12-month average price target of $104.20 reflects 20% more room for the shares to soar. 
Citizens Financial
Rhode Island-based bank holding company Citizens Financial (CFG) - Get Report has had an amazing start to 2018. In the opening half of the year, the stock has rocked almost 16%. 
As far as Mosby is concerned, there's a lot more growth spring-loaded and ready to run. The analyst recently maintained a Buy rating on the banking giant with a $53 price target (31% upside potential).
Mosby says, "We believe that over the next 12 to 18 months Citizens should be able to improve its profitability by another 2 full percentage points, as it is able to continue leveraging the current operating environment and accelerate its deployment of excess capital. Therefore, we believe Citizens should be able to generate total shareholder return of over 20%..."
Overall, the 'Strong Buy' stock has received six buy ratings in three months, with consensus expectations circling high. The 12-month average price target of $47.57 reflects healthy optimism in expectations and 18% in return potential ahead.
Watch what KBW's CEO told TheStreet's Executive Editor @BrianSozzi about banking stocks. 
TipRanks.com offers exclusive insights for investors by focusing on the moves of experts: Analysts, Insiders, Bloggers, Hedge Fund Managers and more. See what the experts are saying about your stocks now at TipRanks.com. Author: Julie Lamb